Sitemap for the Wake Up Eager Priceless Professional Development Website
Welcome to my Sitemap page. Here - I've listed the Pages that create the basic foundation of my Site.    This Site has several audiences: LEADERS, TRAINERS and ORGANIZATIONS.  There are several different entry points: Podcast, Books, Book a Complimentary Consulting Call, Workshops & Consulting, Leader Self-Study, Trainer Tools and Organization Resources.

If you have any questions, please contact me, here. You can also use this Bing Search box to search my Site for specific topics or articles:


Wake Up Eager Website - Foundational/Main Pages:

---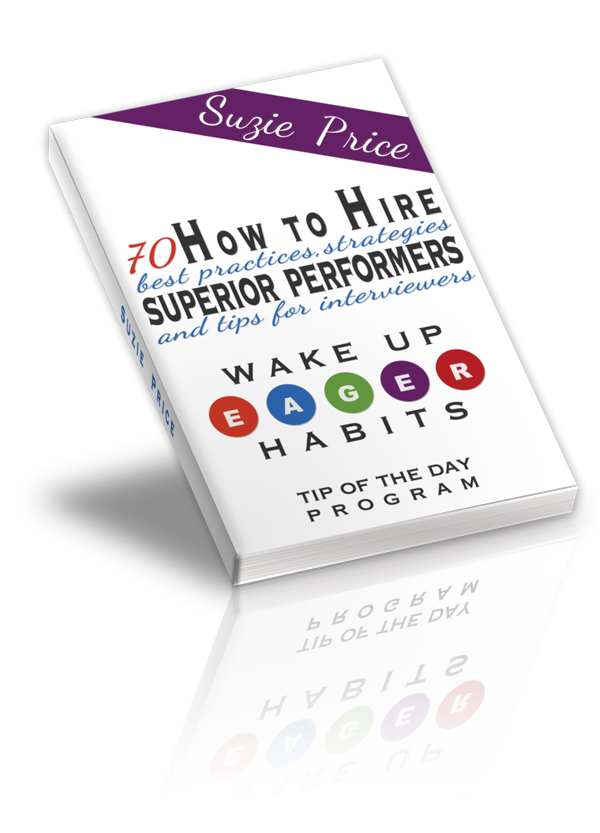 How to Hire Superior Performers:
70 Best Practices, Strategies and Tips for
Interviewers and Hiring Managers
See a Complimentary 36-page Preview, Here

---
Other Key Pages...

Free Stuff, Training Products, Programs and Services

Wake Up Eager eNewsletter

About Wake Up Eager/Priceless Professional
Founder Suzie Price

Contact Suzie To Schedule a Complimentary Consulting Call or to Ask Questions

Priceless Professional Home