2020: Bringing you weekly short, content-rich tips, tools and reminders related to: Hiring, Onboarding, Development, Team Building, Conflict Resolution, Stress Management and the TriMetrix Assessment. Get a recap of 2019's Mind, Body and Spirit focused weekly tips: 2019 Tips eBook

 If you find value here - please share this page...  Enjoy!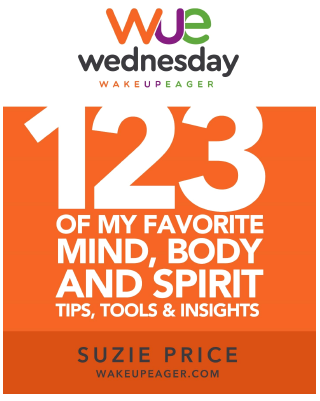 Click to Get 2019 Tips
Wake Up Eager Wednesday Tips for 2019 focused on sharing the things I'm thinking about, doing and feeling - that contribute to my Wake Up Eager Life and Work, and we've compiled them into a simple eBook for you: 123 Mind, Body and Spirit Tips, Here.

THE WEEK OF March 18, 2020
HIRING: There three distinct areas you need to focus on when hiring: 1. Planning 2. Interviewing 3. Selection Knowing that there are THREE key focus areas is important, as many times people put all of their focus on the interview.  If you put less focus on planning and selection - you HINDER your ability to get the right people in the right seats.  Here's the process we recommend to ensure strength in each key area. (Print this out)


THE WEEK OF March 11, 2020
HIRING:  Which Lowers Your IQ More - Multitasking, Marijuana or Losing a Night's Sleep? If you answered - multitasking, you are right!  it causes a 10% drop in IQ and a 40% drop in productivity, and it can be ANOTHER BIG Hiring Manager mistake!  More info and a four question quiz, to determine if it's hurting you as you interview others, here.

ON BOARDING:  Our "Getting Them To Stay" Campaign is a new hire retention and development process, that you can internally facilitate, will help you engage and keep the people you worked so hard to recr

uit!

This

done-for-you tool

 can be

 added to your current on boarding process.
STRESS MANAGEMENT:  Fitness is Good for Your Career: People who exercise on work days are MORE productive, happier, and suffer less stress, than on non-gym days.  72% reported improvements in time management on exercise days, compared to non-exercise days. 79% said mental and interpersonal performance was better on the days that they exercised. 74% said they managed their workload better. Feedback from focus groups found that people who built exercise into their workday were re-energized, calmer, and more able to solve problems. Try saying this 'body" mantra every day this week,  "I appreciate myself and my body. I LIKE taking good care of me. I move my body every day."

THE WEEK OF March 4, 2020
HIRING: "I am convinced that nothing we do is more important than hiring and developing people. At the end of the day you bet on people, not on strategies." – GE CEO Larry Bossidy  Hiring matters and if not done well can become the 'silent killer' of profitability and productivity.  Listen to (and review comprehensive show notes) on the Five Reasons Why Employees Fail - Job Fit Car Analogy Podcast episode #28.

ON BOARDING:  Why Taking Care of Your New Hires Matters More Than Ever Before... There are ALARMING facts around the turnover of New Hires today. Read them and be surprised: Getting Them To Stay

THE WEEK OF February 26, 2020
TEAM BUILDING: If you are using the TriMetrix assessment for hiring, did you know you can also use the same results for a Team Building Tune Up?  We have a "done for you" workshop we can share with you (or we can facilitate it with you).  Use this session to highlight the collective strengths, potential blind spots and to optimize the team's productivity.  You can also use these DISC and Motivator Name Badges and Tent Cards at your next team meeting or conference: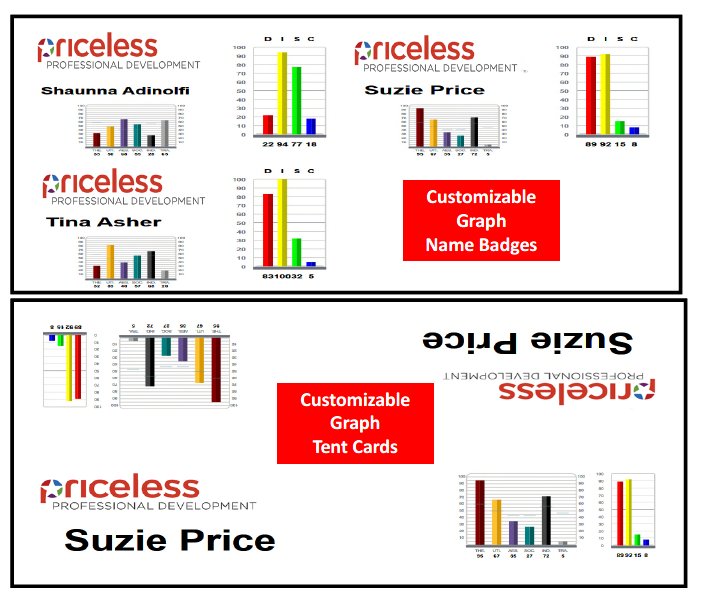 STRESS MANAGEMENT: 

Feeling additional

stress can sometimes be our own doing - as we put too much on our plate by say "Yes" without thinking.  (I know I can be guilty of doing this!) 

That's why I love the idea of creating a DON'T LIST!  While creating a my own List of the things I choose to NOT do any more, I found this Peter Drucker quote, "There is nothing so useless as doing efficiently that which should not be done at all."  It's not been easy to make a 'don't do' list.

This question, from the

Book: Essentialism

has helped me,

 "Is this the very most important thing I should be doing with my time right now?"

  The "don't list" could be applied to personal things, work projects, processes and basically anything you, your team and/or organization are

doing automatically or unconsciously that is no longer serving you or the business. I'm asking this about everything these days,"Is this essential?  Should I (we) still be doing this?"

and it's been very helpful! 

 Create a DON'T DO LIST this week!!

THE WEEK OF February 19, 2020
HIRING: Here's the BIGGEST and EASIEST to correct) mistake that interviewers and hiring managers make: You talk too much during the interview!  Recall a recent interview you had with a candidate. Think back about how much you talked, as compared to the percentage of time the candidate talked.

Did the candidate get 75 to 80% of the 'interview air time?' 

If not, it is time to change the equation. Make sure the Candidate talks 75% of the time - at least in the first few interviews. You should be talking 20%, if you want to avoid this common mistake.  Print this out and put it on your desk as a reminder.
ON BOARDING: This is an alarming statistic: 1/4 of your new hires will leave in their first 45 days, and if they don't leave then - they tend to leave before their first anniversary.   There are three things you must focus on to keep them: 1) Reduce fear.  2)  Increase their understanding of the company and their job. 3) Give them everything they need to be productive quickly.   Listen to (or read the transcript) of Podcast #44: Getting New Hires to Stay.
STRESS MANAGEMENT:

Feeling stressed right now? (9 out of 10 professionals share that  they DO feel worry, stress and dread every day.  If so, define your stress through these three categories, Is it: 



Stress from Things You Can't Control:

This would include things like war, the economy, this week's heavy work load and your spouse's snoring.

Good Stress:

This is when you take on a challenge like a promotion, running a marathon or even resolving to get along with your mother-in-law!  It's hard, but you feel good about it.

Self-Inflicted Stress: 

This is when you voluntarily take on projects and people that overwhelm or drain you. It's also when you let worry, frustration or aggravation, about things you can't control, dominate your thoughts and discussions ad nauseam.
If you've decided that it's #3 Self-Inflicted Stress - check out The Real Truth About Stress for insight and a new way of looking at this.


THE WEEK OF February 12, 2020
HIRING: Making a mistake when hiring is expensive fiscally AND emotionally.  Right?  Yet, every time we hire someone new, we are taking a risk.  Your job is to reduce that risk.  A really smart way to start is to make sure that you and your interview team are NOT making the TOP THIRTEEN Hiring Mistakes Interviewers make.  Take this freebie quiz to see how everyone scores. (Side note; the top three mistakes - almost EVERYBODY makes them - are Personal Bias, Over focusing on Background and Talking too Much.)

STRESS MANAGEMENT: THIS is the ONE THING that makes the biggest difference for me every day.   When I do it - my days are better with lower stress.  When I stray away from it - I feel more tension, out of step and out of 'the flow. - what is it? 

It's daily Tune In Time.  Which is to take a minimum of fifteen minutes a day, every day. to reflect, write, think, pray and/or meditate.  SLOW IS SMOOTH AND SMOOTH IS FAST!  (Tune in time makes my life smoother... Working with a sense of ease and flow, is way faster than working in tension! Try it for a week - see if you notice the difference.)


THE WEEK OF February 5, 2020
HIRING: This week's focus is a reminder of the cost of turnover.  The cost to replace someone is HIGH — anywhere from one-and-a-half to eight times an employee's salary. In real life terms -if two people leave a 25 person team, with an average salary of $50K - your cost would: $150,000. <- THIS is the silent killer of profitability in organizations large and small - everywhere.

Make this your mantra this year, "An effective hiring and interview process is a top priority."  make sure that you have an effective process. Check it against the process we recommend - in this article: Use the Right Map - So You Don't Get Lost! (Using this Insight for Better Hires...)


TEAM BUILDING: This free team building activity, the Personal History Exercise helps team mates learn more about who they work with every day. When we better understand, even a little bit, where people come from and what they've faced, we find more understanding and empathy for who they are and what they do today.  Build trust with this exercise.
STRESS MANAGEMENT:  In our TriMetrix Assessment one o

f the areas that we measure, that impacts performance at work and personal fulfillment, is SENSE OF SELF.   It measures how clearly you're VALUING and treasuring YOU. 

It's an indication of how much you do or don't give yourself a break.

The ideal is to see your value, to know your worthiness and to ALSO be open to learning and growing.  If your Sense of Self is lower it can impact your ability to: handle stress, manage your time and take accountability for mistakes.  It can also impact whether you are defensive or open to other's ideas and feedback.  It's important to advocate for your goodness and to advocate for yourself as much (maybe more) as you advocate for others. 

Here's a Sense of Self mantra, "I'm happy with who I am. I give myself the benefit of the doubt. I'm also eager to learn and grow, and motivated to improve.  I want to use ALL of my potential."

LET'S TALK:
Contact us to schedule a Complimentary Consulting Call
or to ask questions about any of our Hiring,
Coaching, Training and Assessment services.