2020: Bringing you weekly short, content-rich tips, tools and reminders related to: Hiring, Onboarding, Development, Team Building, Conflict Resolution, Stress Management and the TriMetrix Assessment.
Get a recap of 2019's Mind, Body and Spirit focused weekly tips: 2019 Tips eBook
If you find value here - please share this page...  Enjoy!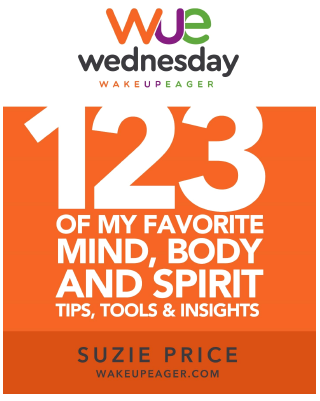 Click to Get 2019 Tips
Wake Up Eager Wednesday Tips for 2019 focused on sharing the things I'm thinking about, doing and feeling - that contribute to my Wake Up Eager Life and Work, and we've compiled them into a simple eBook for you: 123 Mind, Body and Spirit Tips, Here.

THE WEEK OF December 2, 2020

STRESS MANAGEMENT:  Reduce Holiday stress - give them what they want based on their DISC Behavioral Style: 

THE WEEK OF November 25, 2020

PERSONAL AND PROFESSIONAL DEVELOPMENT:  Get Help Finding the Perfect Gift! Use the knowledge from the  Workplace Motivators assessment (a tool that outlines top interests and what put's "gas in a person's tank" to find the perfect gift for family and friends!  



THE WEEK OF November 18, 2020

HIRING AND DEVELOPMENT: The Science of Axiology can be used as a quantitative measure of job fit. Learn how to use Axiology to compare candidates' scores to top competencies and determine EXACTLY where a person will perform well and where they could struggle.

THE WEEK OF November 11, 2020

HIRING: Hiring good employees is a lot like grocery shopping - mistakes happen when you're in a rush and if you don't have a plan or a list. Follow these 5 "shopping" tips. 



THE WEEK OF November 4, 2020

LEADERSHIP:   Feel like you've stalled or aren't getting the forward momentum that you once had? Here are 20 leadership habits that might be holding you back:



THE WEEK OF October 28, 2020

HIRING AND LEADERSHIP:  Philosopher Seneca said, "A happy life is one which is in accord with its own nature." Listen to the questions you should be asking about each person on your team and how using the car analogy to determine job fit and how it can help you to build a happy and productive work environment: Why Employees Fail.



THE WEEK OF October 21, 2020


THE WEEK OF October 14, 2020


THE WEEK OF October 7, 2020

LEADERSHIP  Situational Leadership is the art of adjusting your leadership style to effectively respond to change in your work environment, this includes situational adapting your communication style to each employee.  Review how, with this complimentary 24 page Situational Leadership Guide.



THE WEEK OF September 30, 2020

HIRING AND MANAGING PERFORMANCE: 

One key reason

 employees fail relates to a

 

MIS-MATCH between the personal skills needed in the job for success and the employee's capability.  



One study followed 100,000 people who were let go within eighteen months of being hired, and 

only 10% were fired due to lack of experience!  The rest (90%) were let go due to lack of personal skills needed on the job!  Personal skills are a unique combination of personal attributes, acumen and competency. 



All of these statements represent "missing" Personal Skills:   

"He's got a bad attitude."   "She doesn't follow up; she blames others."    

"

He doesn't get along with people."   "He's disorganized & misses deadlines."   

Key Takeaways: Start including personal skills interview questions in every interview,  prioritize intangibles.  Help failing employees understand specifically (have the conversation!) where they are failing and provide support to help them improve.



THE WEEK OF September 23, 2020

HIRING HIGH PERFORMERS - ONE KEY: 

I wonder if NASCAR Car Owner Rick Hendricks knew he was hiring the best when he decided to hire unknown and unproven race car driver Jimmie Johnson in 2001.  Between 2002 and 2017, Johnson recorded seven championships, 83 career race wins, 222 top fives,  341 top tens and 35 pole positions -

making him one of the greatest NASCAR racers of all time

. When Hendricks hired him, Johnson had a solid background in racing, but so do hundreds of thousands of others who want the job of Professional Race Car Driver. 

Like NASCAR Car Owner Rick Hendricks you have many candidates with solid experience vying for your positions. Many look good on paper and sound good in the interview.  Find out how can you know which candidate will be your next 'Champion' - one of the top secrets for hiring the best, here.  



THE WEEK OF September 16, 2020


THE WEEK OF September 9, 2020

HIRING:  After a slow-down due to the pandemic, companies are hiring again.  It is key that you get the right people in the roles, especially right now when many people are available and applying.   

Use our three-step patented

leadership and sales management

hiring assessment process

 to learn SPECIFICALLY were a candidate does and does not match your open position,  assess the level of risk (there's always a risk when hiring someone new) and pinpoint specific development focus areas to help them be successful when they start..



THE WEEK OF September 2, 2020

HIRING: If you use the six best interview questions that I share 

here,

 and listen closely to your candidate's answers, you'll hire people who have high Personal Accountability**, a key attribute found in all top performers.  In this article we share examples of this trait and why it matters.

**Based on studies and research conducted by my Assessment Partner: TTI International, 98% of 6,800+ position hiring organization benchmarks

Personal Accountability is listed as one of the top 7 personal skills required for superior performance.





THE WEEK OF August 26, 2020

MORE MOTIVATION (LESS FRUSTRATION): Here's 3 of 3 top things you can do to increase motivation on your team (from this article):

#3: Provide Personal Support and Professional Development



90% of your employees do not invest or study personal and professional development materials on their own. Yet, a high percentage are struggling with keeping their workplace motivation up.  Cost and time limitations can make it challenging for leaders to provide ongoing support in this area.



RESOURCE TO GET BETTER AT THIS:   

Coaching 

support and 

team building tune ups.

THE WEEK OF August 19, 2020


THE WEEK OF August 12, 2020

MORE MOTIVATION (LESS FRUSTRATION): Here's 1 of 3 top things you can do to increase motivation on your team (from this article):

#1:  Make sure EVERY employee has clear and specific direction about what success is in their role. Studies show that leaders THINK that they have been clear about what's required for success on the job, but most employees report they are unsure or unclear
about what is expected.   When people feel in charge of their work and they KNOW EXACTLY what is expected they are less frustrated.

RESOURCE TO GET BETTER AT THIS:

  Use my 

three-step Performance Dashboard Process

 that I 

demonstrate here

 to GIVE every employee clear direction.  It's not hard or time-consuming to do, you just have to do it.



THE WEEK OF August 5, 2020

TEAM BUILDING: 

 The DISC Assessment has so many uses - one is in helping a team learn how to communicate and work together more effectively.  Here's my

Top 10 Favorite Uses for DISC.

 



THE WEEK OF July 29, 2020

LISTENING: 

To be a great leader is to learn to be a great listener.  

This article: The States of Distress, how to comfort someone when something bad happens to them highlights how important  it is to REALLY listen, be present and tune in to friends, family, colleagues and employees BEFORE trying to help.  They share The Four States of Distress Model as a way to determine what kind of help someone may want, as it differs at every stage. Bottom line: If we can really listen - we'll know what help to offer and when. If we ever do not know what to do - just listen, ask questions and express support.


THE WEEK OF July 22, 2020
Hiring: A great reminder to ALL interviewers and hiring managers from HUB International's Regional Vice President of Human Resources, Jack Patterson, GPHR, SPHR, SHRM-SCP,  "

We're looking to marry someone, not date someone, and so it's imperative that we do our due diligence during the hiring process, and doing due diligence doesn't mean just looking at a resume and seeing what school they went to, it is a skill assessment. Don't make decisions in silos, but also take ownership for your decisions. So, be willing to make the decision but involve others." 

From our discussion:

How to Evaluate job Fit: What Great Hiring Managers Do.




THE WEEK OF July 16, 2020
Hiring: 

A skill found in all top performers in all jobs is Time and Self Management. This is t

he ability to prioritize and complete tasks in order to deliver desired outcomes within allotted time frames, consistently demonstrating self control and ability to manage time and priorities.  (What job can you think of that does not need these strengths?  This is important in EVERY position.) Start looking for this skill in EVERY candidate with these important Superior Performance Interview Questions.


LEADERSHIP:  I've been thinking about the power AND limitations of SYSTEMS, LOGIC, KNOWLEDGE, RULES.

THE POWER: Without a SOLID system or framework most endeavors will lag or fail.  The power in SYSTEMS is that they provide a black and white, structure and framework for working, creating and living. 



If a facilitator lacks a meeting framework to help the team make decisions and learn, the meeting will fail.  Without a clear and concise mission statement, core values, performance expectations and job dashboards, employees are unclear about priorities and where to focus, and performance suffers. In my business, my awesome website tool and assessment science partner provide the systems and framework we need to blog, podcast, consult, train and certify others - to meet our mission.



THE LIMITATIONS:  However when great SYSTEMS are put into place but they're not used properly or at all, the systems by themselves fail. Think of well written core values that never permeate the culture, or a beautiful website that never gets used or visited. 



For systems to be successful we must take into account and equally focus on - how they will be used. And, even more importantly - will be if they shared, explained and give meaning to the people who will be impacted by the "new rules" or systems?





Are you thinking about SYSTEMS with an EQUAL FOCUS on the IMPLEMENTATION and USE, and then GAINING PERSONAL BUY-IN AND UNDERSTANDING FROM OTHERS?  

Knowing that there are THREE dimensions needed for success of ANY initiative - is eye-opening and a game changer.

Are you BALANCED in all three dimensions in your approach? 

Here's a clue on how you're doing - if the 'rules' or 'systems' are being ignored -  you are OUT of BALANCE.

  We use the

Science of Axiology

to measure how clearly a person sees, understands and appreciates these three dimensions: systems, actions and people. And then to help them create more balance and more effectiveness in ALL areas of their life.



THE WEEK OF June 24, 2020
TEAM BUILDING:  So many people are working remotely.  Now more than ever before we must rely on each other - as colleagues and as a team.  Commitment and engagement matter even more.  Plan a team Team Effectiveness Meeting to review how everyone is doing and how you can all work together more effectively.   Use the three step meeting plan format, free quiz and tools I share in this step-by-step how to video.

THE WEEK OF June 17, 2020
LEADERSHIP:  "The time of your birth is the time you scream. And for a lot of us, we spend the rest of our lives trying to get noticed. And all we want to do is to be heard."

That's a quote by the author of Deep Listening, Impact Beyond Words by Oscar Trimboli.   Listen to this podcast episode with Oscar and learn:  -Why deep listening is so tricky      -How to double your listening productivity with 3 simple phrases.     -How 4 unconscious Listening Villains get in your way. -How to bring your best listening self to every interaction with these 3 actions.


THE WEEK OF June 10, 2020
STRESS MANAGEMENT: This is my #1 Wake Up Eager Spirit (stress management, feel better) Practice and Tip:  Take Daily Tune In Time - Reflect, Rest and Realign Every Day!  
★ Listen & See Detailed Show Notes of  Podcast Episode 68 on Tune In Time!
We cover:
 - How you can use Daily Tune In Time (TnT) to reduce stress and be more productive
 - Why Tune in Time matters and how it helps you and 15+ TnT activities
 - What famous people do and other professional share what they do to align and handle stress

LEADERSHIP:  Taking a facilitative approach - matters more today than ever before. Find out what that is and the eight core practices of facilitative leaders in this

wise and information discussion with Certified Master Facilitator and Author Michael Wilkinson.



★Data Dome President Lisa Bouchard, sent in this feedback about this discussion with Michael,  "Suzie, I just had to let you know that I listened to "Why Facilitative Leaders have Greater Success" podcast on my hike this weekend. I absolutely loved it and learned so much that I will hopefully incorporate into my own facilitation. I can see why you admire Michael Wilkinson so much and how he is one of the "pillars" that has contributed to why you are so amazing at what you do. Thanks for sharing your podcasts, your passion, your insights and expertise. You truly are a 'Wonder Woman'"
COMMUNICATION:  Take in the importance of tuning in to and demonstrating care with your employees.  It is very important to see beyond what is seen at first glance. Not just looking, actually seeing and really listening.

Listen with no agenda, no fixing it, no sharing your advice, opinion or situation.  Just listen and watch and feel how it helps. During this time, when we all need to be seen and valued, re-learn this:  "Listening is often the only thing needed to help someone."  (People are wise and have many of their own resources to make good decisions, help them, empower them - by really LISTENING.)

LEADERSHIP: The #1 Best Practice for Leaders:  "Over Communicate."   We highly recommend a morning and afternoon remote "huddle" to keep in constant communication. This will lessen fear and bring about calm in the mist of all of the uncertainty due the quarantine mandates. 

Sample "huddle" meeting agenda:


1. Conduct round robin check-ins, going alphabetically by first name.  Have a minute or two each of each person sharing what's going well right now and what is challenging. (

Don't skip this part ' as too personal'! NOW, more than ever before, people need to connect, to have a voice and to be heard.)
2. Then, go around again and ask each person to share on their work:
     a) what they've accomplished since the last 'huddle' before
     b) what they plan to do that day
     c) share any road blocks they're encountering
    d) ask for any help they need

THE WEEK OF April 29, 2020

THE WEEK OF April 22, 2020
STRESS MANAGEMENT : Use our complimentary Working from Home report for personalized Working From Home Communication tips based upon your DISC Style, and gain insight and communication tips for team mates and family.  Get your report now  by clicking here.  (Takes 10 minutes to complete.  Results go directly to the email address entered when you start. Feel free to share this link and your report!)

THE WEEK OF April 15, 2020
TEAM BUILDING:  Many organizations are working remotely and from home right now.  Now is a time, more than ever before, you must rely on each other.   Commitment and engagement matter even more now.   Use this

Simple 7-Point Employee Engagement Survey Process

to help you and your team  'Move Fast and Strong' Together!




THE WEEK OF April 8, 2020
TEAM BUILDING:  One powerful way to connect with and engage each person on your team would to schedule a coffee or lunch to review a 

Side By Side Report 

report,  revealing how two people can best understand each other and work together.  This is a powerful way to create high trust, effective and productive working relationships.  You don't have to have a facilitator involved, with this  sample review format to guide you both:

Sample Side By Side Debrief Agenda.   

THE WEEK OF April 1, 2020
TEAM BUILDING: This free team building activity, the Personal History Exercise helps team mates learn more about who they work with every day. When we better understand, even a little bit, where people come from and what they've faced, we find more understanding and empathy for who they are and what they do today.  Build trust with this exercise.

THE WEEK OF March 25, 2020

THE WEEK OF March 18, 2020
ON BOARDING:  Our Getting Them To Stay is a new hire retention and development process that you can internally facilitate, that will help you engage and keep the people you worked so hard to recruit! This done-for-you tool can be added to your current on boarding process.

THE WEEK OF March 11, 2020
ON BOARDING: 

You work hard to find the right candidates, but once on board - you have more work to do!

Note - this is alarming statistic: 1/4 of your new hires will leave in their first 45 days, and if they don't leave then - they tend to leave before their first anniversary.  

There are three things you must focus on to keep them: 1) Reduce fear.  2)  Increase their understanding of the company and their job. 3) Give them everything they need to be productive quickly.   Listen to (or read the transcript) of Podcast #44: Getting New Hires to Stay.

THE WEEK OF March 4, 2020
HIRING:  With your

Performance Dashboard

and your

Superior Performance Attributes (S.P.A.) workshee

t - you now have a very clear picture of what the intangible skills are for the position.  These two tools will help you avoid two of the biggest mistakes interviewers make all the time - hiring based mostly on background and how much they like the person!  Creating the Dashboard and selecting the S.P.A. for the position takes less than 60 minutes and will SAVE you so much time down the road.  You are on your way to hiring a superior performer!

THE WEEK OF February 26, 2020

THE WEEK OF February 19, 2020
HIRING: In the hiring

process we recommend

your first focus should be: Planning.  If you've been doing jumping right into finding candidates and interviewing, and you're in a hurry don't worry! The Planning steps we recommend are quick to implement and can be completed in less than ninety minutes. 


Yes, you'll spend a little time up front, but you'll find much better candidates and spend less time later on if you do them every time you interview.



The first thing you want to do is to create a Performance Dashboard for the open position. (DEFINITION: This is where you identify the top three to five priorities for the position, which become success metrics for a hiring template of the person person and performance expectations.) 

Learn more about the power of the Performance Dashboard and watch a short video where I show you how to create one, here.




THE WEEK OF February 12, 2020

THE WEEK OF February 5, 2020
HIRING:  Which Lowers Your IQ More - Multitasking, Marijuana or Losing a Night's Sleep? If you answered - multitasking, you are right!  it causes a 10% drop in IQ and a 40% drop in productivity, and it can be ANOTHER BIG Hiring Manager mistake!  More info and a four question quiz, to determine if it's hurting you as you interview others,

here.




THE WEEK OF January 29, 2020
HIRING: "I am convinced that nothing we do is more important than hiring and developing people. At the end of the day you bet on people, not on strategies." – GE CEO Larry Bossidy  Hiring matters and if not done well can become the 'silent killer' of profitability and productivity.  Listen to (and review comprehensive show notes) on the

Five Reasons Why Employees Fail - Job Fit Car Analogy

Podcast episode #28.




THE WEEK OF January 22, 2020

THE WEEK OF January 15, 2020
HIRING: Here's the BIGGEST and EASIEST to correct) mistake that interviewers and hiring managers make: You talk too much during the interview!  Recall a recent interview you had with a candidate. Think back about how much you talked, as compared to the percentage of time the candidate talked.

  Did the candidate get 75 to 80% of the 'interview air time?' 

If not, it is time to change the equation. Make sure the Candidate talks 75% of the time - at least in the first few interviews. You should be talking 20%, if you want to avoid this common mistake.  Print this out and put it on your desk as a reminder.

THE WEEK OF January 8, 2020

THE WEEK OF January 1, 2020
HIRING: Happy New Year! This week's focus is a reminder of the cost of turnover.  The cost to replace someone is HIGH — anywhere from one-and-a-half to eight times an employee's salary. In real life terms -if two people leave a 25 person team, with an average salary of $50K - your cost would: $150,000. <- THIS is the silent killer of profitability in organizations large and small - everywhere.
Make this your mantra this year, "An effective hiring and interview process is a top priority."  make sure that you have an effective process. Check it against the process we recommend - in this article:

Use the Right Map - So You Don't Get Lost! (Using this Insight for Better Hires...)



LET'S TALK:
Contact us to schedule a Complimentary Consulting Call
or to ask questions about any of our Hiring,
Coaching, Training and Assessment services.