2020 Update: 2020 WUE Wednesday Tips started again in February.  This year we are making a shift in focus from 2019's Mind, Body and Spirit focus (get the 2019 Tips eBook here) to 2020's focus on topics important to the 'life cycle' of an employee's 'stay' with you.  This year we will cover important tips related to: Hiring, Onboarding, Development, Team Building, Conflict Resolution and Stress Management. 
We'll always continue to provide short, content-rich, pithy weekly tips, tools, reminders and resources to help Leaders and Consultants reduce drama and improve retention and commitment to build a Wake Up Eager Workforce. 
2020's tips will be especially helpful to anyone who uses our TriMetrix Assessment.  If you find value here - please share this page...  Enjoy!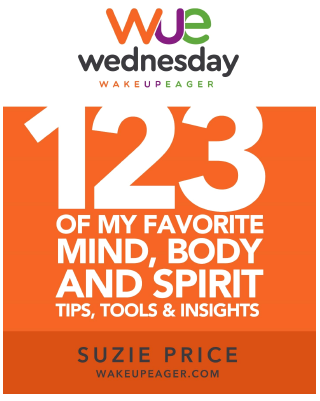 Click to Get 2019 Tips
Wake Up Eager Wednesday Tips for 2019 focused on sharing the things I'm thinking about, doing and feeling - that contribute to my Wake Up Eager Life and Work, and we've compiled them into a simple eBook for you: 123 Mind, Body and Spirit Tips, Here.

THE WEEK OF February 12, 2020
HIRING: Making a mistake when hiring is expensive fiscally AND emotionally.  Right?  Yet, every time we hire someone new, we are taking a risk.  Your job is to reduce that risk.  A really smart way to start is to make sure that you and your interview team are NOT making the TOP THIRTEEN Hiring Mistakes Interviewers make.  Take this freebie quiz to see how everyone scores. (Side note; the top three mistakes - almost EVERYBODY makes them - are Personal Bias, Over focusing on Background and Talking too Much.)  

STRESS MANAGEMENT: THIS is the ONE THING that makes the biggest difference for me every day.   When I do it - my days are better with lower stress.  When I stray away from it - I feel more tension, out of step and out of 'the flow. - what is it? 

It's daily Tune In Time.  Which is to take a minimum of fifteen minutes a day, every day. to reflect, write, think, pray and/or meditate.  SLOW IS SMOOTH AND SMOOTH IS FAST!  (Tune in time makes my life smoother... Working with a sense of ease and flow, is way faster than working in tension! Try it for a week - see if you notice the difference.)


THE WEEK OF February 5, 2020
HIRING: This week's focus is a reminder of the cost of turnover.  The cost to replace someone is HIGH — anywhere from one-and-a-half to eight times an employee's salary. In real life terms -if two people leave a 25 person team, with an average salary of $50K - your cost would: $150,000. <- THIS is the silent killer of profitability in organizations large and small - everywhere.

Make this your mantra this year, "An effective hiring and interview process is a top priority."  make sure that you have an effective process. Check it against the process we recommend - in this article: Use the Right Map - So You Don't Get Lost! (Using this Insight for Better Hires...)


TEAM BUILDING: This free team building activity, the Personal History Exercise helps team mates learn more about who they work with every day. When we better understand, even a little bit, where people come from and what they've faced, we find more understanding and empathy for who they are and what they do today.  Build trust with this exercise.
STRESS MANAGEMENT:  In our TriMetrix Assessment one o

f the areas that we measure, that impacts performance at work and personal fulfillment, is SENSE OF SELF.   It measures how clearly you're VALUING and treasuring YOU. 

It's an indication of how much you do or don't give yourself a break.

The ideal is to see your value, to know your worthiness and to ALSO be open to learning and growing.  If your Sense of Self is lower it can impact your ability to: handle stress, manage your time and take accountability for mistakes.  It can also impact whether you are defensive or open to other's ideas and feedback.  It's important to advocate for your goodness and to advocate for yourself as much (maybe more) as you advocate for others. 

Here's a Sense of Self mantra, "I'm happy with who I am. I give myself the benefit of the doubt. I'm also eager to learn and grow, and motivated to improve.  I want to use ALL of my potential."

Contact Us To Schedule a Complimentary Consulting Call or to Ask Questions