Comments From Priceless
Clients and Colleagues
| | | |
| --- | --- | --- |
| Suzie Price Speaking on Leadership | Priceless Workshop | Company Retreat for Leaders |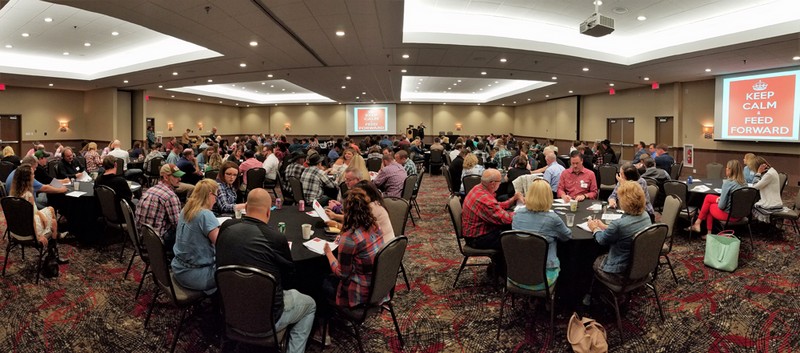 Presenting at a Company's Annual Meeting of Leaders - 200 Participants
---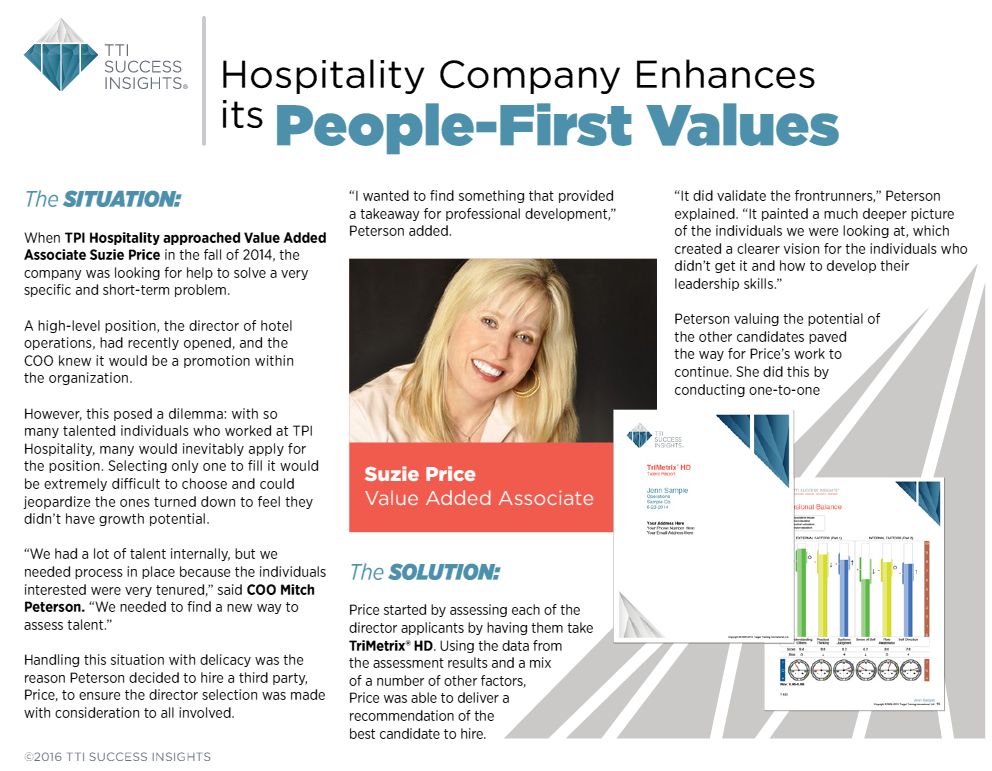 Review Here:
TriMetrix Case Study About
Hiring, Coaching and Mentoring
with TPI Hospitality

---
"I would like to take this opportunity to thank you for your amazing service and support over the years Suzie!  You have been amazing! You have been a great partner and we have seen so much growth!  Thank you for the helpful resources and your incredible responsiveness to your clients.  I always felt like VIP! 😊 Wishing you continued success Suzie!"  Judy Lee, Director, Talent Acquisition, HUB International Ontario Limited
TriMetrix Hiring Tools and our Hiring Superior Performance Attributes Process:   "As a pre-employment tool – it is amazingly effective for putting the right person in the right seat. It helps us dig deeper in the 2nd interview. It helps us figure out where good candidates may be a better fit in a role different from what they interviewed for."   RC, Talent Acquisition Manager, HUB International
 "The TriMetrix coaching tools are just incredible. It's the three different measurements that set it apart. DISC is  something that you can find parallels to in other assessments, but I've never seen the other two measurements  in other tools that I've used, and I think they are just incredibly revealing.  It gives us a great deal of  information about people, ourselves and others. It helps our group connect on a level that we never did before. And, I have a deeper appreciation for different points of view than I did before."   Anne Waloven, CPDA, CPMA, TMEA
After a Virtual Training Session on Using TriMetrix in Hiring:  "The session was amazing today, thank you Especially breaking down and debriefing the HR Advisor role, what a phenomenal tool for our recruiters and hiring managers.  Also helps us to understand the role and what we (as hiring managers) expect in the role!"   Manager of Leadership Development, HUB International
Assessment Certifications "I am so glad that I completed my certifications at Priceless Professional Development because the certification process was self-paced and the coaching support with Suzie was amazing, she was always there for me, coaching me along. I now feel like I am even more comfortable and effective in coaching others within my organization. I cannot recommend Priceless Professional Development enough." Rebecca Waits, Chief People Officer at SierraConstellation Partners
"Thank you for helping us work through the challenges we are having.  I was incredibly proud of the work 'Jane Doe' put into this process and I believe she will benefit from the entire activity, which is a win for her, for Marketing and for our company.  You have such a nice way of shining a light on topics that have been shoved into the dark because they aren't easy to handle."  Marketing Communications Director, an international product supply company
"I am so glad that I completed the Professional DISC Analyst Certification at Priceless Professional Development, for so many reasons. The certification process, first of all, is so convenient and the coaching support from Suzie Price is absolutely amazing. And also behind the scenes, of the certification, it gave me additional confidence to better interpreting DISC reports both in my coaching and for workshop training sessions that I often deliver for teams. And I can now effectively communicate DISC methodology to leadership that are looking to do any one of the number of things, from building teamwork, to accelerating their transition with a new team and to operating with better awareness to their strengths and where they may have gaps as a team. But the DISC certification has clearly helped me to stand out as an Expert in my field." Shawn Simon, Founder and Certified Executive Coach, Simon Leads LLC

"Motivating yourself is one thing but motivating your team can be entirely different.  With the level of excitement ignited by Suzie Price, she enabled the leaders attending the Cherokee County Chamber's 2018 Leadership Symposium to begin preparing their foundation to establish a committed, energized, drama-free workforce.  From her insight on waking up eager to finding the genius in everyone, attendees walked away satisfied and those completing the Talents Insight Assessment knew better than before how their personality and work ethic coincide with that of their co-workers."  Pamela W. Carnes, GCCE, President and CEO, Cherokee County Chamber of Commerce

"I am a huge believer in accreditation and in the addition of behavior assessment science to anyone's practice. So I am thrilled to have completed my certifications at Priceless Professional Development. The additional dimensions that I gained here serve as wonderful aids for me to help clients identify underlying issues and blind spots, and that's why adding them as part of my offerings has gone a really long way as I coach leaders and teams. The certifications have certainly also helped me stand out as an Expert in my field, so for all these reasons, I recommend this certification process to any coach ready to up their skill level." Keren Eldad, Founder of With Enthusiasm Coaching and an ICF Certified Coach

 "Suzie, Thank you so much for facilitating the GTC group last week.  You did an incredible job as usual.  Your skill and competence are outstanding and your warmth is impactful.  It is a joy and honor to work with you Suzie."  Founder, Business Strategist and Executive Coach, Dr. Jennifer Whitaker, Executive Brilliance

"Suzie has become our Ghandi!  She's part of our culture and vernacular.   She's helped us with an executive team meeting, team building, she delivered a keynote at our annual management conference (@200 leaders), one-to-one leadership coaching, and in our mentor and high potential program. We continue to work with Suzie because we see the ROI."  Executive, Large Hospitality Company

"The first time I met Suzie was at a conference to learn about the latest trends for our businesses. I knew from the first conversation I had with Suzie, that she was a powerhouse. Her enthusiasm is contagious and her eagerness to help others is evident when you see the resources she provides to her clients and fellow colleagues. She loves learning from her guests that she has on her podcasts as much as she loves sharing her knowledge to help other leaders. I get inspired by her messages on her podcasts and material, if you haven't had a chance to hire Suzie for your business or learn more from her books and resources, I highly encourage you to check them out."   Tina Asher, Asher Career Coaching
"Suzie is very responsive whenever we need assistance, I always appreciate her quick responses. She is also very knowledgeable and a great asset. She is great at what she does and her passion for her work shows!"  Rene' Critelli, PHR, Recruiting Manager, Hub International (Uses the TriMetrix Talent Report with Candidates.)
"We really appreciate you coming in earlier this week! Honestly our team loved the coaching session around all of this information.  I had nothing but positive feedback. I like that you made it interactive, had people read. Everyone was into learning about themselves and others on our team. Seems everyone is interested in learning how we can better communicate internally with each other.  This is helping us improve communication and our business overall." Doug Harden,  COO, Stoneridge Group
"I found the TriMetrix Onboarding Assessment process very helpful as I came onboard as Chief Operating Officer at TPI Hospitality. My new team of 13 all had long tenure within the organization. Having their assessment results, and Suzie facilitating one-on-one triad conversations, helped us all understand our individual strengths, drivers, preferences and blind spots, and how to best work together.   I continue to refer back to my team's assessments, our side-by-side results and the team's one-page reference sheet, to guide how I lead, manage and better relate to each team member.   It's been effective and worth the time."  Jim Sega, COO, TPI Hospitality

"I have had the pleasure of working with Suzie Price thru her individual and team coaching, using the Talent  Insights Assessment tool along with a side by side comparison report. These tools really helped identify the reasons for the communication challenges I was facing with my employees. The self-paced debrief video and online tools were an extremely valuable resource in helping me and my team work together in ways that catered to each persons strengths. Our work environment and productivity has improved since working with Suzie. Her passion for people and her work also made the process fun and stress-free. I highly recommend her services if you want an empowered, successful and drama free work environment. Thank you!!"  Dr. Nicole K. Williams, Vivicare Wellness Center

"I really enjoyed everything you had to say.  Made me reflect on important things and focus on what motivates me."   Kacey Sims, attending a Workplace Motivation Presentation
"I loved it!  The insight was well thought out in its delivery.  I am certain it will make me a better manager and my team more productive."   Tina R. Store Smart Storage, attending a Workplace Motivation Presentation
"We had an epiphany during the sharing exercise. We both realized why we've been at odds with each other, we each needed different things from each other. We now understand how to work together more effectively. This has been so helpful to our creating an effective working relationship." Mike and Ed, Two Senior Leaders, Aviation Industry
"I wanted to thank you so much for the great course you taught.  I learned a lot about not only being a leader, but also about myself and why I do some of the things I do. Thank you!"  C.K. Marketing Manager
"So much to think about! I will certainly be using this information starting today!"  Mattie Smith, Cartridge World, Motivating Yourself and Workforce Talk
"Well done - good energy and thank you for giving a different slant to things we sort of know but don't take the time necessary to think about."  Jamie Dempsey,  Moosehead Marketing Solutions, Motivating Yourself and Workforce Talk

"Thank you very much for presenting to us at our leadership course.  You are amazing!  Your enthusiasm is infectious!  Thank you for making the class fun.  I truly learned a lot about myself."  A.K. Professional Trainer
"We had Suzie come out to speak to our organization about "Dodging the Duds." Her presentation was eye-opening, entertaining, engaging, and presented some incredibly practical advice about improving the way we go about hiring people for our companies. I took away a number of steps that I could put in place immediately at absolutely no cost to my company. Suzie is a great speaker, and I would highly recommend her to your company to help increase efficiency in your personnel. She will bring to the table plenty of tools to help you improve your bottom line!"  Mike Allbright, Southeast Urgent Care and VP Eastside Chamber of Commerce


A Company Director's Thoughts After a Three-way Phone Coaching call Between Me, Himself and his Employee, Carol:  "Suzie I LOVED the call!!  It was really great and I think you set the ball on the T very well for me to hit it and make some great points that I really wanted to make.  I think that the call will help Carol and I talk about some things much deeper then we have in the past and I think it helped Carol be assured that this is part of the investment and not a  "you are in trouble!" meeting.  I really like how you took her through her TriMetrixHD report and were able to open her up to what is and is not them (in her opinion) but  allows me to speak into what I think…so they get confirmation or reinforcement of a blind spot!  I can't WAIT to do this with Jane too. Thanks a lot for the great work on this call with Carol.  I was very impressed with how the call went!"  Director in the Hospitality Industry
"A new employee thought it would be a good idea to assess everyone's personality and work style, so I contacted Suzie. The results were invaluable. Suzie coached us on how to work best with each other. Work became easier and people were much happier.
Suzie helped us take it to the next level by creating a matrix for matching personalities with positions. This way, we don't make the mistake of hiring a 'qualified' numbers person who needs a lot of personal interaction. Another matrix helps make performance appraisals more objective by clearly communicating the most important parts of each position and how much time they should allot.
Some of my people had been spending too much time on what they perceived was important, but wasn't. Now everyone knows what they need to do to be successful and our retention rate is better. Suzie is 100% focused on my needs and inspires me to be my best. I always feel good after meeting with her." Victoria J. Braden, President/CEO, Braden Benefit Strategies, Inc.
"Another exceptional program! You are terrific! The class absolutely adored your manner and class. Looking forward to our continued partnership in our Senior Leadership course and the other venues you have supported within FlightSafety."
Greg Wedding, Vice President-Personnel Development FlightSafety
"This was the best seminar we've had yet. It was interactive, meaningful and fun." Pat, Supervisor, Manufacturing Facility
"I come to classes, even when I have a vacation day, because I know Suzie will be here. The skills are clear and helpful. Suzie's style is personable and she gets us all involved in the class. She's firm, keeps us productive and we have a good time."
Pete, Supervisor, Koppel Steel
"I've participated in several Position Benchmark meetings facilitated by Suzie Price. She's facilitated sessions for my company and for one of my clients. We enjoy working with Suzie because she is extremely client centric in her approach. She is a great listener, responds in a consultative manner and is always prepared. Suzie is also a student of her trade and is committed to learning more in order to bring greater value and benefit to the client." Tricia Dempsey, CEO, Agile Atlanta


"Thanks for being so efficient and easy to work with. I really appreciate working with a reliable vendor!" C.C., Learning and Development Manager, Oncor Energy (provided 360 Feedback Program Tools)


"We're a fast-paced, growing company that works with clients such as FedEx Kinko's, Disney and Target. One of the risks we face daily is with our hiring decisions. In a smaller company, one bad hire can have a widespread effect. Thanks to Suzie Price, we are making smarter and more educated hiring decisions.Suzie is extremely bright, upbeat, creative and responsive—a real go-getter.
She digs and checks every step of the way to make sure she's meeting our needs and that we are completely satisfied. She facilitated an offsite multi-day strategic planning session. During the course of the meeting we recognized the need to change directions midstream. She stayed up late to accommodate those changes so we could start on a fresh path in the morning. The change was seamless to the participants, thanks to her hard efforts. It's a joy to have her on our team." Katherine Kyle, VP Human Resources EZ Prints, Inc.
"Suzie Price was an integral part of the key stages of LightYear Technology. First, she helped us double our sales team through candidate assessments, TriMetrix and benchmarking. Before Suzie, we were hiring the old-fashioned way with a few interviews, checking references and then going with our gut instincts. Her way proved much more effective. Then, she helped me manage the sales team and transition that responsibility to a new sales manager.
She facilitated team leadership meetings to get us all on the same page.
When we had a downturn in business, she provided valuable outplacement services. After I sold the company, Suzie helped me create a career transition plan which led to a very rewarding career in corporate performance and strategy consulting.Suzie is the best. She makes you feel good about yourself. She's honest and enthusiastic, reads people very well, and always delivers what she promises." Greg Barnett, Founder and Former President, LightYear Technology


"Every business has its own set of dysfunctions. It may be lack of communication or misinformation within and throughout departments, or mixed messages when it comes to a company's values or key initiatives. The business leaders who are willing to take their heads out of the sand and confront these issues are the ones who succeed.
"An executive recruiter recommended Suzie Price because our management team couldn't agree on the best candidate to head up our marketing department. Suzie helped us develop a shared perspective so that we could make the right hiring decision. She used TriMetrix to define our key objectives for the role and create a benchmark.
Suzie is a joy to work with. She is skilled at honing in on the key issues, getting them on the table and confronting the emotions that are naturally inherent in this process without placing blame on anyone. From the way she approaches every challenge and her excellent follow up to keep us accountable, I know she genuinely cares about her clients and is passionately committed to their success." John Borden, Former CEO of Lightyear Technology and Attorney/Partner of Trusted Counsel


"Thank you so much for all your help last week. You added a high level of professionalism and respect to an otherwise unpleasant process for all involved. We greatly value your services and moral support!" G. Bachman, CEO, Technology Company


"I met Suzie through the recommendation of my sales trainer when she recognized I didn't know how to hire people. Suzie developed core job descriptions, wrote our ads, helped select the top candidates and then personally assessed them. Every new hire has been right on.
I've been in business for more than 35 years and it's only now that I feel like I have a sales team in place that is destined to succeed. I know Suzie keeps very busy with many clients but, when I speak with her, I always feel like I'm the only one." Walter Eisenberg, Owner, Retail Business

"Suzie, I didn't want to let the week go by without saying how much I appreciated your being here. I don't think there was a single person who did not greatly benefit from your 2+ hours of "meaty" material. As I told you, just holding this group's attention on day three, and at the end of several grueling days of work, was not an easy task. But they were engaged and participated far beyond my expectations.
I truly believe it's due to your A+ delivery, easy going (and humorous) nature and of course, the richness of the content. The informal feedback I got from everyone was excellent, Suzie; I wanted to be sure you knew that! Thank you for your expertise, for your outstanding session and for helping us raise the bar on our interviewing skills. I hope to see you soon." VP Human Resources, National Technology Firm

The hiring process and tools you share has made me a much better interviewer.  I am more prepared, I ask better questions and I'm making better decisions.  Knowing exactly how to focus on job fit - what you teach - has made a big difference.  I'll use these tools for years to com.Thank you!"   T.M. -Technology Leader
"I want you to know how much I appreciate your enthusiasm, your ability to change the program and flex to our changing needs. You are a joy to work with." L.Tilley, Performance and Learning Team Leader, Fortune 50 Company

"Suzie, I needed this learning and growth opportunity around the hiring process. I do not want to hire any more people from hell. I am still living with some past errors that haunt me. These skills and this process will help me get the right people on 'the bus'. Thank you!" Bill, Aviation Senior Leader

"Suzie, Thank you for your help on my recent 360 Feedback. First, I really appreciate your consistent attitude. You are always "upbeat", cheerful and you always encourage others. You have a "Leaders" heart and an attitude that attracts most other folks, especially other leaders.

As for the 360, you know this is the only 360 I have ever used because it encourages the subject to improve by offering suggested courses of action for the lower scores, while recognizing strengths in the higher scores.

It gives a 'coach' a fresh place to start with a client who really wants to improve, while mitigating any damage a negative comment may have caused. I have also used the 360 to evaluate 'teams' and found it to be very effective in diagnosing group problems that otherwise would be very difficult and expensive to reveal through multiple interviews. So, I have found this tool to be very helpful to the coach and cost effective for the client I appreciate all the help you have given me. Thank you!" Greg Gregory, Christopher Management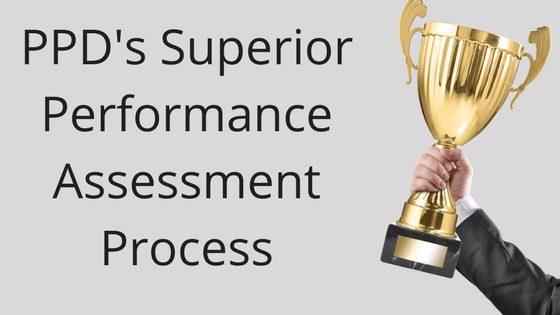 "Great tips - much of it I have removed myself from for some reason.  I plan on getting back to some basics to do better for my business." Michael B.  attending a Workplace Motivation Presentation
"This B2B Workshop was a wealth of information for personal as well as business growth, thank you!"  Patrice T.  Ideal Therapy, attending a Workplace Motivation Presentation

"Just wanted to thank you and let you know that I enjoyed your talk immensely. I will definitely implement what I learned today on my day-to-day work. Thanks again." Adriana P. Marketing, Stoneridge Group


"Thank you for your leadership and creativity last week. I told (others) that you were like a good referee. When the game was going well you let the players play (contribute) but when we got out of control you took charge and restored/improved as necessary to let us productively continue. Thank you." CTO, Technology Executive, Two-day executive team-building and planning off site

"Just wanted to say Thank you for the great seminar. It was a pleasure meeting you!" Angela, Marketing Manager, Flight Safety International

"Students like these courses because they like the structure and the online component. The leadership training modules are good for our organization because they provide consistency from class to class, quarter to quarter. We always know that our learning objectives are being met by using these materials.
The pre/post test also make this program qualify for VA funding.Suzie's service and support has been top notch. She is, without question, the most supportive vendor we have. I have always been able to reach Suzie, and she has always delivered goods and services as promised, on time and with professionalism. She is a dynamic person to know. She has made my job so much easier. I like Suzie best, because I know she is the greatest! Positive, caring, supportive, innovative!" Marilyn, Program Manager, Kennesaw State University

"Thank you Suzie for working so well with us." Karen, Director, Kennesaw State University
"Our employees told us early on that they wanted a systematic process for training, and we have our own internal training programs for operations and customer care because we want our people to be successful. But we don't have specialized background in personality assessments and communication styles to help people learn how to hire, coach and motivate their employees and Suzie does." Jamie, CEO, Technology Company
"Suzie, thanks so much for being such a big part of our leadership course last week!  I really enjoyed your lessons, particularly the sections about DISC Style.  There were some eye opening moments there!   I also really enjoyed our discussions about hiring and motivators.   The course was awesome and I am a better person because of it!  Thanks so much!"    M.Cox, FlightSafety International

"We like to work with Suzie because she takes the time to listen to our issues, pre-plans the meeting and understands why she is being retained as a facilitator/meeting leader. Once in the meeting she brings energy and compassion to the event. In our post meeting discussions with participants everyone sees the value in her work and is pleased with the interactions and outcomes. Everyone learns from the interaction." K.T., Partner in an insurance brokerage firm, After facilitation of several team building and planning meetings

"Thank you... we thought you did a great job... you have the right stuff for what you are doing! I will be glad to provide a reference. We will keep you in mind for... the future." Joe, Manager, Georgia Power

"Well done Suzie. I've been exposed to many leadership courses, this is one of the best." R.C., Manager, Koppel Steel


"The leadership classes we went through were laid out well – they were relevant and dealt with every facet of management, showing us how to handle situations. We are using what we learned. Our managers are doing better, they are more professional now." Human Resources Director, Koppel Steel
"As ASTD Volunteer Chairperson Suzie assembled the team…to make sure we had the right people in the right positions. She kept us focused on the end result, while allowing for creativity and discretion in the way we accomplished the result and she managed us and helped us stay motivated while avoiding the temptation to jump in and do stuff for us. I would eagerly work on another project that was being facilitated by Suzie." Paul Terlemezian, President, iFive Alliances and 2008 President, ASTD, Atlanta

"Suzie is absolutely magnificent! She's a consummate collaborator who often partners with other advisers and makes everyone feel good about their contribution to the success of the client. While she focuses on the content of the program, she never loses sight of meeting the client's specific needs. She helps managers bring out the best in their people and teaches them the skills necessary to build a commitment-based organization, rather than a compliance-driven one. I trust her with my most valuable clients." Bud Cummings, Jr., Principal and Senior Consultant, Professional Development Associates
"Thank you for your leadership and creativity last week. I told (others) that you were like a good referee. When the game was going well you let the players play
 (contribute) but when we got out of control you took charge and restored/improved as necessary to let us productively continue. Thank you."   CTO, Technology
Executive, two-day executive team building and planning retreat

"I learned so much from Suzie Price as an associate working on projects together. Suzie has a gift of combining her professional and technical skills with uncommon insight and passion. She has a zest for learning and generously shares what she knows with others. She listens well and truly hears what her clients are saying, then partners with them to guide them forward. At industry conferences and training sessions, Suzie is like a magnet, attracting other distributors who respect her knowledge and character." Sherry Silverman, OwnerOdyssey Consulting Solutions

"You were the right person to (facilitate) our meeting." VP Human Resources,Technology Company

"We enjoy working with Suzie because she's full of energy, has strong leadership and communication skills, is organized and does a great job of "mining" issues to help in coming up with sound solutions for our team." L.E,. VPHR, mid-sized manufacturing company, Leadership development and team building programs


"The 360 feedback and DISC assessment along with the leadership training you provided for our executives and management team were on target. I've seen positive changes in the behaviors of the team. We received great value from this program. I appreciate the way you tailored the program to us. Thank you!" J. T., President, Mid-Size Manufacturing Company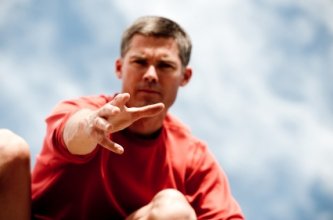 Client Comments About Self-Paced Wake Up Eager Tips, Website, Newsletter and Other:

"I know I'm being redundant - but I love your tips.  I forwarded today and yesterdays to 2 of my clients.   This is such usable, actionable info Suzie.  I appreciate all the work you have done to provide this ... I actually did (most) of these exercises you list in the Tip for today. Love, love, love your tips."  Jennifer Whitaker, Executive Brilliance
"When I was considering a career change, Suzie provided me with a self assessment that led to many 'ah ha!' moments. The workplace motivators were very helpful since I tended to get frustrated in my jobs and I didn't know why. Since I reviewed the TriMetrix report, I'm more in tune with myself. If a situation arises, I can address it with confidence. I feel like I've been able to look at myself from the outside in and can see what's important to me in my work environment and in life.

I couldn't figure out 'what I wanted to be when I grew up.' Suzie Price professionally and compassionately showed me the way. Suzie's positive attitude and can-do approach is very motivating. She keeps me inspired every time we talk about the path I'm on and where
 I'm going."  Michelle Draschil, Interior Designer, Calico Corners

"Suzie, you have a special way of looking at the world and coming up with practical suggestions. Your coaching was 'just in time' and on target. Thanks for everything." D.D., Corporate Trainer, Mid-Size Technology Company
"I miss you as President already. You brought so much fun and energy to the Club this year.  I am so grateful that you took the (volunteer) role.  No one could have done a better job. I mean that, well that's my humble opinion. I knew you were good but I didn't realize what you'd do for the Club.  Awesome and amazing.  Impossible to top in my book.  Thank you for your energy. enhtusiasm, great ideas, great style of leading meetings.  I could go on and on...  You are so friendly and encouraging yet able to kindly speak correction.  Your evaluations make speakers feel good and so does your approach to leading the Club.  People come back to our Club because of you.   Face it Suzie - you are the bomb. :)"   Madge Williams, Former Toastmaster President commenting on Suzie's one year volunteer commitment as President in 2010.

"Suzie's 120 daily actions tips and techniques for improvement are a Priceless additional to my daily routine and I think I will do it again- I love todays mantra that  - 'I can never get any of this wrong, because I'm never done.' "  L. Wallace - Tips Subscriber
"Hi Suzie, I just wanted to let you know that I am on your mailing list and I really love the newsletter that you have started. When I see it hit my inbox I go for it! Thanks for taking the time to do this; it is great!"  Debbie, business analyst, international, Fortune 100, medical technology company

"Hi Suzie - I like your newsletters - they reflect your personality in a great way."  Randy, author, consultant and successful entrepreneur

"Hi Suzie,As you've been so kind to keep me on your email list, I continue to love
receiving your Priceless Newsletter. You do an excellent job with the content,
and I especially love sharing some of your ideas, and those terrific videos, with others.
Both the Elf Yourself and the Shopping Tips for Men were huge hits! I hope things
are going well for you. I wish you a wonderful holiday and a terrific next year! Take care."
Sandy, vice president of human resources, national technology services firm

"Suzie-Love the newsletter. Full of fabulous energy and great inspiration - just like you. I am inspired!" Jackie, business consultant

"Suzie, Awesome newsletter! Thanks for sharing. It was great to see your name pop up in my in-box. You always brighten the day! Thanks," Kevin, training manager, mid-sized manufacturing company

"Suzie, I look forward to getting your newsletter - there's something in it for everyone. Thank you!" Greg,corporate consultant of a 25-year professional development services firm

"I am always inspired when I see your email in my box. It's like a friend that shows up at my door with a key lime pie. It's the only newsletter that makes me smile and want to click;
all the others are a distraction to be read "later". Huff Logue, Partner, Execulinks
LET'S TALK:
Contact us to schedule a Complimentary Consulting Call
or to ask questions about any of our Hiring,
Coaching, Training and Assessment services.