Podcast Episode #12:
Employee Selection Expertise

Overview of Episode #12 ---

This episode will help you in your interviewing and hiring efforts so that you can be sure to put the right people in the right seats. Build more business success and outsmart your competition by doing the things, in the interview, that help you notice and attract the best employees. 

5 Reasons Why Having an Interview Team is Better Than It Going Alone.

Take the Free Top 13 Hiring Manager/Interview Mistakes Quiz.

Selection Criteria for Picking Interviewers.

Getting Your Interview Team Ready in 5 Steps.
Topic #1:  Get a Free Audio Download for Podcast Listeners


Timing on Recording: @ 4:00 ---
Audible offering to Wake Up Eager Workforce Podcast Listeners:  Get an free audio download and a thirty-day trial,

here.

Over 150,000 titles are available.  Two books that I recommend, that will help you in the employee selection arena are:  Good to Great by Jim Collins and Topgrading by Dr. Bradford Smart.  Go to:

www.pricelessprofessional.com/audible

to get either one for free.



Timing on Recording: @  7:30 ---
Topic # 2: The Problems with Having an Unprepared Interview Team
Having a unprepared interview team is like going to the grocery store in a rush...  The new guy, who sounded great in the interview and the the entire interview team liked him, but turns out he's missing a important 'ingredients'  and you end up making the best of what you had, but it's not what you intended, and it's not ideal.
Bad hiring is costly.Listen to an earlier podcast about the costs and the top three mistakes interviewers make: www.pricelessprofessional.com/interviewmistakes


Timing on Recording: @  14:15 ---
Topic #3: The Benefits of having an Interview Team and not going it alone…
The benefits of involving others in the interview process are many, and include

More "eyes" and insights from others about the candidates,

Ability to dive deeper into import- ant topic areas by dividing up focus areas during the interview

Use it as a development opportunity to up and coming leaders in the organization

Creates increased buy-in and support for the new hire

Improves new hire retention



Take the Free Hiring Manager Mistakes Quiz around the top thirteen mistakes interviewers make to see if you make any of them:  www.pricelessprofessional.com/hiringmistakesquiz
Timing on Recording: @ 17:45 ---
Topic #4: One to one Interview Benefits and Interview Team Member Selection Criteria
I recommend one-to-one interviews, over and above Panel Interviews. Here are some benefits of one-to-one interviews:

Create more comfort for the candidate to ask questions and tell more about who they really are

Help interviewers have more in-depth discussions

Reveals more clearly, how well the candidate does or does not fit into the team and company culture



Two Important Interviewer Selection Criteria:

Topic #5: Hiring Process and Five Step READY Interview Team Strategy Meeting

Timing on Recording:  : @ 21:30 ---
Here is an image of the Eight Step Superior Performance Hiring Process that I recommend.  If the image is not showing in the show notes - here is a link to it online.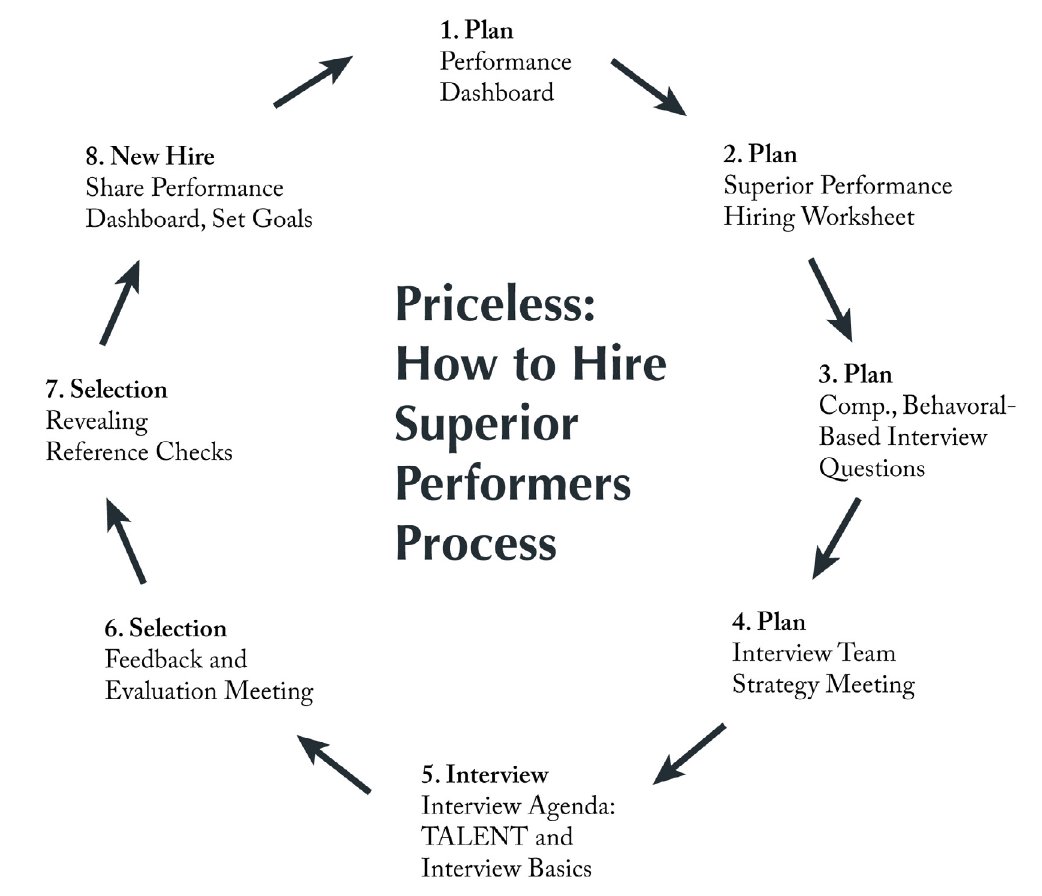 Five Step Process R.E.A.D.Y.   (get the meeting agenda form, here.)


R

.
Review. 

Why the Position is

open; T

imeline for Filling; Job Description




Superior Performance Hiring Worksheet; Candidate Resumes of Upcoming Interviews



E.
Evaluation & Feedback Selection Meeting Scheduled


Schedule this meeting 24 hours (or less) after candidate interviews; can be in person or by conference call; make this a mandatory meeting.





A.


Assign Interview Focus Areas  Focus Area Worksheet: blank – form fill-in online PDF worksheet. Worksheet for focus areas, here.



D.

Determine & Create Competency, Behavioral-Based Interview Questions Articles with information and many sample interview questions, here: www.pricelessprofessional.com/hiringarticles   You can also get 70+ interview questions, plus interview training,  in my self-paced class: How to Conduct An Interview

Y. 
"Why" Sharing by Each Interview Team Member
Topic #6: The "Why" of the Why Statement

Timing on Recording: @ 29:30  ---
What is the Why Statement: Sharing with candidates, near the end of the interview, your answers to: "Why I work for the Company." "Why this position is valuable to the company and the team."



While you are focused on vetting the candidate and you're looking for job fit by asking competency, behavioral-based interview questions, putting on your pleasant but response-neutral face and listening aggressively, you also need to remember that

the interview is a mutual selection process.

The best candidates usually have several options that they are considering. They are focused on selecting the best employer that meets their needs. Everything the company does during the interview process reflects on the company brand and the candidate's perceptions as to whether your company is good place to work.
How to use this in the Interview Team Strategy Meeting:

Ask each interviewer to share, in the meeting in round-robin fashion with you and their peers, their answers to those two questions. 

Having each interviewer share their "why" statements in the READY meeting helps each interviewer practice what he or she will share. It will also help others who are not sure what to say to candidates share more clearly and be more effective.

Closing the meeting with a round-robin exercise like this ends the meeting on a high note. It also helps everyone remember that while they are vetting.
Help In Creating a Solid Why Statement:

It's important to have a strong and succinct "why" statement and to share it with your candidate as the last step in the TALENT interview agenda. Sharing a powerful and meaningful "why" statement will be one of the last impressions you leave with the candidate.

Step 1.  Brainstorm (an uncensored list) all the ideas and thoughts you have around why working at your company and in this role is so great.

Step 2. Pick three to five key points from your brainstorm list that best explain why working at your company and in this position is desirable.

Use these prompts to get your brainstorming started:
•    Share the organization's mission, vision, and values
•    Describe the culture as dynamic, stimulating, and growing
•    Mention low turnover, strong loyalty, and employee commitment
•    Share about the awards the company has received
•    Detail the exciting and interesting aspects of the job
•    Outline the business results the company has accomplished
•    Talk about the forecast for the future
•    Remind the candidate of the great location, benefits, leadership, or team.

Related Podcasts:
The Three Biggest Interview Mistakes and How to Avoid Them

Related Service:
How to Conduct an Interview Self-Paced Class

Risk, Reward and Research in Hiring Workshop
Employee Selection Assessment Tools and Resources
PRICELESS RESOURCES
PODCAST: Subscribe to our Podcast or Help Us and Leave a Review 
NEWSLETTER: Sign up for Monthly Email Updates 
PODCAST: Most Recent Episodes      Directory of All Episodes 
RELATED DEVELOPMENT SERVICES:
·    Certification: Become the Expert: Assessment Certification Training
·    Hiring: Hiring: Secret to Superior Performance
·    Surveys: 360 Feedback and Organizational Surveys
·    Complimentary Consulting Call or Send Us Feedback: Contact Suzie
LET'S TALK:
Contact us to schedule a Complimentary Consulting Call
or to ask questions about any of our Hiring,
Coaching, Training and Assessment services.