Podcast Episode #56: Talent Insights Team Building Session Success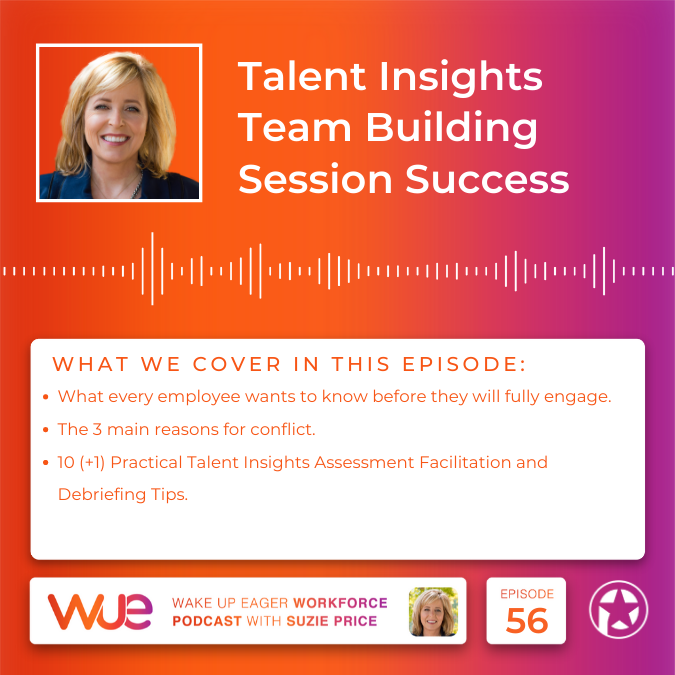 Overview of Episode #56 --- 
What every employee wants to know before they will fully engage.

The 3 main reasons for conflict.

10 (+1) Practical Talent Insights Assessment Facilitation and Debriefing Tips.  
Timing on Recording: @ 8:06  ---
Topic 1: When we think about working with a group and we think about giving assessments, there's a couple of things to keep in mind.
We want to reduce resistance, make sure they want to participate.
Conflict, three main reasons why it happens.
Miscommunication.
Different values or interests.
Past histories.
Timing on Recording: @ 15:48  ---
Topic 2: Five Areas of Job Fit.
Background and experience; Roads traveled, destinations you have been to and destinations you want to go.
Culture of the organization; Where they are parked.
Thinking and feeling patterns; What's under the hood; Horsepower.
Motivators; What puts gas in your tank and makes you want to go.
DISC; How they behave; How someone drives.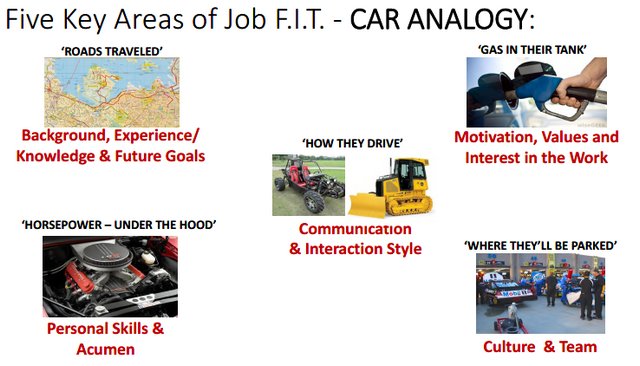 DISC is just ONE view of job fit and performance.
Timing on Recording: @ 20:38  ---

Topic 3: 10 (+1) Tips for Starting Strong; What to do Before Starting a Training Session.
Four things to communicate prior to any session:
Logistics.
How the information is going to be used.
Confidentiality and the things that people are thinking and feeling about having a training session with the team.
Why this project is important.
Share reminders about what the assessment is measuring and what to do with the report.
Have some type of debrief prior to the team meeting.
How to open the session; Favorite key icebreakers.
I.E.E.I - Introduction, Excitement, Empower, Involve.
Opening questions: "The well-known person I've never met before but would like to have breakfast with is? And here's why. And the person who has most influenced my life is, and here's why."
Team question: What is the most effective team that you've been a part of and why was it so effective?
Share tweetable comments about what you thought of your assessment, positive or negative.
How to debrief Motivators.
Use of tent cards.
Understanding the team Motivators wheel.
How to debrief the DISC.
Understanding the team DISC wheel.
Favorite exercise for sharing.
Share Communication Do's and Don'ts.
Team Effectiveness Strength Bombardment Exercise
Review what was discussed and capture key points.
Missing Links Exercise.
Star Light, Star Bright Exercise.
Follow-up strategies for impact.
Talent Tracker
| | |
| --- | --- |
| DISC Team Wheel Example | Motivators Team Wheel Example |
Talent Tracker Example
Subscribe via iTunes or Leave a Review
Links, Books and Podcasts Mentioned in This Episode: 
Get a complimentary audio book and support this podcast by using my affiliate link:
Get a Free Audio Book with 30-day Trial

Team Building Activity – Strength Bombardment 

Are You Guilty of Strength Projection? (...Something That Causes Tension and Drama on All Teams...)

Blog Articles About Return on Investment on Training… 
Related Podcasts:
Podcast #2: M.O.R.E. Motivation in the Workplace; The Workplace Motivators Assessment
Podcast #17: Get More Motivation with the Workplace Motivators Assessment
Podcast #18: Demystifying and Understanding TriMetrix:What, Why and How to Use it for Hiring and Coaching
Podcast #28: Five Reasons Why Employees Fail - Job Fit Car Analogy
Related Services:
Become the Expert: Assessment Certification Training
Get a Team Tune-Up With Our Team Building Workshops 

Schedule a Complimentary Consulting Call or Send Us Feedback:
Contact Suzie
STAY IN TOUCH: Are you a leader, trainer or consultant focused on building a Wake Up Eager Workforce?  Subscribe to this Podcast Here. You can also sign up for monthly email updates, here. Thank you for being a part of the Wake Up Eager Workforce Podcast!!