Get a Team Tune-Up with our Team Building Workshops

Our team building workshops and programs are the perfect Team Tune Up, helping build communication, connection, energy, collaboration and productivity for existing and new teams.

Talent Tracker Team Building Workshop  This interactive and high energy workshop includes a Talent Insights Assessment for each team member and a comprehensive team report - highlighting collective strengths, potential blind spots and how to best optimize the team. 

We create a Talent Tracker for your team after everyone understands their results.   This one page, two-sided, document provides daily insight and understanding of each person's preferences, strengths and blind spots.  This helps the team take the Workshop with them into every meeting and interaction, creating more synergy and less tension so the team can work together in a productive and even harmonious way!

This workshop is interactive and energizing. It gets the team talking and addressing challenges with each in
a transparent, positive and productive way.

Team Survey and Action Planning Meeting. In this interactive workshop each team member shares his/her feedback about the team, in advance of the meeting, by completing an online and confidential survey that we've tailored to your specific company and team.

During the meeting Team Survey Results are shared, dissected and discussed.  We help the team work together to create an initial action plan and ideas using powerful facilitation exercises that include brainstorming, decision-making and key action steps for the top focus areas of development for the team.  (For more information on our Team and Organizational Surveys, check out this overview.)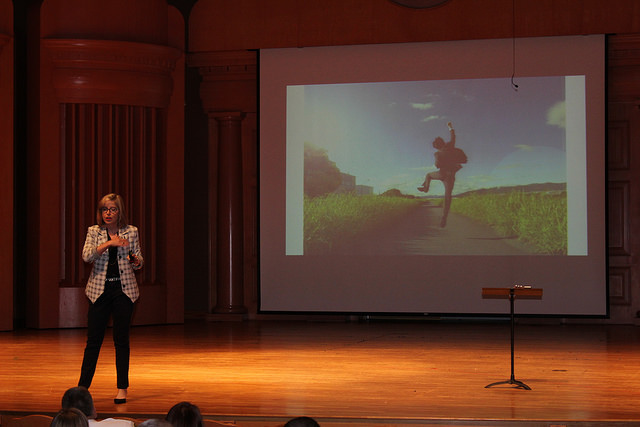 Founder Suzie Price delivering a building commitment & engagement talk at a Leadership Symposium 09/18
Team Building Tune Up - Fun with a Purpose Team Retreat/Meeting



This two hour to half day team retreat is both purposeful and fun. 

We build our agenda to match your objectives.

The time together is filled with interactive challenges, sharing and with a focus on what the team, and in each person on the team, needs to do more of and less of, to be more effective.



Sample exercises, include:  The Marshmallow Challenge; Trust Building - Missing Links Exercise;Trust Building Exercise – Personal History sharing; My Super Powers and My Kryptonite;Feed Forward; Team Dynamics Thumball; Star Light, Star Bright; Team Solutions to #1 Team Problem: Facilitation Exercise (end result – an action plan for moving forward); The Line Up Game, and more!

Overcoming the Five Dysfunctions of a Team - Building Trust, Communication, Commitment, Accountability and a Focus on Results

This interactive workshop is based on the New York Times best-seller, The Five Dysfunctions of a Team, by Patrick Lencioni, and can include an optional online team survey gathering feedback about how well the team is currently doing around each of the Five Dysfunctions and a Talent Insights Report on Each Team Member.

This learning experience will help any team take steps toward greater cohesiveness and productivity. Using powerful exercises, teams will make significant progress in each of the five fundamentals: trust, conflict, commitment, accountability, and results.

LET'S TALK:
Contact us to schedule a Complimentary Consulting Call
or to ask questions about any of our Hiring,
Coaching, Training and Assessment services.

Leave Team Building Workshops, Go To Team Building and Engagement Articles and Podcasts