Workplace Motivators Certification Training:
How to Become a CPMA

In this Workplace Motivators Certification Training program you become certified as a Certified Professional Motivators Analyst (CPMA).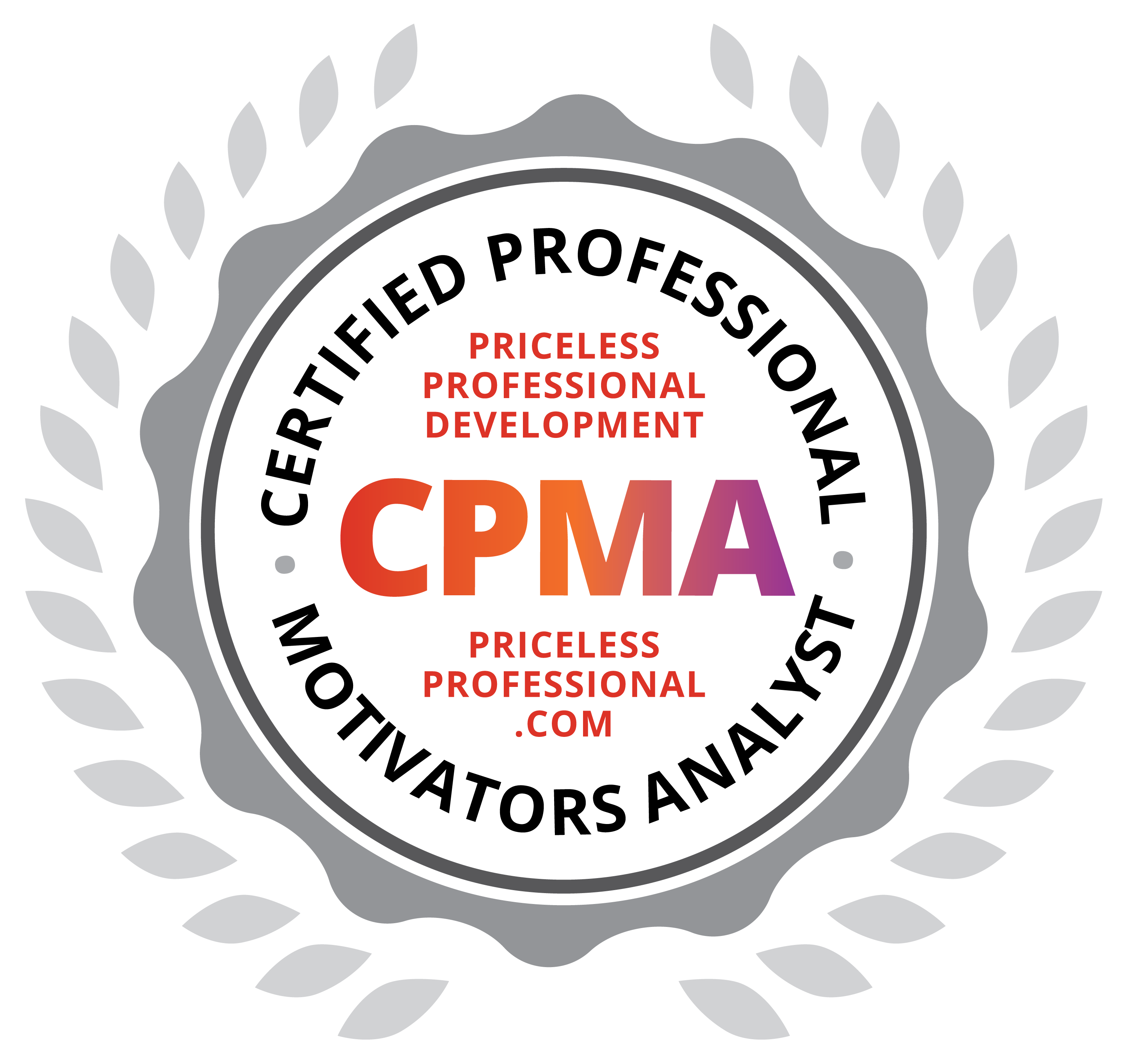 First, What is the Workplace Motivators Assessment?
The Workplace Motivators assessment is a powerful assessment that is often used along with the DISC Assessment to measure a person's top drivers and interests. It is used to determine job fit and to help an individual better understand his/her own motivations and interests.  It builds self and other awareness and leads to more work and life satisfaction.

The Workplace Motivators assessment accurately measures how a person scores in six motivation dimensions:

Theoretical/Knowledge

Utilitarian/Economic
Social/Altruistic
Traditional/Regulatory
Aesthetic
Individualistic/Political
Identifying the top two interests AND what a person is least interested in helps you measure intangibles skills that matter when selecting candidates.  It will help you hire for job fit and select the candidates who are most likely to want to do the work because their interests match what the job rewards.  It also helps leaders, trainers and coaches provide meaningful customized motivation specific to each employee. 
Do You Know...?
Do you know what puts gas in your tank, specifically what energizes you to take action? Do you know this about the people you work with and live with?  If you did, what difference would it make?  Learn more about Workplace Motivators and how it applies to the Wake Up Eager Formula in this blog post and in this podcast:
#61 - The Wake Up Eager Formula.

Use the knowledge gained through your certification, to:
Reduce the staggering costs of hiring mistakes
Create motivational environments for employees
Reduce your own stress and frustration

IMPORTANT NOTE: The Workplace Motivators assessment does NOT measure education, experience or intelligence, it only measures internal (not easily seen by others) values and interest. It is "WHY a person wants to take action."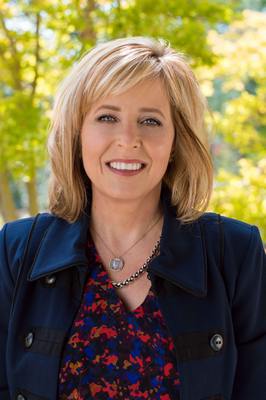 Contact, Me,  Suzie Price to Discuss Your
Motivators Assessment Certification Questions. 
770-578-6976  
suzie (at) pricelessprofessional (dot) com
Online Contact Form
Now, Exactly What is Workplace Motivators Certification Training?
I have several Workplace Motivators Packages: Self-Study, Classroom and Virtual.  All three certification process programs are tailored to your needs and can include:
On-site or online seminars,
Textbook and numerous online tools and resources,

One-on-one coaching sessions,
Experiential learning exercises,
Team building and coaching processes,
Special discounted access to online Workplace Motivators assessments,
And a final online, open-book Workplace Motivators certification examination.**
**Upon successful completion of the exam you will receive the CPMA (Certified Professional Motivators Analyst) designation and a certificate.
The Workplace Motivators Certification Training program empowers leaders, trainers and coaches to fully understand and apply the motivators model.  With this knowledge you can better understand how to activate your own (and others) motivators, and how to manage your own (and others) blind spots.
What You'll Have Once You Sign Up and Then Complete Our Certification Program...
You'll get your own (customized with your company brand/logo) Online Assessment Center, allowing you to assess clients, trainees and employees 24/7.
You'll get a 30% discount, off of list price, on your future Assessment purchases.
You'll be prepped & ready to complete the online TTI International Motivators Open Book Exam. Soon you'll be Motivator Certified, demonstrating your knowledge and expertise by placing the designation of: Certified Professional Motivator Analyst (CPMA) next to your name.

Our Self-Paced and Virtual and Classroom Packages:

  

Our Workplace Motivators Leadership Training Certification Packages are tailored to your needs.  You can select the the lowest cost option (complete self-study) or you can choose one or many phone or in-person mentoring and coaching discussions with me.

 

Our Package Includes: One-to-one coaching calls, access to assessments to practice applying your knowledge with family, friends and colleagues, access to 50+ online tools and resources, plus

numerous add-on options, such as a "done-for-you" team retreat workshop, onboarding and coaching triad call agendas.  Everything you need to effectively and

easily facilitate skill development and personal and professional growth in others.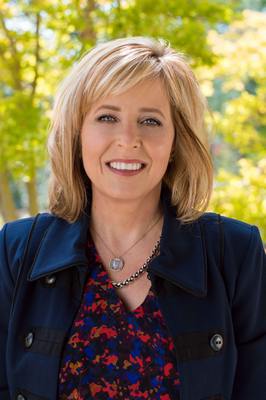 Contact, Me,  Suzie Price to Discuss Your
Motivators Assessment Certification Questions. 
770-578-6976  
suzie (at) pricelessprofessional (dot) com
Online Contact Form
Your Study Resources for Becoming an Expert, Include:

Self-Paced Motivators Certification – What's Included: This is the option I took when I became certified in 2004.
Here's a list of the self-study materials you will receive:

Access to my private Motivator Certification online study tools page with 50+ motivator-related content, resources and tools.

Six emails (one a week) to help you start strong and guide you through successful completion of the exam.

Motivators Study Guide (This is a great study and reference manual).
Two-hours of video training.
Practice exams with answers to prepare for the online certification exam.

Online Exam: When you are ready you sign up to take the online exam, there is no deadline, you can study and prepare as fast or slow as your schedule allows.  The exam it is an open book exam and it takes about 3 hours, on average, to complete.
Sixty- minutes of consulting time with me is included, to help prepare for the exam.  This can be completed by phone or via ongoing email conversations, as needed, and additional coaching calls can be provided, as requested at $200 per session.

Marketing resources that you can customize to help explain and share the assessment, and it's benefits, to internal and external clients/participants.

Numerous complimentary Talent Insights Assessments you can use to assess yourself or others close to you.  (This will help you better understand, apply and practice using the Motivator language. This real-world practice makes theory come alive as you review and debrief friends and family.)
Once you are certified we can set up a company branded assessment online Assessment Center. This gives you the ability to use the assessments with employees, clients and colleagues.  You are only charged for assessments as they are used, and once you are certified you'll receive a 30% discount on all assessments.
Access to "done for you" Leadership and Team Building Workshops, facilitation guides and agendas, plus more training tools and resources!

The fee for the virtual self-paced certification package is $1,495 per person.
What is Involved in the Workplace Motivators Certification Training  - Online Open-Book Examination?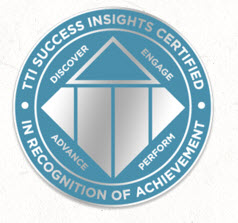 After you complete your Workplace Motivators Assessment Certification training program you can then schedule, when you are ready, a date and time to take the online, open-book Workplace Motivators certification exam.  

You have 2-3 hours to complete the exam, and timing starts as soon as you receive the online exam link that I will send to you.
This open-book exam includes topics we cover in my Motivators Training such as: Motivators Theory and history. As well as situational questions based on real-life coaching and leadership interactions. The exam includes:
True and false questions,
Multiple choice questions,
And essay questions.
TTI's  Certification Exams Have a 97% Pass Rate
Additional Certification Information About TTI:
The assessments we use, and our Certification and Training processes, are developed and monitored by our Assessment Partner TTI Success Insights. They are a worldwide leader in personal and professional assessment tools, and we've been Partners for 16+ years. They provide assessments in over 70 countries and in 28 languages, and have been in business for over 30 years.
We have found that when you use the right tools, like you get the right results. Our validity testing ensures the accuracy of these assessments; our vigilant research guarantees reliability, that is how we are pioneering the science of superior performance.
TTI provides products that are Safe Harbor-approved, non-discriminatory and are fully EEOC compliant. See TTI's Adverse Impact Study. Once you complete your certification or training you will be in an elite class!

For More About Our Corporate Workshops Go To: 
Communication and Motivational Intelligence and Team Building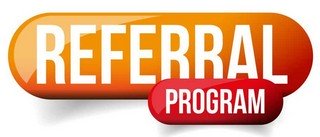 Refer someone to any of our Certification Programs and if they mention your name and start a program YOU receive $100 credit to apply towards your own future certification training, a coaching call or for five complimentary side-by-side assessments. Just make sure your friend mentions your name when they contact me.  You can also send me an email to let me know who you referred!  (Thank you in advance!)
Contact Us To Schedule a Complimentary Consulting Call or to Ask Questions