Podcast Episode #32:
Managing Your Body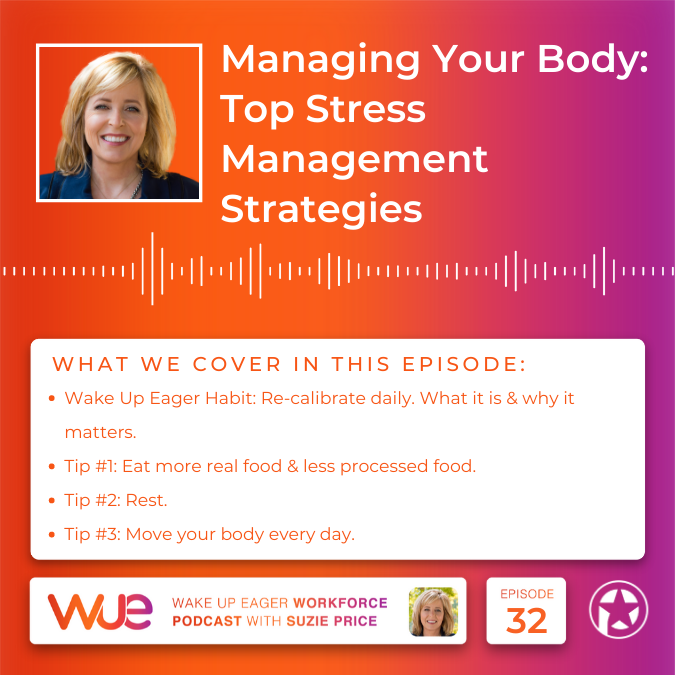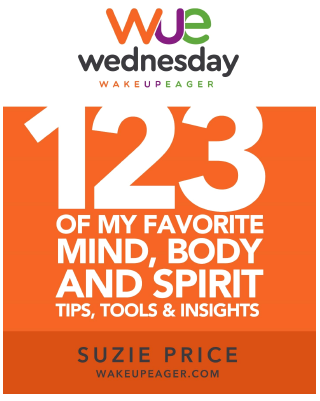 Click to Get 2019 Tips
Wake Up Eager Wednesday Tips for 2019 focused on sharing the things I'm thinking about, doing and feeling - that contribute to my Wake Up Eager Life and Work, and we've compiled them into a simple eBook for you: 123 Mind, Body and Spirit Tips, Here.
Overview of Episode #32 ---
How this one principal will make a big difference in your success.

How to eat more real food and less processed food. 




How to get better rest and sleep.

How to move your body more every day.
Opening Quote, "The perfect man of old looked after himself before looking after others."  Chuang Tzu

3:00 - Suzie's Book: 120 Stress Management Strategies and Daily Tips for Professionals;


Wake Up Eager Habit - Re-Calibrate Daily.  What it is and why is matters;

Free Quiz Around the Re-Calibrate Daily Habit

5:00 - 1% Exponential Growth Principle - VIDEO: Beautiful transformation by Army Veteran Arthur Boorman - demonstrating that 1% a day is powerful.  Watch Video Here
8:25

- #1 Tip/Focus Area - Eat More Real Food and Less Processed Food

Your Mantra Statement: "I like to eat and drink foods that nourish me and help me feel my best.  I do.  Taking time to plan ahead, so that I often pick healthy foods, is time well-spent. No one else can do this for me.  I do this so I can feel and be my best." 

Top Facts/Reminders/Actions:
- Weight loss and feeling good in your body is 80% the quality of the food you eat and 20% exercise.
- Eat MORE foods that live in the wild, and grow on trees and plants, and eat LESS food that's manufactured or packaged in factories.  Eat ALL of the whole and real foods (proteins, veggies, fruits, eggs, nuts) you want, until you're full. 


11:41- Drink more water.
-"Every single thing you put in your mouth makes you healthier or less healthy."


15:27 - Any time you feel as though you've gotten off track from eating more real food and less processed – start a food journal.  Track and write down EVERYTHING you eat. (Or use your favorite app.)
- Get in the habit of eating a salad and drinking water before your entree comes.
- Hot tea with Collagen Protein, from Vital Proteins.
- Make and Drink Green Smoothies
- Healthy Meals Delivered to Your Door - What Suzie's being using: Green Chef
- Bullet Proof Coffee – Dave Asprey - YouTube Video Link

22:26 -  #2 Tip/Focus Area – Rest

Your Mantra Statement:

"I make sure I get quality sleep, because when I'm rested I think more clearly, I'm healthier, and I'm better able to handle stress."
Top Facts/Reminders/Actions:
- Bad sleep on a regular basis can lead to weight gain, illness, and a lack of alertness, memory loss, lower job performance, and a bad mood. 
- Sleep deprivation can impair your thinking as much or more than alcohol, the effect of lost sleep is similar to being drunk.
- Not enough sleep on a regular basis can cause slower brain function, weight gain, moodiness, stress, and lower immune functions.  The average adult needs 7.5 to 9 hours of sleep a night.
- Experts Recommend:  Stick to a schedule.  Exercise. Take a hot shower or bath before bed.  Make your bed and bedroom as comfortable and pleasant as possible. Avoid eating just before bed. Give yourself at least 2 hours from the last food you eat to when you sleep.
- Suzie's Top Tips:  Meditation.  Calm app – Deep Sleep – full body scan. Audible.com – (an Affiliate Link) - favorite: hypnosis by Joel Thielke.

30:01 - #3 Tip/Focus Area– Move Your Body Every Day

Your Mantra Statement: 

"I appreciate myself and my body. I LIKE taking good care of me. I move my body every day."
Top Facts/Reminders/Actions:
- Fitness is Good for Your Career: People who exercise on work days are more productive, happier, and suffer less stress, than on non-gym days. 72% reported improvements in time management on exercise days, compared to non-exercise days. 79% said mental and interpersonal performance was better on the days that they exercised. 74% said they managed their workload better. Feedback from focus groups found that people who built exercise into their workday were re-energized, calmer, and more able to solve problems.
How to Keep Yourself Motivated and Interested in Moving Your Body:


34:45

-

Journal Prompt for Pre-Paving Action:  "I want to move my body more because I want____ ."  Answer this over and over, and then read what you wrote every day for a week.
- My Top 10 Cardio Motivation Workout Tips article: Secrets of Home Cardio Workouts.
- Easy Options for Getting More Movement into Your Busy Schedule:  Pick parking spots further away from your destination.  Take the stairs.  Have 'Walking Lunch Meetings' on nice days.   Go for walks with your family after dinner.  Take a mid-day break and walk around your office building.  Focus on finding ways to build extra movement into your day, all day. 
- Suzie's Spin Bike that she's using with the Peloton App. 
- Inversion Table - Teeter
- Stand up desk - VariDesk
- Remember: Small efforts add up, and are better than no effort.
- For Inspiration, Watch:  The one percent a day video of the man who would not give up!
- My Three Best Workout Inspiration Resources for Finding Motivation & Keeping It!
-    Inversion table – Teeter.  Hang upside down.
45:00

- Closing:  Very Funny Anti-Fitness Video to Adele's 'Hello" song –

Wake Up Eager Facebook Page

. Scroll down to January 8, 2017 to see this very fun video! And while you're there LIKE our Page.
"The perfect man of old looked after himself before looking after others."  Chuang Tzu
---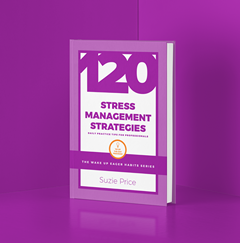 120 Stress Management
Strategies and Daily Tips Digital Book:
Mind, Body & Spirit Insights for Professionals
See a Complimentary 36-page Preview, Here

---
Related Podcasts:


How to Get Out of Overwhelm and Get Things Done
Get More Motivation with the Workplace Motivators Assessment Podcast
The Power of Focusing on Strengths in the Workplace & Using the DISC Assessment

Related Service:

Related Books:

120 Stress Management Strategies and Daily Tips for Professionals
PRICELESS RESOURCES
PODCAST: Subscribe to our Podcast or Help Us and Leave a Review 
NEWSLETTER: Sign up for Monthly Email Updates 
PODCAST: Most Recent Episodes      Directory of All Episodes 
RELATED DEVELOPMENT SERVICES:
·    Certification: Become the Expert: Assessment Certification Training
·    Hiring: Hiring: Secret to Superior Performance
·    Surveys: 360 Feedback and Organizational Surveys
·    Complimentary Consulting Call or Send Us Feedback: Contact Suzie
LET'S TALK:
Contact us to schedule a Complimentary Consulting Call
or to ask questions about any of our Hiring,
Coaching, Training and Assessment services.