Managing Your Body Podcast - Top Stress Management Strategies Series,
Part 2 of 3

Podcasts #32 Show Notes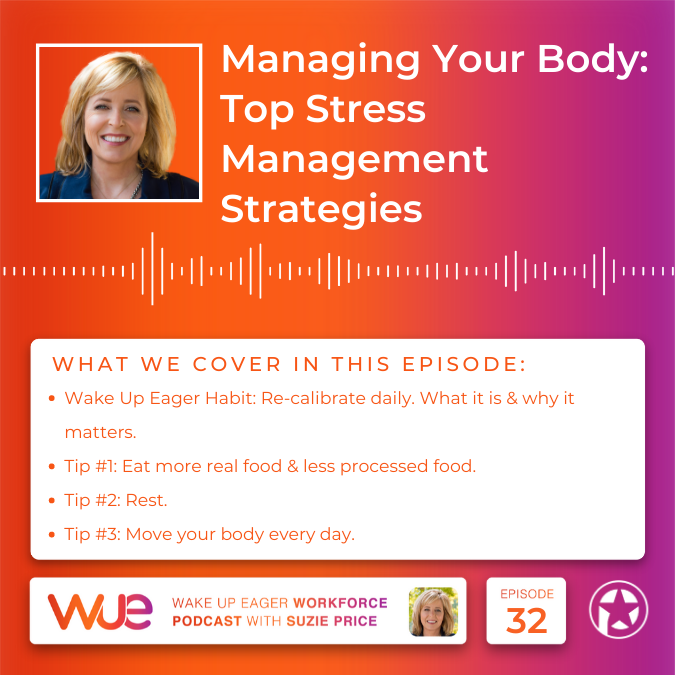 Go To Wake Up Eager Workforce Directory of Podcasts
Show Notes:
Episode #32;
"The perfect man of old looked after himself before looking after others."  Chuang Tzu
---

120 Stress Management
Strategies and Daily Tips Digital Book:
Mind, Body & Spirit Insights for Professionals
See a Complimentary 36-page Preview, Here

---
Subscribe via iTunes or Leave a Review

Related Podcasts:

How to Get Out of Overwhelm and Get Things Done
Get More Motivation with the Workplace Motivators Assessment Podcast
The Power of Focusing on Strengths in the Workplace & Using the DISC Assessment

Related Service:

Related Books:

120 Stress Management Strategies and Daily Tips for Professionals
Contact Suzie:

Schedule a Complimentary Consulting Call or
Send Me Feedback: Contact Suzie


STAY IN TOUCH: Are you a leader, trainer or consultant focused on building a Wake Up Eager Workforce?  Subscribe to this Podcast Here.   You can also sign up for monthly email updates, here.   Thank you for being a part of this!!
Contact Us To Schedule a Complimentary Consulting Call or to Ask Questions