I Know the Benefits of Healthy Eating, THIS is How I Am FINALLY Being More Consistent...
The benefits of healthy eating are many and they're known by pretty much everyone. Ask anyone what the benefits are and without much thought they'll easily respond. 
                "You have more energy and less mood swings."   "You have less colds and you don't get sick."    
                                  "You lose weight and look slim."  "You look and feel healthier!"
We all seem to know the benefits, it's the DOING, that gets tricky!
"If your body's not right, the rest of your day will go all wrong. Take care of yourself."
Terri Guillemets
There are so many benefits to eating healthy, and even though I've been reading and learning about nutrition and fitness since college, I can still succumb to eating all of the wrong things.

And every time I do that, for more than one meal, my body feels it and 'tells' me through: weight gain, moodiness, sluggishness and a dull, less-than-vibrant skin tone.  I also feel disappointed in myself for not staying true to my intentions and goals.  
"The greatest wealth is health." Virgil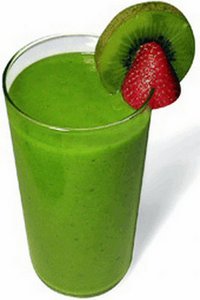 There are many downsides to eating junk food, but the challenge is that it's addictive AND it's everywhere!    Manufacturers like to make and sell junk food because it's cheap to manufacture, there's a big profit margin AND we get addicted to it. Sounds like a drug ring doesn't it?
Green Smoothies are making it easier for me to stay on track and be more consistent .  It takes care of my cravings, and because I'm so full of nutrition, most of the time junk food isn't even appealing. 

"Health is a state of complete physical, mental and social well-being, and not merely
the absence of disease or infirmity."  World Health Organization, 1948
Since the Fall of 2010 I've been drinking them.  Here's a good book about Green Smoothies:  The Green Smoothie Prescription. Before you get grossed out, while most of these drinks ARE GREEN they also taste good.  It's NOT like drinking cod liver oil and holding your nose.  These smoothies are tasty, in addition to being good for you! Green Smoothies provide a simple and do-able solution for more energy, health and stamina, things most busy executives need more of, every day.
"He who takes medicine and neglects his diet wastes the skill of his doctors." Chinese Proverb
Why You Might Want to Try Green Smoothies...

You'll feel full and more satisfied. With the addition of Green Smoothies to my daily food intake I find that over-doing caffeine and high-calorie snacking is less of a temptation.

You'll feel calmer, clear-minded and have less mental fog. Again it's back to the idea of filling your body with so much nutrition that your body and mind is satisfied and working well.

Green Smoothies fit into a busy and 'normal' person's world.  You can whip up a batch of Smoothies that will last for several days.

Green Smoothies are a GREAT way to get more healthy food, and therefore more energy and all the other benefits of healthy eating, into the day of busy leaders and business people.

"The best six doctors anywhere And no one can deny it Are sunshine, water, rest, and air,
exercise and diet. These six will gladly you attend.  If only you are willing.
Your mind they'll ease.  Your will they'll mend. And charge you not a shilling." 
Nursery rhyme quoted by Wayne Fields, What the River Knows, 1990
How to Make Green Smoothies - Here's How How I Do It!

Basic Ingredients:
     - 3 cups of water or unsweetened coconut milk or almond milk
     - 2 to 3 cups raw spinach or any other green vegetable.  I also use broccoli and kale.
     - Handful of fresh or frozen fruit - apple, banana, strawberries, mango or blueberries
     - 2 Scoops of Protein Powder.
     - 1/4 cup of ground flax seed

Blend in a strong blender for about about 1 minute.  Initially - I used a  strong 750 watt Breville Blender it worked pretty good.  Once I knew that Green Smoothies were here to stay and were so wonderful for helping me get all the benefits of healthy eating I decided to upgrade to the Blendtec HP3a Home Blender. 
It's an expensive blender,  but it comes with a 7 year guarantee and WOW does that thing blend! It has 3 Horsepower! You get a very smooth drink. It's worth it if smoothies become a habit.  Watch this guy blend up an iPad in it - it's one powerful blender that I'm glad I have:

I try to drink at least 1 Quart of healthy Green Smoothie a day. The Smoothies that you blend are best when consumed daily, but you can store prepared Smoothies in the 'frig for up to three days.  (For convenience - this is what I do.) 
I created this Green Smoothie Cheat Sheet that I taped to the inside of the cabinet near my blender.
Everyone's busy and everyone can use more nutrition for more energy and stamina.  Green Smoothies are one great way to get all of the benefits of healthy eating!  Try it and come back here to share your experience.
"Mens sana in corpore sano."
(Your prayer must be for a sound mind in a sound body.)
Juvenal
Share Your Comments,
Insights and Questions...
New Page...
Help this site grow by sharing your Comments and Insights with the Wake Up Eager Community. Please know, I am not collecting emails from this page or your entries.

What questions do you have about Green Smoothies? Have you tried it? Share your experience.

What things do you do to eat healthy on a busy schedule? What are some of your secrets? Do you have any tips that would benefit others?
What Other WUE Readers Have Shared:
Click below to see contributions from other visitors to this page...

Update: 14 Months Consistent-Top 10 Reasons I've Stuck with It

14 months ago I started drinking Green Smoothies on a daily basis. I change my mind a lot. (I am very curious about "new things" I am always changing …
Is This Hard to Keep Up With??

Hey Suzie, I really like the information here about Green Smoothies. I've ordered the book you recommended. It is very resourceful---and …
LET'S TALK:
Contact us to schedule a Complimentary Consulting Call
or to ask questions about any of our Hiring,
Coaching, Training and Assessment services.

Leave Benefits of Healthy Eating - Get More Support
With My Mind, Body, Spirit Tips Program