The Forgotten Charismatic Leadership Skill:
It Might Surprise You...

This charismatic leadership article will provide practical steps for bringing more charisma – a learn-able skill and art – to every conversation and interaction.
You'll see how how subsuming your desire to control, speak and shine creates a dynamic of openness, commitment that leads to powerful charisma and therefore, influence with others.
Charismatic leadership is: the ability to inspire enthusiasm and interest by means of influence. Someone who has charisma is able to reduce resistance,
while conveying confidence and by providing comfort.

In the best sense, charismatic leadership is not manipulative energy or a magical gift endowed upon select personalities. Rather, it's an attractive blend of learn-able qualities.
An Example of Charismatic Listening...

When I think about the power of charisma it reminds me of this real-life situation from 10 years ago. Colleagues of mine, Cynthia and Bob, were launching a new business and they'd asked me get involved.
I reviewed their plan and gave it some thought. I decided that while the idea was interesting, it was not a fit. At our next meeting I was direct with them, letting them know I would not be working with them on this venture.
I braced myself for their appeals and attempts to change my mind. I dreaded this part the most. Instead they assured me that they understood. They said something kind and supportive like this,

"Well, we're disappointed, but we know that this must be something
that only you can decide. We really appreciate you considering it..."
Then they easily, with no pressure, started asking questions.
The questions were about my opinions and insights. It didn't feel manipulative. They seemed to have a sincere desire to understand my viewpoint. As I got involved in the discussion, I forgot about what I didn't like. I felt engaged, understood and energized.
Before I knew it we were in a high energy strategy session. And to my amazement, before the meeting was over, I'd signed up to get involved. Hey, what just happened?
They didn't coerce me. They didn't list all the reasons I needed to do this. They didn't show testimonials. They didn't press me in any way.
What Did Bob & Cynthia Do?

What Bob and Cynthia did was they used the (often) forgotten skill of charismatic leadership: listening aggressively.
Listening aggressively means that you are focused on hearing in a determined and energetic way.  When you are doing it well, you demonstrate your desire to understand by asking questions
and listening with no agenda other than to understand.


Through their desire to understand my feelings, my questions, my insights and my concerns – all with no "agenda" to change me - my resistance dissolved. Their probing questions allowed me to express freely. I, then, 'came around' on my own.

Listening Aggressively Exercise - DO IT!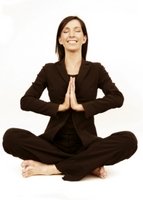 This exercise demonstrates how to reduce resistance through listening aggressively, and why it's a key charismatic leadership skill.
I want you you to DO this simple exercise. Don't just read about this exercise. I want you to take a minute and DO each step. They're simple steps. If you DO them, you'll get a better understanding of the power of Listening Aggressively.
Begin by sitting with nothing in your lap or hands:

Step 1:

Put your palms together (pressing palm to palm)

in front of your chest.




Step 2:

  Your right arm will represent someone who has resistance. (In my example scenario -above– that would be me-the 'resistant one').

Step 3:

Your left arm will represent the Charismatic Leader who'd like the other person to take a specific action. (In my example scenario that would be entrepreneurs' Cynthia and Bob).


Step 4:

Notice: when both go toward each other, they press together and the two stay stuck in the middle.


Step 5:

If you hold this position for a while, the strain increases in both of your arms and there's no movement or change.

Step 6:

NOW, put your hands in the same starting position, pressing palm to palm.


Step 7:

Move your right arm ('The Resistant One') and palm to the left ('The Charismatic Leader'), let your right hand ('The Resistant One') push against your left hand, but this time let your left ('the Leader') hand give in and relax, allowing the right hand ('The Resistant One') 

to

keep moving to the left.


Step 8:

  At some point your right hand ('The Resistant One') will stop. It will have pushed as far as it can go. If you hold that position, you will notice that your right hand gets tired and drops of its own weight.

Step 9:

The left hand (The Charismatic Leader) is allowing the right hand to move to its own ends.

Step 10:

Contracted, but unimposing, the left hand (The Charismatic Leader) can maintain its position with no tension and little loss of energy.
THIS kind of movement, starting in Step #6, when the left hand (The Charismatic Leader) gives in and allows the right hand to move is exactly what Cynthia and Bob did. They did not push against or oppose my decision. They simply allowed me to fully express it.
Their lack of tension and resistance, and sincere interest in me and my views,
helped me release my own resistance. Our open discussion increased understanding
between us, and caused me to naturally want to move with them, instead of against them.  
They listened aggressively.

Read the above statement again, at least one  more time, okay? Go ahead, I'll wait.

"When it comes to charismatic leadership the bottom line is other-mindedness." John Maxwell
Four Listening Aggressively Skills Steps Easily Remembered With This Acronym: R.P.S.A.
R.P.S.A. will help you to be the 'left-hand' - Charismatic Leader. It's a Four-Step Question and Listening Dialogue Model to help you bring 'other mindedness' and charismatic leadership skill and influence to every conversation.
Hear How R.P.S.A. Works - An Audio Example/Lesson - Click Here

 Click to download a PDF of the audio, R.P.S.A.:
Charismatic Leadership Listening Aggressively Steps
STEP #1

: R. Reflect - Is to: Verify and Clarify. An Example from my ' Cynthia and Bob Scenario': "So, you've decided you're not interested in this business idea?"

Reflecting demonstrates listening and invites the other person to say more. This lowers resistance in the person who's speaking – because like me, they're usually bracing for, or dreading, an argument.

STEP #2

: P. Probe - Is to: Ask Clarifying Questions to Understand. An Example from my 'Cynthia and Bob Scenario': "Do you mind if we ask a few questions, we'd love to get your thoughts..." "What did you think about...?"

Once I felt they heard me and were not trying to manipulate me, I relaxed and we got into sharing ideas, problem solving and an honest exchange of insights.

STEP #3

:  S. Supporting - Is to: Demonstrate Understanding. An Example from my 'Cynthia and Bob Scenario': "Gosh, we're disappointed. But we understand. This has to be your decision."

You can show understanding even if you disagree. You can almost always sincerely gain a true understanding of the other person's viewpoint IF you've done Steps 1 & 2-Relect & Probe, well. If you've been sincere in expressing your understanding you can then, successfully and safely, move to the next step.

STEP #4

: A. Advising - Is to: Provide Facts & Making a Recommendation. An Example from my 'Cynthia and Bob Scenario': "We fully respect your decision. We did want to share that our investor confirmed this morning that he's on board and is investing x amount." 



IMPORTANT POINT:

If you advise too early, before you've thoroughly completed the Reflect.Probe.Support.-steps, the person will stay in resistance and just dig in their heels, no matter how true and great your advice is. 

But if resistance is gone, like in my Scenario, I'm not pushing any more, my feelings have 'blown through' I can now hear this very good news or the Advice.
"The greatest compliment that was ever paid me was when one asked me what I thought, and attended to my answer." Henry David Thoreau
More Listening Aggressively Resources:

Contact us for a complimentary consulting call.

In Summary...  And, Your Input.

I teach R.P.S.A. in every leadership workshop because you can't talk people out of how they are feeling. This charismatic leadership skill helps the resistance 'blow itself out' kind of  like a storm that's passing through.
The worst thing you can do is fight the storm/resistance head on. Much of the time feelings pass when they're expressed directly. R.P.S.A. is a great facilitation process because it works! But, like most things, it only works - when you use it!
You want someone to do something. They don't want to do it. You push. They push. No progress is made. Unfortunately, this happens every day with customers, colleagues, family members and friends.
Transform aggravation to acceptance and compliance to commitment. Use this, now NOT forgotten, charismatic leadership skill: listen aggressively by using the four R.P.S.A. steps.

Share here...
What Other Wake Up Eager Community Members Shared:
Click below to see contributions from other visitors to this page...

LET'S TALK:
Contact us to schedule a Complimentary Consulting Call
or to ask questions about any of our Hiring,
Coaching, Training and Assessment services.