Podcast Episode #18: Demystifying & Understanding TriMetrix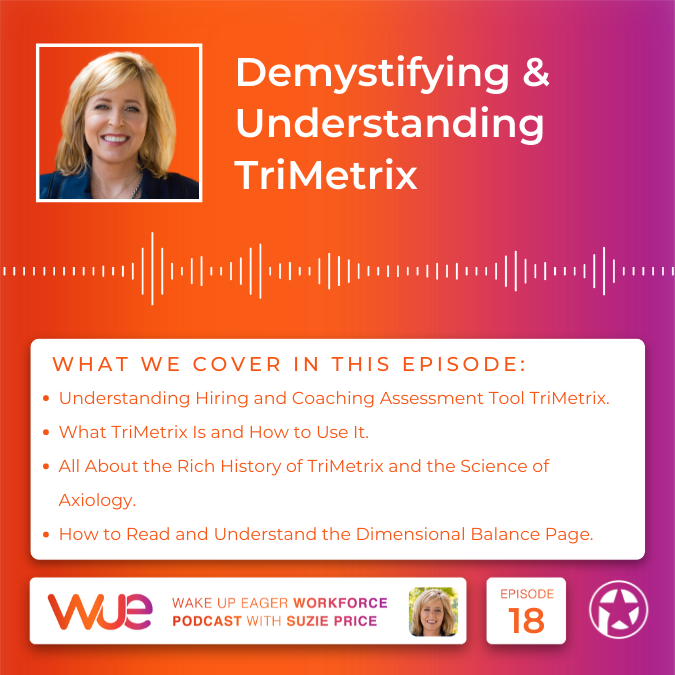 Overview of Episode #18 --- 
Understanding Hiring and Coaching Assessment Tool TriMetrix

What TriMetrix Is and How to Use It

All About the Rich History of TriMetrix and the Science of Axiology




How to Read and Understand the Dimensional Balance Page
Timing on Recording: @ 2:26  ---

Topic 1: Personal Story and Why People Do Not Work Out
A Personal Story: When I first realized how challenging it can be to hire the right person for the job – a tough lesson.
Reasons why people do not work out.
Georgia Labor Commissioner Mark Butler shared 69% let go due to lack of personal skills
Cost of turnover 1.5 to 8 times salary – silent killer of Corporate Profitability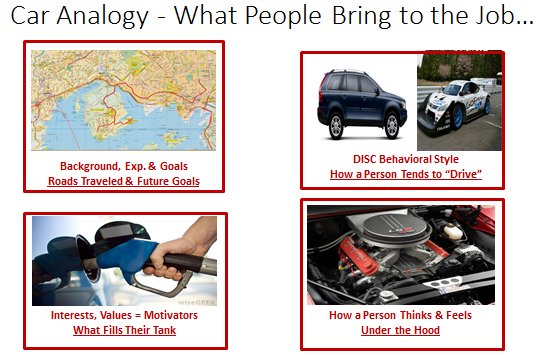 Timing on Recording: @ 14:37  ---

Topic 2:  What People Bring to the Job
My Car Analogy
Have to get away from, "Anyone can be trained to do any job." "With enough training & try hard enough any one can excel…" 
People bring who they are to the job – and who they are is not only their background and experience, but their natural style, strengths and motivators.
Fit Matters
Our data shows that one assessment is 60% predictable – good fit-  in successful hiring; two assessments are 80% predictable in successful hiring and three assessments are 93% predictable in successful hiring.
Department of Labor recommends three views of a person
Assessment Results should account for less than 30%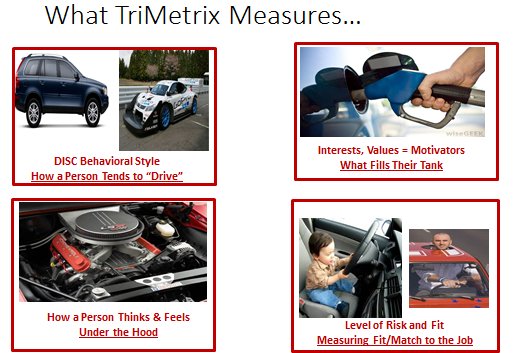 Timing on Recording: @ 17:00 ---

Topic 3: What Is TriMetrix?
What makes TriMetrix unique - tri-modal assessment = three views
Dr. Hartman quote, "Are they going to be happy?  Are they going to be productive?  Will they want to stay?  Will they own their job?  Will they contribute their talent generously?"
What TriMetrix measures
Podcasts that explain two of the assessments in TriMetrix:
- Episode #1 DISC – www.pricelessprofessional.com/disc
- Episode #2 Motivators – www.pricelessprofessional.com/moremotivation
- Episode #3 Motivators – www.pricelessprofessional.com/moremotivation2  
Assessment results help us understand the person –and a Benchmark for the job helps us understand the job. 
How we get to under the hood – what a person can do and perform easily.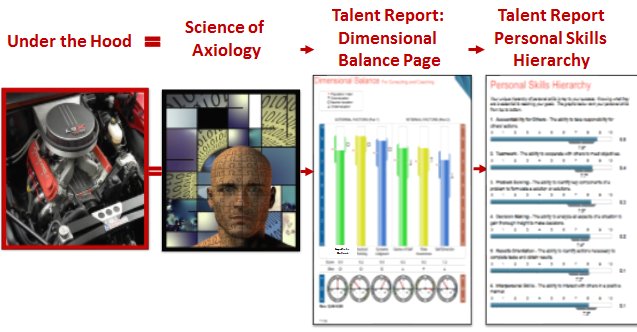 Timing on Recording: @ 29:20  ---

Topic 4: History of TriMetrix and About the Science of Axiology
Formal Axiology is a logic-based science
When we make decisions and take action-we use our mental and emotional capacities to do so.  Sometimes we take the right actions and make the right decisions, sometimes we don't
Axiology is measuring the quality of our judgment and decision-making by gauging both our mental clarity and emotional orientation and conditioning.  Judgement responses reveal strengths and development opportunities.
Dr. Hartman, "This is a study of one's thinking habits."
Robert Schirokauer – 1932 fled Germany fake passport.  Rejected communism  and believed that 'every life is sacred and that you can't kill people for an idea' 
Changed name: Robert S. Hartman.  12 books, hundreds of articles, 1970's – companies like Seimens, Volkswagen, Alcoa Aluminum were using HVP.
Hartman's vision was to give us the means to recognize and fulfill "the good" within each of us, thereby enriching our lives.  By applying these principles on a broader scale, we may also enrich our world and make it a place of more "goodness" and peace.
Serves as a roadmap – pointing where we are and where we can go – to full self-actualization
How people judge, think and process.  
TTI SI is powered by its three decades of research, conducted by Target Training International, Ltd.  data pool of millions of individuals collected over these decades. They have four patents.
I became certified in 2004.
Timing on Recording: @ 33:20  ---
Topic 5: Understanding How We Make Decisions – Three Dimensions of Thinking from Axiology and Dr. Hartman, The Dimensional Balance Page and Personal Skills
How does axiology do this? Three main thinking dimensions.
We all use all three dimensions in our thinking and decision-making to various degrees.  We think and feel in all three dimensions, fluidly, all the time.
Young Man on a Cruise – SYSTEMIC: I'm here to meet women; EXTRINSIC: Three days, tall women with brown hair; INTRINSIC:  I met the love of my life
How this relates to TriMetrix & Dimensional Balance page…  The higher the score = high clarity = high capacity – "I can do this with ease – it will be a strength."
External and Internal – Six areas:
- External- Understanding Others –"stepping in the shoes of others…" Listening skills, empathy and degree of emotional distance, ability to build trust and rapport. Ability to adapt to others. 
- External- Practical Thinking -Common Sense  -social norms,  can do or frustration in getting things done. Understanding functions at work, apply resources.
- External- Systems Judgment - understanding the system and order, approach to authority, understanding of rules and whether embrace them or rebel against them. Big picture, structure and order.
- Internal- Sense of Self -Sense of inner worth, Comfortable in own skin, below average – hungry for achievement or tendency to burn out-does not take care of self.
- Internal- Role Awareness  – changes – impacts resiliency, self-management, internalized role, understand place in the world, if high + - no barriers to their drive/motivation/pride in role
- Internal- Self-Direction -  ideal self. Self-discipline, self-image, project self into the future
Proxy Statements – 78 quadrillion ways to rank the items, First Set of 18 – good to bad, Second Set of 18 - agree to disagree
Clarity - How well the respondent understands the dimension Based on how the 18 statements were ranked - 4-6 low, 6-8 medium, 8-10 high
Personal Skills – research --- required at some level for most jobs; all are job related. most jobs only require Mastery of seven, 18- 20 high = high performer, high capacity
Research – Top Personal Skills in Leaders:  Personal Accountability, Goal Achievement, Interpersonal Skills, Leading Others, Persuasion.
Related Podcasts and Articles:
Related Service:
Superior Performance Hiring Assessment Process
Short- Term Leadership Coaching – Using TriMetrix
Communication and Motivational Intelligence
PRICELESS RESOURCES
PODCAST: Subscribe to our Podcast or Help Us and Leave a Review 
NEWSLETTER: Sign up for Monthly Email Updates 
PODCAST: Most Recent Episodes      Directory of All Episodes 
RELATED DEVELOPMENT SERVICES:
·    Certification: Become the Expert: Assessment Certification Training
·    Hiring: Hiring: Secret to Superior Performance
·    Surveys: 360 Feedback and Organizational Surveys
·    Complimentary Consulting Call or Send Us Feedback: Contact Suzie
LET'S TALK:
Contact us to schedule a Complimentary Consulting Call
or to ask questions about any of our Hiring,
Coaching, Training and Assessment services.