Episode #95 - Hiring Manager Mistakes and Best Practices with Huff Logue - Part 2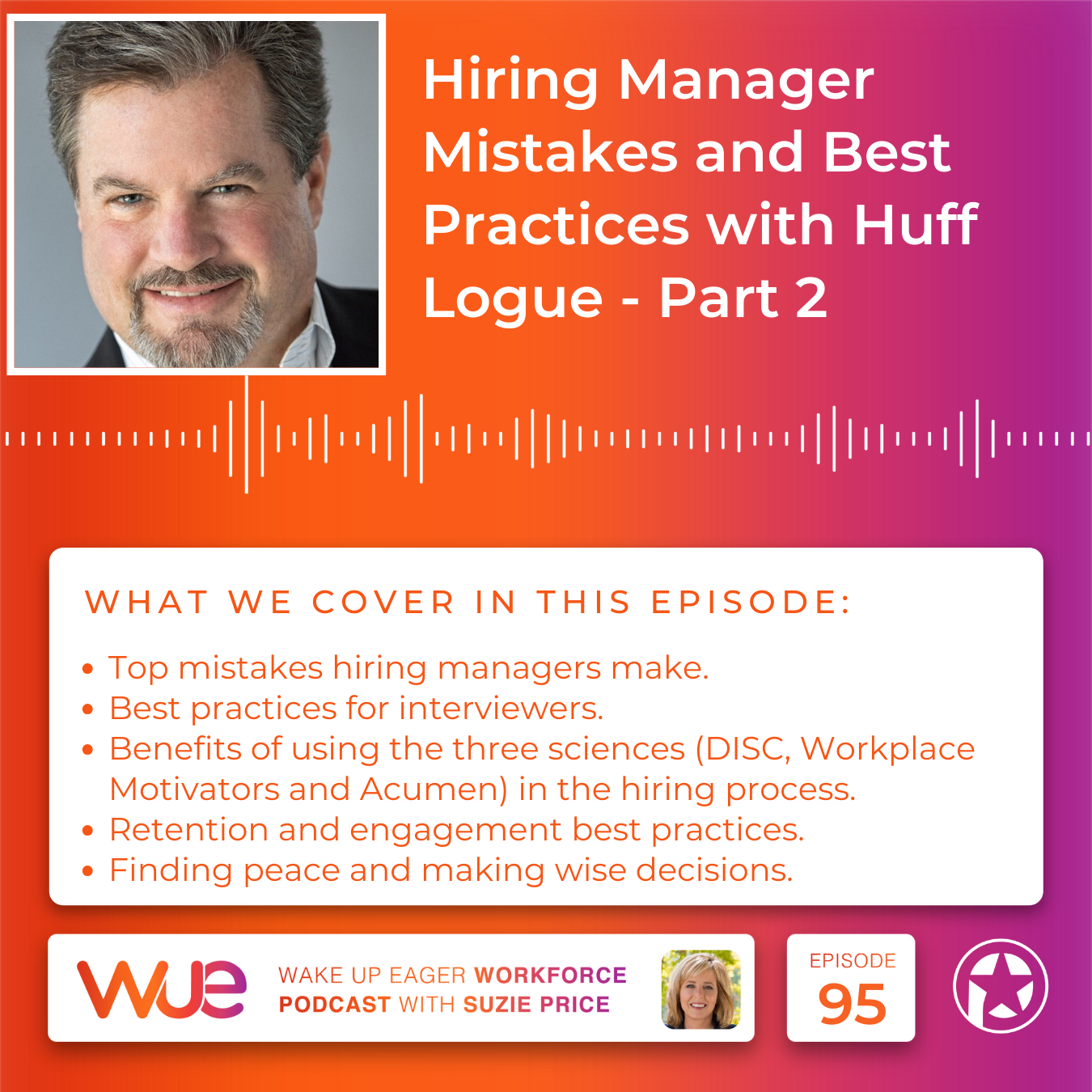 We're picking back up today where we left off in our last episode about Hiring Manager Mistakes and Best Practices with my amazing guest, Huff Logue. 
We spoke a lot about the amazing factors that TriMetrix offered in our last episode, and today, we talked about the advantage of DISC and how crucial it is in today's workplace. The DISC assessment not only helps us dive deeper into who we are and how we operate in the workplace but also helps us to understand the dynamics of our coworkers and how best to work with them based on their DISC styles.
Overview of Episode #95 --- 
Top mistakes hiring managers make.

Best practices for interviewers.

Benefits of using the three sciences (DISC, Workplace Motivators and Acumen) in the hiring process.

Retention and engagement best practices.

Finding peace and making wise decisions.
Diversity in the workplace extends into the diverse ways in which our brains work and how they define who we are and how we work. By keeping the DISC at the forefront of our interoffice communications, we can understand each other better, motivate each other better, and wake up eager every day to help our businesses succeed. 
In this episode, Huff shares a lot about his DISC style, how it plays a part in his work style, and how he interacts with others. He shares special insight on the "S" (steadiness) and the "C" (conscientiousness) styles and how those styles present in the workplace and the common areas where they may succeed or struggle.
Ultimately, as a hiring manager, using assessments such as the DISC and TriMetrix can help you gain a deeper understanding of who your applicants are and if they will truly be a fit for the roles and the culture of your company.
This episode is full of so much insight into how everyone's brain operates in a slightly different way and how we can all accommodate each other by gaining some perception of the way our coworkers think and feel in the workplace. Tune in today for more information and how to avoid some of the mistakes that you might make as a hiring manager! 

In this episode: 
[01:42] Welcome back to Wake Up Eager and Part 2 of Hiring Manager Mistakes and Best Practices with Huff Logue.
[02:03] Huff shares his top two workplace motivators and his lowest motivator.
[06:01] Huff shares about his DISC style. 
[07:56] Huff shares some background on the "S" measurement in the DISC assessment and how it presents in our demeanor in the workplace.
[10:30] Huff shares some background on the "C" measurement in the DISC assessment and how it presents in our demeanor in the workplace.
[12:02] Why the DISC assessment is so important and the objective of it. 
[15:38] Huff shares the ways he wakes up eager in mind, body, and spirit.
[22:01] Huff's advice for his 25-year-old self. 
[23:39] The message that Huff would put on a Billboard to share with the world.
[26:22] Parting advice and wisdom for hiring managers from Huff.
[31:04] The best way to get in contact with Huff.
[32:13] The most influential people in Huff's life.
[34:13] Suzie shares a recap on Hiring Manger Mistakes and Best Practices and the key takeaways from the last two episodes.  
[40:20] Thanks for listening today! Leave us a review to get a free Workplace Motivators Assessment!
Information Shared in the Podcast:

Link to my Free Book Download – How to Hire Superior Performers 
Hiring Superior Performers Services 
Understanding Workplace Motivators 
Top Ten Uses for the DISC Assessment 
Mastering Relationship Skills by Understanding the Way Others Behave! – Free Work Relationship Guide
Connect with Huff: 
Execulinks - https://www.execulinks.com/ 
LinkedIn - https://www.linkedin.com/in/hufflogue/
Connect with Suzie:
LinkedIn: 

Suzie Price

LinkedIn: 

Priceless Professional Development

LinkedIn: 

Wake Up Eager Workforce Podcast
Related Podcast Episodes:
#18 Demystifying & Understanding TriMetrix: What, Why and How to Use it for Hiring and Coaching
#45 More - Getting New Hires to Stay with HR Executive Judy Simmons, PHR
#81 Hiring with TriMetrix: Why and How It Works
Special Episode Giveaway
Fifty Workplace Motivators Assessments*  This is a $350 value!
We will send a complimentary assessment link to the first fifty people who take a few minutes to share a podcast review and let Suzie know.  Once you have your Assessment results, go to www.motivatorsppd.com to watch the debrief video and use hundreds of resource materials.
*The Workplace Motivators Assessment takes ten minutes to complete and is a robust tool for measuring a person's top drivers and interests. (Sample Report ) Use your complimentary for yourself or give it to an employee, family member, or friend. 
QR CODE takes you to www.motivatorsppd.com
PRICELESS RESOURCES
PODCAST: Subscribe to our Podcast or Help Us and Leave a Review 

NEWSLETTER: Sign up for Monthly Email Updates 
PODCAST: Most Recent Episodes      Directory of All Episodes 
RELATED DEVELOPMENT SERVICES: