Solve Your Home & Work Relationship Problems:
Take a Personality Quiz (DISC Assessment)
Self-Paced Training Program, Page 2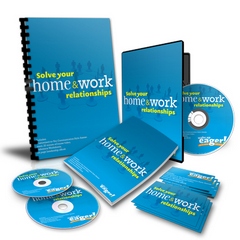 You've just completed the take a personality quiz link -DISC Assessment, on page 1, right? (If not, go there now.)
To help you use your Results so that you can solve relationship problems and communicate more effectively, you'll want to use the seven+ tools below to understand your DISC assessment results and to create more motivation in the workplace and at home.
There are SEVEN Parts (resources) in this Online Training Program, they are:
Part 1:

DISC Assessment Self-Study Debrief Workbook

DOWNLOAD Your Self-Study Debrief Workbook here. It, along with the video in Part 2 (below) will help you understand and use your Assessment Results.

Also, if you've not taken the quiz yet, it only takes about 10 minutes. Go to our, Take a Personality Quiz Page Now.
You'll also want to bookmark this page because it is YOUR reference page for everything associated your Personality Quiz/Communication Style Report and this mini-workshop.

Part 2: Debrief Video

This instructional video will help you fully understand and use your results. (It's about 22 minutes long, watch it in 10 minute segments, if needed.)
Your Results reveal HOW you communicate, HOW others perceive you and HOW to better understand others. Okay, place your completed report in front of you now. Watch it now:
Part 3:

Your 'Take a Personality Quiz - DISC Assessment' Memory Jogger Worksheet

Use this Memory Jogger Card to help ingrain and use the DISC Assessment concepts as you interact with others. You'll get specific tips to help you better understand and communicate with others. Click HERE to download this PDF Document, now.

Part 4:

Your 'Take a Personality Quiz Now' DISC Assessment Humorous Handout

Part 5:

Your 'Take a Personality Quiz Now'
DISC Leadership eBook to Help You

Part 6:

Five Step S.O.L.V.E. Communication Problems
in the Workplace - VIDEO ARTICLE
In this 7 minute VIDEO I share Five Steps to S.O.L.V.E. frustration you might be feeling about working with someone who's different. See examples of Famous People and their styles, determine the style of someone you work with and SOLVE your frustration with this VIDEO Article now.
Part 7:  Video Article, More Tips
and a Team-Building Exercise

THANK YOU for taking this DISC Online Training Program! I'm always adding new materials to help you @ this topic, so be sure to stay in touch via my online newsletter.
If you'd like to use DISC Assessment with others in coaching and training sessions, check out my Virtual Class for DISC Certification. (This Certification Program is also available to be delivered onsite for internal Trainers, Coaches and Leaders.)
After completion of this Program you'll be Certified as Professional Behavioral Analyst (C.P.B.A.) and will be able to offer Assessments to others in your own Assessment Center.
Check out all the information here: Something EVERY Professional Should Know: 6 Week Virtual DISC Certification Class
Contact me at 770-578-6976 or by my Contact Form, Here.

Contact Us To Schedule a Complimentary Consulting Call or to Ask Questions