Podcast Episode #: 26
Leader As Coach Skill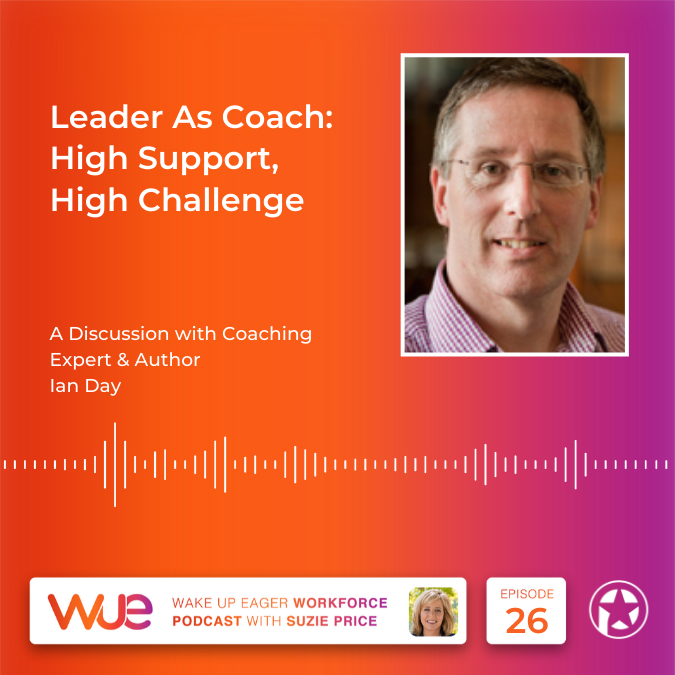 Overview of Episode #26 --- 
I interview Ian Day Author of the book Challenging Coaching.

Coaching skill – High support, high challenge.

What the Zone of Uncomfortable Debate (ZOUD) is and how you can use it to help the people you lead and coach to greatness.

Learn how to move from the Cozy Club or Stress interaction to the Loving Boot and high performance.

3 barriers that keep leaders from being a more effective coach.

Learn about the freedom and responsibility matrix.
Contact Ian Day:
Timing on Recording: @ 3:15  ---

Topic 1: Welcome, Ian's Background, Audible.com

Ian's Background
Ian's Book:  Challenging Coaching: Going Beyond Traditional Coaching to Face the FACTS. Get free book with a 30 day trialon Audible.com (my affiliate link)
Timing on Recording: @  8:15 ---

Topic 2: Get to Know You Questions and Overview of the FACTS Model
Favorite guilty pleasure t.v. show

Favorite possession story

The FACTS Coaching Model - all equally important and leaders may want to keep them in mind while working with their employees/coachee:
Timing on Recording: @  20:35 ---

Topic 3:  What is the Zone of Uncomfortable Debate and Why Does It Matter?  How to Get Better at This

Timing on Recording: @  34:42 ---

Topic 4:  The Support Challenge Matrix
Timing on Recording: @  51:15 ---

Topic 5:  Top Three Barriers to Using High Support High Challenge

Timing on Recording: @  55:04 ---

Topic 6:  The Freedom and Responsibility Matrix

Timing on Recording: @   1:02:58---

Topic 8:  Advice to 30 Year Old Self,  My Billboard Any Where and One Thing for Leaders to Remember About This Topic

Timing on Recording: @   1:07:15 ---

Topic 9: Suzie's Recap of Key Points

Podcasts and Books Mentioned in This Podcast
Get a complimentary audio book and support this podcast by using my affiliate link: 
Get a Free Audio Book w/ 30-day Trial

Related Services:

Short- Term Leadership Coaching – Using TriMetrix
PRICELESS RESOURCES
PODCAST: Subscribe to our Podcast or Help Us and Leave a Review 
NEWSLETTER: Sign up for Monthly Email Updates 
PODCAST: Most Recent Episodes      Directory of All Episodes 
RELATED DEVELOPMENT SERVICES:
·    Certification: Become the Expert: Assessment Certification Training
·    Hiring: Hiring: Secret to Superior Performance
·    Surveys: 360 Feedback and Organizational Surveys
·    Complimentary Consulting Call or Send Us Feedback: Contact Suzie
LET'S TALK:
Contact us to schedule a Complimentary Consulting Call
or to ask questions about any of our Hiring,
Coaching, Training and Assessment services.