How to Use Intrinsic Motivation
for More Energy and Less Stress:

The "My Life Purpose Revealed" Assessment & Program
Do you know what your top two intrinsic motivation interests and values are? Have you ever wondered about your life purpose?
If knowing this information is imporant to youthis Workplace Motivators Program and Assessment will help you!
Insight around your top interests will help you make the right career and work decisions so that a day on the job leaves you feeling energized, not burned out.

Workplace Motivators: The "My Life Purpose Revealed" Assessment Program

The Workplace Motivators Assessment is an online, customized-to-you, scientifically-based & validated tool that will help you get more intrinsic motivation and energy.
It measures your personal interests, attitudes and values, and relates them to a work environment.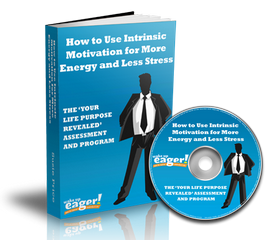 Your results not only reveal your top two intrinsic motivation interests/passions, it provides specific-to-you actions you can take to create work days that leave you more energized.
With your results, you'll KNOW what your top two passions are; armed with this information you will be better able to deliberately choose where and how you spend your time.
And, as you better understand your top intrinsic motivation interests, you will also better understand what motivates and drives others. This deeper understanding and awareness will make you a more effective leader, salesperson, spouse, friend and family member.
Michelle's Top Intrinsic Motivation Interests Leads to Satisfying Career Change...


"When I was considering a career change, Suzie provided me with the Workplace Motivators Assessment and Program.. My results led to many 'ah ha!' moments."

"It was very helpful since I tended to get frustrated in my jobs and I didn't know why. Since reviewing these reports, I'm more in tune with myself. If a situation arises, I can address it with confidence. I feel like I've been able to look at myself from a fresh perspective and can more clearly see what's important to me, my intrinsic motivations - what I need in my work environment and in life to be truly happy."

"Before, I couldn't figure out 'what I wanted to be when I grew up.' This tool, and Suzie's compassionate insight, helped show me the way."

Michelle Draschil, a formerly 'bummed out' manager who's excitedly on her way to becoming an Architect, a career that's lined up with her intrinsic motivation. (Her Report revealed that her top two motivators are: high Aesthetic and high Utilitarian. See list below for more detail. Her new career allows her to use her natural strengths and intrinsic motivation interest to the fullest.)

Six Intrinsic Motivation Interests: What Are YOUR Top Two?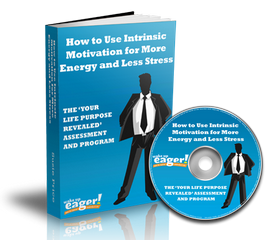 There are Six Workplace Motivators (intrinsic motivation,interests and passions).
Your TOP TWO reveal what most interests you and relate closely to the work and activities that will feel on-purpose, energizing and 'right' for you. They Are:

Theoretical/Knowledge - "The Learner's Soul"

(Is most energized when he/she can learn, research, be an Expert.

Wake Up Eager Careers Include:

Being a Product Expert, Journalists, Teachers, Researcher, Consultants.)



Utilitarian/Economic - "The Business Person's Soul"

(Is most energized when he/she can make money, reduce waste, keep an eye on revenue and the bottom line.

Wake Up Eager Careers Include:

Business Person, Owner & Executives, Sales Professional.)

Individualistic/Political - "The Power Player's Soul"

(Is most energized when he/she can lead, 'be out front', continually advance position, network.

Wake Up Eager Careers Include:

Leader, Political positions, Speaker, Presenter .)

Social/Altruistic - "The Helping Others Soul"

(Is most energized when he/she can coach, mentor, counsel and be of service to others.

Wake Up Eager Careers Include:

Counselor, Teacher, Nurse, Coach.)

Traditional/Regulatory - "The Process and Order Soul"

(Is most energized when he/she can monitor, follow and enforce the rules and system.

Wake Up Eager Careers Include:

CFO, Judge, Police Officer, Military, Rules Official, Minister)

Aesthetic - "The Balanced and Sensitive Soul"

(Is most energized when he/she can be in and help create a pleasing environment, and can pay attention to how things look and feel and self actualization.

Wake Up Eager Careers Include:

Architect, Receptionist, Artist, Graphic Designer, interior Designer, Fashion, Landscape Design, Environmentalist.)
What are YOUR top two intrinsic motivation interests and passions? Which areas de-motivate you and cause you extra stress?

Wouldn't it be nice to focus your time and energy on the personal and professional areas that most energize you? That match your strengths and interests naturally? Wouldn't it be great to feel on purpose & energized, and to be sure about your choices? You can!
Do You Want to Know? Here's How...

This popular online assessment tool, along with my online self-paced coaching tools, can be completed right now. You can have your results in 15 minutes! This Program will: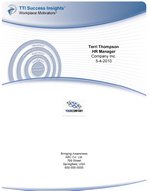 Reveal your top two intrinsic motivation interests and passions in a 24 page, customized-to-you Report.

Clearly define what energizes you, and show you exactly what types of environments and activities stress you out.
State how you your top interests brings value to Organizations.
Shed insight into how you want to be managed and what motivates and what DE-motivates you.
Provide specific focus areas for improvement.
Help you know WHY you do what you do, and shed insight into WHY others do what they do.
Show you what the merging of your top two passions means specifically for you.

Help you know, understand and use your natural passions and interests to their fullest, so you have more energy and excitement around every day!

To see what a Workplace Motivators Report looks like, click here, or on the above image, now.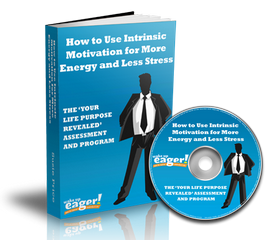 Wouldn't you love to know once and for all the secret to what REALLY motivates and inspires you? You can have your results in less than 15 minutes.
You get this complete Program to work on
at your own pace, for only $65.00.
You can have your Assessment Results in minutes or less...
and can review begin using my Debrief andDevelopment Tools, here right now.

The Buy Now link, below, takes you to a shopping cart where you can pay by credit card or PayPal. Once paid you receive a web address and an access link to complete your report online. Your completed report will be emailed to the email address you select.
The time involved in taking the Assessment, from start to finish, takes about 15 minutes.
Your Results, and what you do with them by using my Program Materials, will last a lifetime!
You'll be able to use your results, very quickly! If you are unsure about the purchase process or you have questions or you need team purchasing cost options - call me at my office: 770-578-6976; cell: 770-842-2669 or email me: suzie (at) pricelessprofessional (dot) com
Don't miss my 365 day, 100% Guarantee, as outlined below.

"My Crazy 365 Day Guarantee" I'm so confident that you'll benefit from my Programs and Material that I'm willing to take the entire risk. Order today, use my material for as long as 12 full months.
If you do not gain any benefit from having implemented this material, then I want you to ask for a refund because I don't deserve your money. Just send me an email if you are unhappy with any product I provide,and I will promptly and courteously offer you either a replacement with another session/recording or a refund, at your discretion.
Program Tools - For Use At Your Own Pace...


BONUS HANDOUT: If you decide to complete a Workplace Motivators Assessment here, with me, when you receive your Assessment Results you'll receive a BONUS Handout that includes: SPECIFIC Motivator Stress=ors & Dis-satisfiers; A Development Worksheet'; What the Merging of Your Top Two Means; Merging Your Motivators with You DISC Style; Understanding Conflict with Other Motivators.
Have Your Report? START HERE: Use my Debrief Video to Understand Your Results, and for more insight about your Top Two passions:

Click this link to go to a larger version of the video.
(Opens a new window.)
Leave This Intrinsic Motivation Program Page, Review Other Wake Up Eager Programs

Contact Suzie To Schedule a Complimentary Consulting Call or to Ask Questions

Priceless Professional Home