Podcast Episode #27:
Listening Aggressively

Overview of Episode #27 ---
Timing on Recording: @  2:10 ---

Topic 1: Avoiding to Acknowledging

My story - avoiding Debbie Downer

My Definition for Listening Aggressively: A focus on hearing in a determined and energetic way.  When you are doing this well, you demonstrate your desire  to understand by asking questions and listening with NO agenda other than to understand.  Action Steps:  Reflect, Probe, Support, Advise.

Why You Should Never Tell Someone to Relax

| | |
| --- | --- |
| Walter - 4 month old Shih-Poo | Oscar - 13 year old - Shih-Poo |
Timing on Recording: @  17:45 ---

Topic 2:  Beliefs, Mindset and Habits of Great Listeners
 Gallup Research
"I seek to understand others first, before I try to get them to understand my view. THIS is crucial to all relationships and the level of trust and respect we have with each other."
"Words alone don't teach, life experience teaches. What I say needs to be clear, but people need to experience things for themselves to really know, understand and accept."
"My example is my strongest message."

"My way is not the only way, it's just 'A' way.  I am the Leader but I invite participation,  new ideas and new ways of doing what we do."
"I try to look at and focus upon the best attributes in others.  Even in difficult and tense situations, I can discuss negative facts and behaviors, and still value the person."
"I always expect the best from others."

---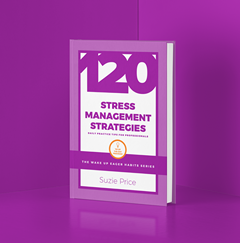 120 Stress Management
Strategies and Daily Tips Digital Book:
Mind, Body & Spirit Insights for Professionals
See a Complimentary 36-page Preview, Here

---
Timing on Recording: @ 21:45 ---

Topic 3: Four Listening Aggressively Steps - R.P.S.A.  and "the Nail" video
STEP #1: R. Reflect - Is to: Verify and Clarify. 

 

STEP #2: P. Probe - Is to: Ask Clarifying Questions to Understand."Do you mind if we ask a few questions, we'd love to get your thoughts..." "What did you think about...?" "Help me understand what's…
STEP #3:  S. Supporting - Is to: Demonstrate Understanding.

You can show understanding even if you disagree. You can almost always sincerely gain a true understanding of the other person's viewpoint IF you've done Steps 1 & 2-Relect & Probe, well. If you've been sincere in expressing your understanding you can then, successfully and safely, move to the next step.

STEP #4: A. Advising - Is to: Provide Facts & Make a Recommendation.

Charismatic Leadership - Article on Listening Aggressively

Timing on Recording: @ 38:00   ---

Topic 4: Six Negative Listening Habits and Two Favorite Quotes

1.Faker

2.The Interrupter
3.The Happy Hooker        

4.The Advice Giver
5.Rebuttal-Maker
6.The Intellectual or Logical Listener
 "The first duty of love is to listen."  Paul Tillich, German Philosopher

"The greatest compliment that was ever paid me was when one asked me what I thought, and attended to my answer." Henry David Thoreau

Related Podcasts:
Four Skills Best Bosses Have Mastered

Being a Best Boss - A Podcast Interview with VPHR Dr. Randy Reece
Related Service:

TRAIN/COACH: Corporate Leadership Training, Team Building and Coaching Programs 
PRICELESS RESOURCES
PODCAST: Subscribe to our Podcast or Help Us and Leave a Review 
NEWSLETTER: Sign up for Monthly Email Updates 
PODCAST: Most Recent Episodes      Directory of All Episodes 
RELATED DEVELOPMENT SERVICES:
·    Certification: Become the Expert: Assessment Certification Training
·    Hiring: Hiring: Secret to Superior Performance
·    Surveys: 360 Feedback and Organizational Surveys
·    Complimentary Consulting Call or Send Us Feedback: Contact Suzie
LET'S TALK:
Contact us to schedule a Complimentary Consulting Call
or to ask questions about any of our Hiring,
Coaching, Training and Assessment services.