How to Get Over Grumpy Mornings:
Healthy Eating Facts & Recipes Get Leaner AND Have More Energy & Motivation at Work!
Part 1,
2,
3,
4,
5
In this Healthy Eating Facts Five-Part Article Series you'll get five important healthy eating facts and four must-have's about breakfast, plus fast, tasty, healthy and easy breakfast ideas and recipes.
My goal is to get you so interested in eating breakfast that you can't wait to take action. That's because taking action here - around what you eat in the mornings - will make a huge difference in how you feel all day.
Even if you hate mornings now over-time, with these facts, tips and suggested diet changes you're going find yourself waking up less grumpy, skinnier and feeling happier.
Maybe even eager!
Okay, I won't push the 'eager' part...  :)
Funny Grumpy Morning Quotes  If You Hate Mornings -
You Are Not Alone!
Can you relate to any of the thoughts about mornings? They had me laughing out loud.  If you hate mornings - you are definitely NOT alone! 

"I'd like mornings better if they started later."
---Author Unknown

"I don't think jogging is healthy, especially morning jogging.
If morning joggers knew how tempting they looked to
morning motorists, they would stay home and do sit-ups."
---Rita Rudner

"If people were meant to pop out of bed, we'd all sleep in toasters."
---Author unknown, attributed to Jim Davis

"I have a "carpe diem" mug and, truthfully,at six in the morning the words do not make me want to seize the day.
They make me want to slap a dead poet."
---Joanne Sherman

"One morning I shot an elephant in my pajamas.
How he got into my pajamas I'll never know."
---Groucho Marx

"There is no snooze button on a cat who wants breakfast."
---Author Unknown

Five Important Healthy Eating Facts About Breakfast...
If you tend to 'hate mornings' AND you want to be leaner AND you'd like to have MORE energy throughout the day - check out these five healthy eating facts about breakfast...

#1)  Research increasingly links skipping breakfast with long-lasting weight gain. That's because eating the right kind of breakfast will stoke your metabolic furnace throughout the day and will keep weight gain at bay. Adults who have breakfast have an easier time staying lean; those who don't are 460 times more likely to gain weight.
#2) Research has shown that if you've lost weight, you'll keep it off by eating breakfast. The National Weight Control Registry followed 5,000 people who lost a minimum of 30 pounds and had kept it off for a year. 78% said they ate breakfast every day, 90% said they had breakfast 4 days a week.
#3) If you don't eat breakfast your body will think you are starving and your metabolism will slow down. If you eat dinner at 7:00 p.m. and don't eat again until noon the next day, your body has been fasting for 17 hours! It will interpret this 'fast' as a sign that you are starving and slow everything down. This is not good for your energy levels OR for getting and staying lean! Side note: did you notice --- breakfast is: break-the-fast? Nifty, huh?
#4) You wake up hungry and parched because while asleep your body's very busy burning fuel and repairing itself. A night without eating leaves blood-sugar levels at their lowest. Since blood sugar, or glucose, is the fuel the brain and body needs to function well, if you don't eat or drink water, you'll feel sluggish and not think very clearly.
#5) Eating breakfast can positively effect your late-morning mood, help control overeating and improve mental clarity. According to the University of Health Sciences/Chicago Medical School, "Breakfast can establish the tone for the next 16 hours of each day after eating it."

"Never work before breakfast; if you have to work
before breakfast,  eat your breakfast first." 
Josh Billings

These Five Healthy Eating Facts highlight the power breakfast can have toward:
Creating and keeping a leaner you.
Getting more energy and motivation at work (and at home).
Helping you create more Wake Up Eager days.
I want to make sure you know - I am NOT a trained nutritionist,  and I didn't grow up with a family who practiced consistent healthy eating habits. In fact I remember getting myself up in the mornings for school and grabbing cake for breakfast. Or nothing.
Over the years I've studied the science and learned from Experts (my favorite Reference material, listed below...) to retrain and cultivate a new Habit around breakfast. 
It's become a hobby of mine to read and research all of the latest health trends.  I probably spend 4-5 hours every week reading blogs, books and listening to podcasts about health, nutrition and fitness.  It's my goal here to share a few ideas that are helping me. 
Throughout this Five Part Series you'll find more healthy eating facts and easy breakfast recipes and ideas that will rev your metabolism, kick up your energy and help you burn fat!In addition to tips & recipes, on each Page of this Series I share: links to health and nutrition books/Experts I recommend AND a place for YOU to share your ideas, insights and questions.

Go to Part 2, of this Series, Now: Four Healthy Breakfast Guidelines... 

 "I love the sweet smell of dawn -our unique daily
opportunity to smell time,
to smell opportunity -each morning being, a new beginning."
Terri Guillemets

Some of My Favorite Healthy Eating Facts Books/Experts:

Eating for Life. This book is a recipe book that any one can use. Every recipe in it tastes good and is easy and quick to make. Eating for Life: Your Guide to Great Health, Fat Loss and Increased Energy By: Bill Phillips. I could not keep my family on a healthy diet if I did not have this book to reference. My husband, who is a picky "meat and potatoes mid-Westerner", even likes this stuff. I reference a couple of the breakfast recipes from this GREAT book on Part 2 of this Series. You cannot go wrong with this cook book.
Muscle Chow A healthy eating book made by a guy for guys. Because it is geared toward guys - who usually don't love to cook - the recipes are simple, easy and quick. I'm a "girl" and I use this one all the time too. The weekend breakfast recipe for Lean Cheese Blintz came from this book. A keeper recipe that even the most die-hard, "give me a bear-claw cinnamon bun" breakfast guy or gal will like!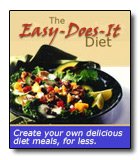 The Easy Does It-Healthy Eating Cook Book. You now have healthy recipes for breakfast (Part 3,4,& 5 of this Series) but what about the rest of the day? I found this little gem, online and it is perfect for any one who is on a budget and who has no time to cook. The title is: The Easy Does It Diet, A Healthy Eating Cook Book. To read my review of this handy and practical cook book, click here. To find out more and to get it right away, click here.
LET'S TALK:
Contact us to schedule a Complimentary Consulting Call
or to ask questions about any of our Hiring,
Coaching, Training and Assessment services.