Healthy Eating Facts:
Breakfast Recipes Fix & Eat in 15...
Part
1
,
2,
3,
4,
5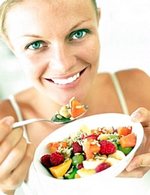 Welcome to Part 4 of this Healthy Eating Facts and Breakfast Recipes Series! So far we covered five important facts about breakfast, four 'must-have' guidelines and grab-and-go breakfast options. Now, let's look at options for making a quick breakfast when you have a little bit of time at home...

"Eating breakfast can positively effect your late-morning mood,
help control overeating and improve your ability to think clearly."

Fix & Eat in 15-20 Minutes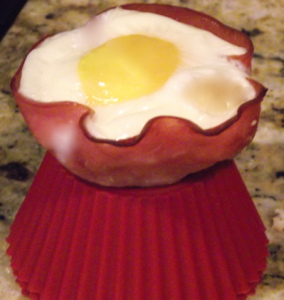 Ham and Egg Muffins:   The secret to this simple and satisfying recipe - make a batch in the evening or on the Weekend, to eat-on throughout the Week.   This is so tasty and easy to make.  I love that it's so satisfying and quick  to heat up and eat each day. Ingredients Needed: Sliced Ham, Eggs, cup of Mushrooms, 1/4th of an Onion and a Muffin Pan. EASY Directions: Step 1) Preheat the oven to 350 degrees. Step 2) Dice onion and mushrooms and stir fry for five minutes, until onion is clear. Step 3) Wrap 1 Ham Slice around each Muffin space in the pan, to make a Ham Cup. Step 4) Scoop a spoonful of your mushroom and onion mixture into each Ham Cup.  Step 5) Break open an egg, and put into each Ham Cup - slide into the oven.  Cook for 15 minutes.  EAT and enjoy ALL week.

For More Healthy Recipes:

I use this cookbook often. 
It offers healthy, low-carb recipes that can all be completed in under half an hour and, in many cases, in just a few minutes.
Check it out:

Smoked Salmon, Sauteed Spinach and an Egg. Ingredients Needed: Alaskan Smoked Salmon (Read this article @ why salmon is good for you); An Egg and uncooked Spinach.  Directions: I eat this 4 out of 5 mornings - it's favorite go to breakfast.  Step 1) Simply saute your spinach with a pan on your cook top.   Be sure to use a cup or two, since Spinach cooks down really quickly.  Step 2)  After you slide your spinach onto your plate, cook your egg.  Step 3) After you slide your egg on top of the spinach, get your salmon and a fork and ENJOY! Tasty!
Left-Overs Omelet/Scrambled - Crack a few eggs and whip them together.  Pour into a pan and cook.  Add in diced left overs from the night before - diced meat, veges and a little bit of cheese.  Add some avocado on top and you now have a nutritious, satisfying breakfast chock-full of fat-burning protein and good fats!

Low-fat Cottage Cheese. Enjoy Low-fat Cottage Cheese - it is so good for you. It's low in calories and high in protein, it's nutritionally dense and fulfilling. To get more healthy eating facts about this super good for you food check out this article.    On top of your Cottage Cheese add: Fresh Fruit, Nuts, Almond Butter, you can even have it on the side along with your Ham and Egg Muffin (see recipe above).  Pair cottage cheese with anything!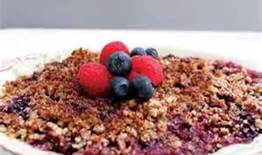 Berry "Dessert" Crumble This takes less than 15 minutes and it tastes so good!  Ingredients: 1/2 cup each of walnuts and pecans;  cinnamon; nutmeg; butter; vanilla; 3 cups of fresh or frozen berries.  Directions:  Step 1) Pre-heat broiled.  Step 2) Grind nuts until finally chopped, then stir together with lots of cinnamon and a dash of nutmeg.  Step 3) Defrost frozen fruit in microwave and drain off extra liquid.  Step 4) Pour nut/cinnamon nutmeg mixture on top of fruit, add butter and place under broiler.  Take it out once the nuts begin to brown.  Quick, easy and tasty.  (Will also taste great with cottage cheese and Greek Yogurt)
If you don't eat breakfast your body will think you are starving and will go into a 'fat-hoarding' mode and slow your metabolism down.
Go To: Healthy Eating Facts - Breakfast Recipes Part 5:  More Recipes for Making Healthy Food for Family and Friends on the Weekend.

Share YOUR Fix & Go in 15 Breakfast Favorites, Here...

What are YOUR favorite quick fix and healthy breakfast ideas? Share here, along with any questions or comments you have.
LET'S TALK:
Contact us to schedule a Complimentary Consulting Call
or to ask questions about any of our Hiring,
Coaching, Training and Assessment services.