Healthy Eating Facts - Breakfast Recipes:
Weekend Options w/ Friends & Family
Part
1
,
2,
3,
4,
5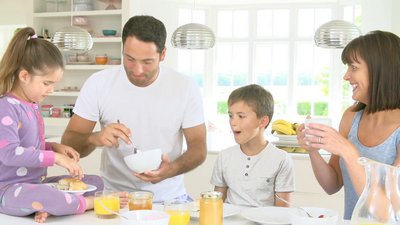 Welcome to the last page of this Healthy Eating Facts and Recipes Series! We've covered five facts about breakfast, four breakfast 'must-haves' , grab-and-go breakfast options, and recipes that allow for you to fix and eat breakfast in 15-20 minutes.
Now you need weekend options that match our healthy eating facts guidelines and that you can enjoy with friends and family. Suggestion: Create an extra batch or two of whatever you make on the weekend and freeze it for 'grab and go' options during the week.

Healthy Eating Facts & Breakfast Recipes:
Great Weekend Ideas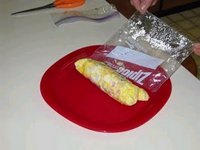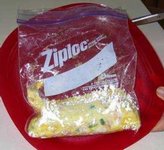 Make Your Own Omelet in a Bag - This is Great Fun!   Ingredients Needed: Per person essentials: 2 large eggs or 4 Egg Beater egg whites; 1 quart size ziploc bag.  Misc Items to Add to Each Omelet - You Choose: grated cheese; green onions; chopped mushroom, green peppers, tomatoes; salsa. (plus, any of your other favorite omelet add-ins.)   Directions: Each guest writes their name on their ziploc bag w/ a permanent marker. Put two eggs (or 4 egg whites) into the bag and shake to combine.   Take a large pot, fill it with water and turn on high - you want boiling water.  Each guest adds prepared ingredients of their choice to their bag and shakes all the items together. Make sure to get ALL of the air out of each bag. Place the bags the boiling water for EXACTLY 13 minutes (6 to 8 bags can fit and cook well in a large pot - for more bags, get another pot of water going.). After 13 minutes, open the bags and the omelet will roll out easily. Serve with fresh fruit and you have a fun, healthy, get-everyone-involved breakfast that meets all of our healthy eating facts guidelines!                                      
Protein Pancakes - Reminder: Make Extra for Grab and Go for Later in the Work Week...  These are our favorites. I make these almost every weekend. Very simple and so much better for you than plan 'ole pancakes.  Ingredients Needed: (For 2 servings) 1 cup uncooked whole-grain oats (non-instant); 6 egg whites; 1 cup cottage cheese; 1/4 tsp. vanilla extract; 1/4 tsp ground cinnamon; 2 packets sugar substitute; 1/2 cup sugar-free maple syrup; 1/4 cup mixed berries. (Double or triple the recipe for Grab and Go options, later)  Directions:    Lightly coat skillet or griddle with cooking spray over medium heat. In a blender combine from the oats to the sugar substitute on medium speed for 1 minute.Pour batter into pan, 1/4 cup at a time. Cook until bubbly on top and dry @ edges - @ 3 minutes. Flip. Cook until golden. Serve with syrup* and fruit. *I will dip my pancakes in Greek Yogurt or use Agave Syrup.  My husband likes the Maple Syrup best.  ('Dipping' your pancake into a small bowl with syrup helps you get some sweet, but keeps you from overdoing the sweet treats!
Another Healthy Eating Facts Resource: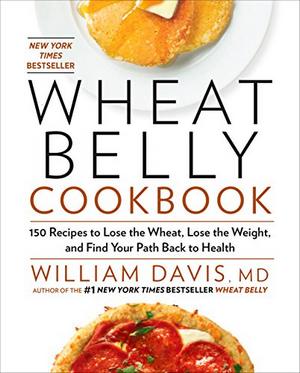 I've been wheat-free for years and while I don't think it is for everyone, it has certainly improved my energy and health.   In this Cookbook - Cardiologist Dr Davis shares not only recipes, but why he supports being 'wheat-free':
Lean Cheese Blintz This is a hit with everyone... takes a little bit of prep-time, but not too much. It could also be prepared the night before.   My father-in-law who was NOT 'into' healthy eating facts or breakfasts, loved these!  He had no idea they were healthy! (I never told him he was eating something that was healthy!)            Ingredients Needed: (For 3 Servings)
FOR BATTER: 3/4 cup whole wheat flour or Almond Flour (this is what I use - since I don't 'do' wheat); 1 cup  milk; 2 eggs; 1/8 tsp baking powder.
FOR FILLING: 1/2 cup fat-free ricotta cheese; 1/2 cup low-fat, no-salt cottage cheese; 6 Tbsp whole fruit blueberry preserves.                                                              Directions: Pre-heat oven to 350 degrees.Combine the batter ingredients, mix well - it will be thin and runny. Coat a skillet with non-stick spray heat over medium heat. Pour 1/4 cup of batter in pan, spread top the edges, creating a thin crepe. (Make it thin so you don't have to flip) Cook each 'crepe' 30 to 50 seconds until cooked through. Set aside on clean paper towel. Continue making crepes until all the batter has been used.Preheat oven to 350 degrees. Prepare the filling by combining ricotta and cottage cheese in a bowl. Assemble the crepes: Spoon 1 Tbsp of the filling in a line across the center of a crepe, top with 1 Tbsp of preserves. Roll each filled crepe up and place side by side in a baking pan, that you've sprayed with non-stick spray. Bake for 10 minutes or just until the edges begin to brown. Ready to eat!
Broccoli and Mushroom Frittata -  Frittatas are so easy and they're great for a crowd!  This one makes 8 servings and cooks for about 35 minutes. Ingredients: Garlic; mushrooms; brocolli; shredded cheddar cheese; 6 eggs; 2 cups of half and half; dill.   Directions:  Step 1) Pre-heat overn to 375 degrees.  Step 2) Stir fry the garlic (amount to your taste-I use the pre-minced kind in a jar), brocolli and mushrooms until cooked -making sure brocolli is bright green.  Step 3) Line a pie plate with the cooked veges and top with as much cheddar cheese as you want.  Step 4) Which the eggs and the half and half, add a teaspoon of dill, and pur over veges/cheese.  Step 5) Bake for 35 minutes or until a knife in the center comes out clean.   Viola!  You've just made a Frittata that everyone will love AND they'll be eating some veges!  Good tasting AND good for you!
"There's a reason you wake up hungry and parched - While you've been sleeping your
body's been busy burning fuel and repairing itself."

Share Here...

Share YOUR favorite healthy weekend breakfast recipes here. Also, ask questions and share tips.
LET'S TALK:
Contact us to schedule a Complimentary Consulting Call
or to ask questions about any of our Hiring,
Coaching, Training and Assessment services.

Leave Healthy Eating Facts Series Page 5, Go Back to Page 1 - Five Facts About Breakfast