Podcast Episode #41:
Leaders Derailed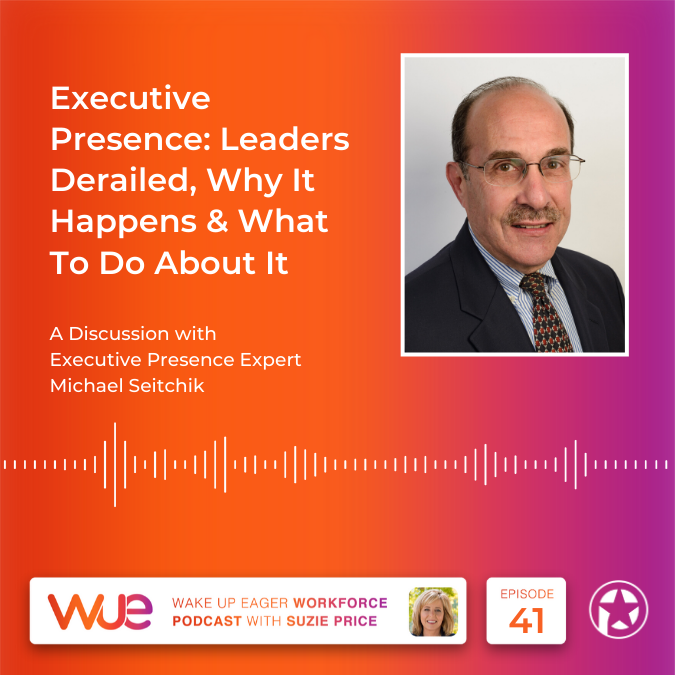 Overview of Episode #41 ---
Surprising facts and stats about leaders and derailment. 

Three root causes why leaders can get derailed. 

Areas that can help a successful leader who are stuck, get back on track. 

What leaders who are known for leading innovative teams do very well.  

What true confidence in a leader looks like and acts like.  

Valuable, practical tips and ideas to help leaders demonstrate confidence AND humility.

 
About Michael Seitchik (sigh-cHIK):
Director of Research and Assessment for Bates. 

In his role as a certified Bates

ExPI™ feedback provider, he offers coaching and assessment interpretation to senior leaders and executives. 

 

For over 30 years, he has been helping senior executives through coaching and designing custom executive education workshops 

Michael believes that coaching provides leaders with the one critical thing highly successful and powerful executives rarely get - the truth about the impact of their behavior on others.

He learned this early in his career when he was the full-time trusted advisor (coach) to the CEO of a major hospital.

Since then, he has used this philosophy

to coach over 900 senior executives

at numerous companies and organizations such as ARAMARK, BASF Corporation, JP Morgan Chase, 

Johnson & Johnson, 

J&J/Merck, Lockheed Martin, 

Pfizer, State Street, TD Ameritrade, Unisys, and

Verizon

.

 

Prior to joining Bates, Michael operated a successful firm specializing in executive education, executive coaching and executive team development.  

From 1997 through 2009 he was Managing Director of Executive Education Services at RHR International.

(Consulting firm)

 
At RHR, he developed a unique approach to executive development that combined workshops, coaching and action learning projects. This work has been recognized by The Wall Street Journal, The New York Times, the Financial Times, USA Today, The Globe & Mail and the Los Angeles Business Journal.  He used this approach to develop programs for AB

InBev, ARAMARK, Best Buy, Darden Restaurants, Kraft, McCormick, Merck, Northern Trust, Pepsi Bottling Group, Steelcase, Swisscom, and US Foodservice. 

Prior to working at RHR, for nine years he was the Director of Program Development at

 

the Wharton School's

 

Aresty

 

Institute of Executive Education

.

 

He designed customized programs for over sixty clients including DuPont, IBM, KPMG, General Motors, Unisys, and Verizon.

 

 

 

Michael received his Bachelor of Arts Degree from Trinity College and Doctorate in adult education, group dynamics and organizational development from Temple University.

 
Timing on Recording: @ 7:50 --- Interview with Director of Research and Assessments for Bates Communications Michael Seitchik

Topic 1: Getting to know Michael.

Favorite guilty-pleasure TV show – "The Voice."

Favorite possession – Bottle collection.
Timing on Recording: @ 10:56 ---
Topic 2: Leaders and derailment.
Derailment – Costs to the company, percentage of managers/executives who are engaged. Derailment can cost an organization more than 20 times an executive's salary, in some cases amounting to millions of dollars.

"People feel stuck."

Not great at engaging people and getting them involved. Only 34% of managers and executives are engaged.

Don't feel appreciated, too much going on, unclear roles and responsibilities, too much change and uncertainty.

How leadership is changing/transitioning. 60% of all companies cite "leadership gaps" as their top business challenge.
Timing on Recording: @ 17:54  ---
Topic 3: Warning signs of derailment.
Look for distress, it doesn't have to be big things, look for little things too (i.e. being short or frazzled).

There is too much to do and the pressure of getting it done is too much.

Viscous cycle: Doing things without explaining why you are doing them, leaves your team confused. 
Timing on Recording: @ 22:00 ---
Topic 4: How confidence can cause derailment.
CFO example - Having too much confidence.

Take the time to slow down, engage and involve others.
Timing on Recording: 26:48 ---
Topic 5: Root causes of derailment.
Being unaware.

Lack of good feedback.

Gap between your intentions and other people's perceptions.

Story – Moving from HR Manager to the right-hand man of the CEO.
Timing on Recording: @ 34:50  ---
Topic 6: Top areas (facets) that are seen most often to cause an executive to start going off-track.
Measurements in the ExPI.

What challenges are being faced? 

Highest rated facet: integrity.
Timing on Recording: @ 38:18 ---
Topic 7: Confidence.
Self-confidence vs. Social confidence.

Bank teller to 2nd in charge of one of the largest financial firms in the world.

Imposter syndrome. 80% of people experience the imposter syndrome. Why it is healthy.

Positive feedback. "Helps people see a little bit better."

Give people permission to take a reasonable risk.

Inviting dissent. JFK example.

Have a good clean fight!
Timing on Recording: @ 58:30 ---
Topic 8: Humility.
Balancing confidence and humility. Be high in both!

Don't lower anything, raise your other facets.
Timing on Recording: @ 1:00:35 ---
Topic 9: Wrap-up.
Billboard: "Be curious."

Advice you would give your 25-30 year old self about executive presence and leadership: Watch more closely how people react to what a leader says or does.

One bit of advice you would like every leader to take away from our discussion about confidence, executive presence and derailment: You always have the choice of changing how you show up; your presence, your leadership, how people perceive you. Your behaviors can change.
Resources

Podcast Episode 38 - Executive Presence
Podcast Episode 39 - Execution
Podcast Episode 40 - Looking the Part
Suzanne Bates Books "All the Leader You Can Be, the Science of Achieving Extraordinary Executive Presence." Get a complimentary copy with a 30 day trail with this audible link HERE.
How Priceless Professional Development Coaches Senior Leaders and High Potentials - The Executive Presence Index...link HERE.
Podcasts and Books Mentioned in This Podcast
Get a complimentary audio book and support this podcast by using my affiliate link: 
Get a Free Audio Book w/ 30-day Trial

Episode #38 Executive Presence – An Interview with Bates Communication's Scott Weighart

Related Services:
Coaching Senior Leaders - Executive Presence 
PRICELESS RESOURCES
PODCAST: Subscribe to our Podcast or Help Us and Leave a Review 
NEWSLETTER: Sign up for Monthly Email Updates 
PODCAST: Most Recent Episodes      Directory of All Episodes 
RELATED DEVELOPMENT SERVICES:
·    Certification: Become the Expert: Assessment Certification Training
·    Hiring: Hiring: Secret to Superior Performance
·    Surveys: 360 Feedback and Organizational Surveys
·    Complimentary Consulting Call or Send Us Feedback: Contact Suzie
LET'S TALK:
Contact us to schedule a Complimentary Consulting Call
or to ask questions about any of our Hiring,
Coaching, Training and Assessment services.

Focused on Building Self Confidence? Check Out ProStar Coach - Strong For Success