Podcast Episode #9:
The Power of Feedback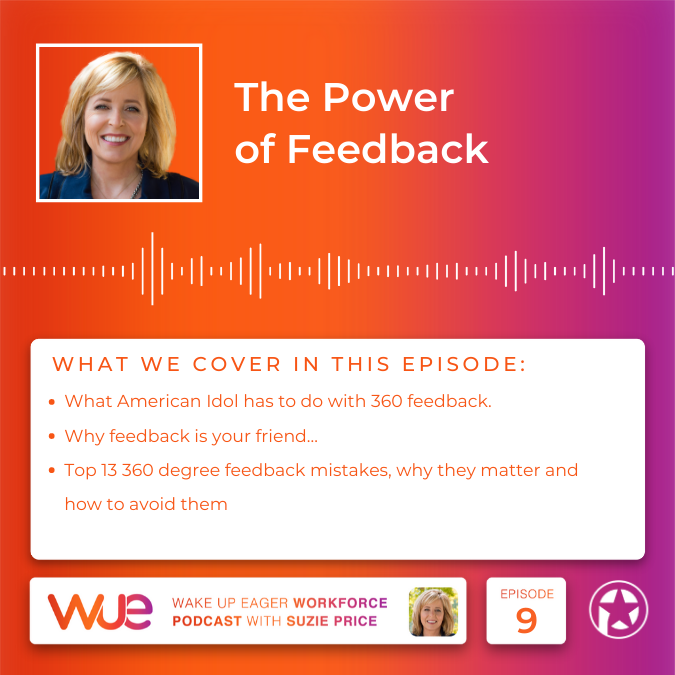 Overview of Episode #9 ---

Topic #1: What American Idol Has to do With 360 Degree Feedback

Timing on Recording: @ 2:25 ---
What American Idol has to do with 360 Degree feedback
My experience with feedback as I started my business in 2004
Kellie Pickler - from hamburger stand waitress to performing in front of 31 million people

Timing on Recording: @ 7:59 ---
Timing on Recording: @ 9:30 ---
Topic # 2: The Power of Feedback - How Feedback Helps You All the Time, Every Day...

Timing on Recording: @  11:05 ---
Feedback helps you see something you cannot see, literally!
Feedback can save you from major embarrassment, again, helping you see something you don't.

Feedback let's you know when you're veering off track - so you can quickly get back on track, BEFORE you're off the road!
Feedback can help you stay safe by helping you learn when you've crossed boundaries that could hurt themselves or someone else.
Timing on Recording: @  13:40 ---
360 Feedback...

Helps you understand how your behavior is impacting others.
Helps you leverage strengths and address perception problems and skill gaps, quickly.
Can be varied, contradictory, confusing, helpful AND hurtful. (For example on reality shows like American Idol the celebrity judges all see the same performance, and yet they often each rate the contestants differently! Confusing...)
Is a time and place for people to share their opinions.

Is a time for you to listen to those opinions by intently keeping your focus on trying to understand how other''s perceive your actions.
Is a time for looking for themes and new understandings that can be used to catapult leadership and sales success.
Is a tool that helps you improve your awareness, your skills and your knowledge about yourself.
Timing on Recording: @  16:25 ---

Yes. Feedback IS your friend. 

Master Composer of Music for the Queen Sir Peter Maxwell Davies shared,
"If you don't get feedback from your performers and your audience,you're going to be working in a vacuum."
"Our progress and growth as human beings, sales professionals and leaders
is accelerated by of feedback and it is crucial growth."
Topic #3: The Top Thirteen Mistakes in 360 Degree Feedback

Timing on Recording: @ 19:35 ---
Timing on Recording: @ 28:02 ---
Timing on Recording: @ 37:17 ---
Timing on Recording: @  44:09 ---
Related Podcasts:
 Episode #8 - 360 Feedback: The Good, Bad and How To
Episode #5 - Mythbusters: The Dark Secret of HRD...And What to Do About It
PRICELESS RESOURCES
PODCAST: Subscribe to our Podcast or Help Us and Leave a Review 
NEWSLETTER: Sign up for Monthly Email Updates 
PODCAST: Most Recent Episodes      Directory of All Episodes 
RELATED DEVELOPMENT SERVICES:
·    Certification: Become the Expert: Assessment Certification Training
·    Hiring: Hiring: Secret to Superior Performance
·    Surveys: 360 Feedback and Organizational Surveys
·    Complimentary Consulting Call or Send Us Feedback: Contact Suzie
LET'S TALK:
Contact us to schedule a Complimentary Consulting Call
or to ask questions about any of our Hiring,
Coaching, Training and Assessment services.