More Motivation in the Workplace: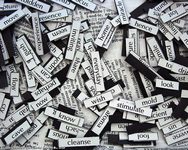 Words That Work: Relationship Building tips
Get more motivation in the workplace by better understanding how to use your quiz for self esteem, - Workplace Motivators Assessment results.
Understanding your own and others workplace motivators is so powerful. That's because this tool helps us see what we most value. Every decision, reaction and course of action arises out of that which we value.
Being able to connect with people around the things that they value, the things that energize and motivate them at their deepest subconscious level, will help you connect to and understand what they need and want. It may mean the difference between indifference and rejection to wholehearted commitment.
Consciously use these words as relationship building tips, and to develop more motivation in the workplace and at home. Here are words and statements that tap into another persons passions:
Words That Work
Theoretical/
Knowledge: 
"The Learner's 
Soul"
Passion for
Knowledge

Utilitarian/
Economic:
"The Business 
Person's Soul"
Passion for Business & Making Money

Individualistic/
Political:
"The Power 
Player's Soul"
Passion for Leading, 
Being in Front

I have a problem that I need you to help me solve.
Research. Analyze Learn. Know.
Here are the facts.
Deeper meaning. Formulating theory. Identifying truth.
Curious. Books.
Understand.
Smart. Wise. Expert-status.

Maximize resources.
Eliminate waste.
The return on investment is...
Earnings. Interest. Profit. Wealth.
Practical. Useful.
The bottom line is...
Achievement. Reward. Value.
Productivity. Time management.

This is the best...
This is an opportunity for leadership.
Excel. Advance. Be #1.
Power. Recognition.
Distinctive.
Outside the box.
New ideas.
Take control and be in charge.
You have the authority...
We need a front person.
Social/
Altruistic: 
"The Helping 
Others Soul"
Passion for Service
& Helping Others

Traditional/
Regulatory:
"The Process 
and Order Soul" 
Passion for Enforcing 'the Rules'

Aesthetic: 
"The Balanced and Sensitive Soul" 
Passion for Creativity
& Beauty

We/I need your help.
Listening to others, coaching help.
Volunteer.
Making the world a better place.
Contribute. Giving.
People. Humanity.
Service. Serve. Charity.
Soothing and comforting others.

Standards. Structure. Routine. Tradition.
Protocol.
Discipline.
Tell me about your beliefs...
Tell me about the rules.
Help us stay in line.
Follow your conscience.
Sacrifice.
History tells us...

Work life balance
Appreciation.
Using descriptive words, phrases, simile and metaphor.
Ask: How are you feeling?
Visualization. Picture this...
You'll have time to re-energize.
Creativity.
Beauty. Harmony. Ease.
Self help and personal development.
Get PDF Copy of These Self Motivation Tips
Motivation in the Workplace Factoids and Tips Directory
I add new motivation in the workplace materials often. To be notified of updates, click on the bright green RSS feed, up and to your left.
You can also be notified when new material is added through my online eNewsletter.
Join the Wake Up Eager Community List, Here:


We value our connection with our subscribers.
We never share your information with anyone.
We also make unsubscribing easy and immediate.


LET'S TALK:
Contact us to schedule a Complimentary Consulting Call
or to ask questions about any of our Hiring,
Coaching, Training and Assessment services.