Top Performers Know How to Get Organized:
Look for This Skill When Hiring With These Interview Questions...

We didn't know that Claudia didn't know how to get organized, or that she would get distracted  easily and miss every deadline she was ever given, when we interviewed her. 
Her background was stellar and she interviewed well.  She was likable.  The entire interview team agreed so we hired her. 
Which is something we began to regret a month or so after she started.
She was smart and attentive in meetings. She always had good ideas.  Personally, she was great to be around.  
But, she was easily distracted, couldn't manage priorities and was late on EVERY deadline.  
It was a drain to the team.
'How to Get Organized & Time/Self Management Skills' - Skills Found In ALL Top Performers, Across ALL Positions

Research conducted by my Assessment Partner, TTI Success Insights, Ltd., found that top performers had two traits, no matter what the position:1) Personal Accountability and 2) Knowing How to Get Organized (Time/Self-Management.)
Since these skills are so important to superior performance on the job - I want you to begin looking for them in every candidate, for every position.  Here's an overview on the Time/Self-Management Skill, plus interview questions you can begin using right away:

A Great Definition of 'Knowing How to Get Organized and Time/Self Management' Skill:
It is the ability to prioritize and complete tasks in order to deliver desired outcomes within allotted time frames.  It is when a person consistently demonstrates self control and an ability to manage their time and priorities.  (What job can you think of that does not need these strengths?  My point exactly - it's important in EVERY position.)

Typical Behaviors of People Who Have Strong 'How to Get Organized and Time/Self Management Skills': 

Independently pursues business objectives in an organized and efficient manner.
Prioritizes activities as necessary to meet job responsibilities.
Maintains required level of activity toward achieving goals without direct supervision.
Minimizes work flow disruptions and time wasters to complete high quality work within
a specified time frame.

Our "we like her so we hired her" candidate, Claudia, didn't do any of these things very well.  And, I bet you can think of a low performer on your team who struggles in these areas too, can't you?  
If so, make two decisions: 1) manage that person tightly (consider creating a Performance Dashboard for their position and manage them to it so that they either get with the program or you have back up to help move them out of the company)  and 2) begin asking the following competency-based interview questions of all future hires.
---
Three Conducting Successful Job
Interviews Resources for You...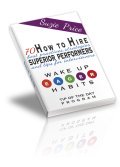 ---
'Knowing How to Get Organized & Time/Self-Management' Skill Interview Questions:

Download These Questions, Plus Ten More, Here.
1. Give me a specific example of a project that you were responsible for organizing from beginning to end. How did you go about it? How did you deal with changes that arose? How did you ensure that the project stayed on track? What was the final outcome? What did you learn from this experience?
2. Have you ever faced a day in which you just couldn't get everything done that you had planned? How did you handle it? (If the position sometimes requires extra hours, simply ask the candidate if they are able to fulfill that requirement).
3. Do you consider yourself to be a good time manager? Share with me the planning system you use and show me how you use it.
4. We have all had times where it was necessary to balance work and personal or family time. Give me an example of a time when you had too many things to do in both areas of your life and describe how you went about prioritizing your time.
5. How much time do you spend getting organized on a daily basis? When do you do it?
What impact do you think this habit has on your results?
6. What is the difference between activity and results? How do you personally define this
difference?
7. How would you approach a new task that you've been assigned without being given much direction?
8.  As part of our reference checking, we will contact your former manager at some point. What will he/she tell us about your capacity as a self-starter? What example do you think your former manager will use to illustrate his/her point?
Download These Questions, Plus Ten More, Here.
How to Get Organized and Time/Self Management Skills Interview Questions Reminders:
As you ask candidate's these questions realize that you don't need to know in advance what the
'perfect' answer to each question is. 
It is just your job to know that this skill is important to superior performance and you must  listen aggressively to the candidate's answers. Press each candidate to provide specific answers and examples.   Do the candidate's answers indicate a superior performers mindset? 
Remember: If a person is strong in this area they will be able to provide specific examples that demonstrate capability. If they are NOT strong in this area their answers and examples will tend to be weak and limp, and they will struggle to give you good examples.

These may seem like "hard" questions. Do not shy away from using them. This Skill is too important. Try a couple of them in your next interview. You may be surprised at how well they
work, and how much they reveal.  
You never want to do what we did. Don't hire Claudia!

---
Three Conducting Successful Job
Interviews Resources for You...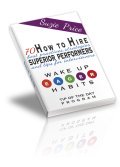 ---
Contact Us To Schedule a Complimentary Consulting Call or to Ask Questions