Podcast Episode #50:
Evaluate Job Fit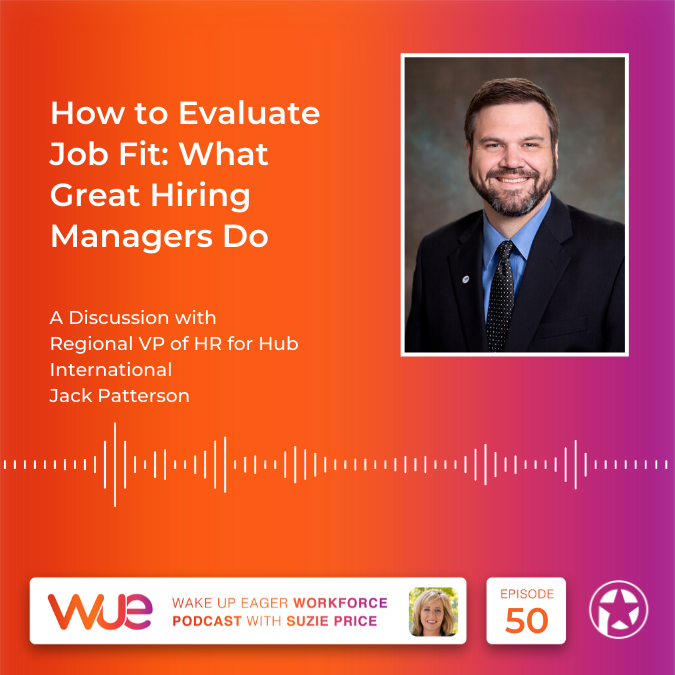 Overview of Episode #50 --- 
Three things hiring managers should do to make sure they are hiring the right person. 

How to handle mergers and acquisitions; What it takes to onboard new team members. 

Gain new insights on how to be an influential leader.
Contact Jack Patterson
 Website: linkedin.com/in/jackpatterson
Timing on Recording: @ 10:02  ---

Topic 1: Welcome; Three things hiring managers should do to make sure they have the right person in the job? During the interview, what are the things they need to focus on most?
          Podcast #18: Demystifying & Understanding TriMetrix: What, Why & How to Use it for Hiring & Coaching
          Podcast #12: Getting Your Interview Team READY in Five Steps
Situational behavioral questions are better than work behavioral questions.

Make eye contact, does the person you are interviewing make eye contact with you? Make sure you make eye contact with him or her during the interview.

Does the person you are interviewing speak to their resume? 

Ask about what positive outcomes that have come from what they are doing.

Does the person you are interviewing set themselves apart?
Timing on Recording: @ 16:51  ---

Topic 2: What are some mistakes interviewers make?
          Podcast #3: Three Biggest Interview Mistakes And How to Avoid Them...
Timing on Recording: @ 20:48  ---

Topic 3: Why is it so hard to focus on Job Fit?
There is an underlying assumption from hiring managers that it will be easier to train or onboard someone if they have specific skill sets.

The hardest part of being a leader is investing the time and taking away from other stuff.

Invest the time, build the trust.
Timing on Recording: @ 30:30  ---

Topic 4: How to handle acquisitions.
There are lessons learned with each acquisition.

Create authenticity.

Show that you are going to be truthful.

 

Integration doesn't happen overnight, true cultural integration takes a minimum of 2 years.

The power of continually getting better with your acquisition process.



Timing on Recording: @ 38:29  ---

Topic 5: Getting to Know Jack as a Leader.
The hardest part or the most challenging part is when I'm not able to influence a positive outcome for my team and I have a team member that ends up leaving.

While giving feedback just make it to where there's a separation between the personal and the work, make it about the work.

My most rewarding moment as a leader is when I see people on my team move through the ranks, and not just moved through the ranks from a promotional standpoint, but from a knowledge standpoint.

"I tried sales once. It made it very clear to me that I wanted to be a Human Resources leadership professional." It was something that I could do, but not what I enjoyed. 
 Biggest mentor, Jim at Southwest Securities, in Human Resources we influence outcomes, but he is the single most influential person in my career and that's where I got my HR bones.
Timing on Recording: @ 58:10  ---

Topic 6: Specific favorite books that you recommend to others on leadership or Human Resources.
Read leadership articles.

Get certified from an HR perspective.

Learn through experience, mostly bad experience.

Experimental learning, sitting in and watching someone.
Timing on Recording: @ 1:00:08  ---

Topic 7: Getting to Know Jack.
When you think of the word successful, who's the first person that comes to mind?: Jerome, he is the nicest, most humble guy, he puts his family and God first. And George, he always puts his family first, even as a politician. You can't get in the game of being successful unless you're well liked and have a good family and support system.

Your favorite guilty pleasure TV show: On Netflix, House of Cards.

What actor would play you in a movie: George Clooney.

What advice would you give your 25 year-old self: Be patient, let things play out more, and you don't have to let them play out forever, but let them play out. There are very, very few instances in this world, outside of abuse, in which someone is a 100 percent right or 100 percent wrong, and you need to always take a look and see what your part is in something.

You could put one billboard anywhere. What would it be? What would it say? Location?: "So goes the follower," on the 635 in Dallas.

Is there one last bit of advice or wisdom you'd like every leader to take away from what we've talked about today about hiring, about being a leader, being a Human Resources Executive?: We're looking to marry someone, not date someone, and so it's imperative that we do our due diligence during the hiring process, and doing due diligence doesn't mean just looking at a resume and seeing what school they went to, it is a skill assessment. Don't make decisions in silos, but also take ownership for your decisions. So, be willing to make the decision but involve others.
PRICELESS RESOURCES
PODCAST: Subscribe to our Podcast or Help Us and Leave a Review 
NEWSLETTER: Sign up for Monthly Email Updates 
PODCAST: Most Recent Episodes      Directory of All Episodes 
RELATED DEVELOPMENT SERVICES:
·    Certification: Become the Expert: Assessment Certification Training
·    Hiring: Hiring: Secret to Superior Performance
·    Surveys: 360 Feedback and Organizational Surveys
·    Complimentary Consulting Call or Send Us Feedback: Contact Suzie