Podcast Episode #14:
Being a Best Boss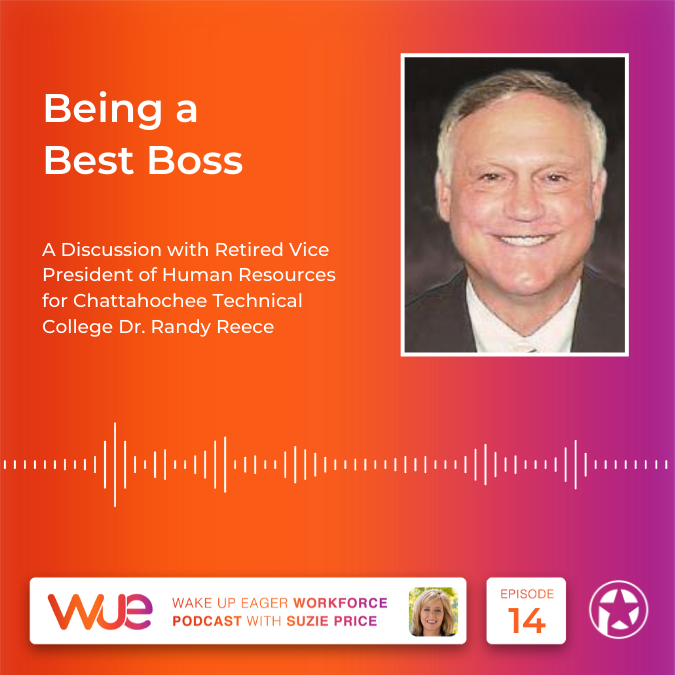 Overview of Episode #14 ---

Hear from former Vice President of Human Resources executive Dr. Randy Reece, a student of leadership, share his insights and wisdom with no agenda.  (He doesn't have a book or program to sell, he just wants to help out.)
Find out about:
What Square One leadership is and how Randy used this to be a best boss. 




Why Randy asks questions to generate conflict and how questioning can improve engagement.




One question that Randy asks every candidate in leader interviews. 




The difference between delegating, dumping and dropping. 




4 top Barriers to being a great leader. 




How to Overcome Being a Gutless Leader and How to Become More Strategic.
Contact Dr. Randy Reece:
Timing on Recording: @ 2:50 ---
Topic #1:  About Chattahoochee Technical College and How I Met Dr. Randy Reece

Overview on Chattahoochee Technical College




One of Randy's past employees, Beth Zullo, tells us why he has been her best boss



Timing on Recording: @  11:41 ---
Topic # 2: Dr. Randy Reece's Background - Fun and Interesting Questions to Get to Know More About Him
Why his favorite guilty pleasure TV show is  The Bachelor and Bachelorette

His favorite possession: His father's  car the car he used to learn how to drive

His most challenging moment as a leader

Square one leadership




His most rewarding moments as a leader.

One thing – most people do not know about Randy



Timing on Recording: @ 33:44  ---
Topic #3: My Journey to Leadership and Why Questioning to Create Some Conflict is a Good Thing

More about Randy's journey

Why Randy asks a lot of questions

How conflict creates better ideas

Something HR people should be doing

How to not put fence around people and keep people engaged

Why leaders struggle with micromanaging and why you should change



Timing on Recording: @  50:56 ---
Topic #4: The One Question Randy Always Asks and Some of His Belief Statements About Leadership

Favorite Question: Tell me what trust means to you.




A Strongly Held Belief:  The vast number of employees want to do a good job.

Another Strongly Held Belief:  A small percentage of employees want to do an outstanding job.  The really good leaders are the ones who can help people move from good to great.




One of the best lessons he learned from a past boss...

Looking at each work experience as though it an opportunity for an apprenticeship



Timing on Recording:  @ 1:01:00  ---
Topic #5: The Difference Between Delegating, Dumping and Dropping

The difference between providing a safety net and micromanaging

How to allow people to get close to falling through the safety net so that they grow and take ownership
Timing on Recording: @ 1:08:30 ---
Topic #6:  Greatest Influences on Randy's leadership Life and Recommendations to Help Other Leaders
Find an advocate

Formal education

Always understand there is more to learn, always be learning

Authors: John Maxwell and Patrick Lencioni (Get a complimentary audio book download with 30 day trial, at Audible.  Use my affiliate link and look up Patrick Lencioni or John Maxwell: www.pricelessprofessional.com/audible )


Gallup Organization Research (

Podcast #13 Four Skills

, go to 21:15 on the recording.)
Timing on Recording: @ 1:17:14  ---
Topic #7: Barriers to Great Leadership
Micromanaging

Me-Centered leader 




Gutless Leader




Lack of Strategic Thinking and Strategic Action



Timing on Recording: @ 1:10:13  ---
Topic #8:  How to Overcome Being a Gutless Leader and How to Become More Strategic

Have guiding principles to make decision making easier. 

Make more decisions.

Go through the strategic thinking process by tackling an easier decision first and make sure that there is a good result to build confidence in your decisions, even if they are not popular.

Do your homework.  Answer these questions with trusted team members.(Especially important for Human Resource people.)




         Why are we doing this?




         What are the alternatives?




         What are the implications?
Timing on Recording: @ 1:28:20 ---
Topic #9:  Closing Questions
The person that comes to mind when Randy hears the word: Successful

What Randy would put on a billboard

What advice would you give your 30-year old self?




   -Think strategically




   -Decide what you want to get out of your career and make that your overriding mission




   -Be patient and observe - Then think, act and plan strategically




  -OPA – Observe, Plan, Act



Related Podcasts:
Four Skills Best Bosses Have Mastered
What Research Reveals About How to Train
and Retain the Millennial Employee 
Related Service:

TRAIN/COACH: Corporate Leadership Training, Team Building and Coaching Programs

Employee Selection Assessment Tools and Resources
PRICELESS RESOURCES
PODCAST: Subscribe to our Podcast or Help Us and Leave a Review 
NEWSLETTER: Sign up for Monthly Email Updates 
PODCAST: Most Recent Episodes      Directory of All Episodes 
RELATED DEVELOPMENT SERVICES:
·    Certification: Become the Expert: Assessment Certification Training
·    Hiring: Hiring: Secret to Superior Performance
·    Surveys: 360 Feedback and Organizational Surveys
·    Complimentary Consulting Call or Send Us Feedback: Contact Suzie
LET'S TALK:
Contact us to schedule a Complimentary Consulting Call
or to ask questions about any of our Hiring,
Coaching, Training and Assessment services.