Podcast Episode #43:
The Detour Method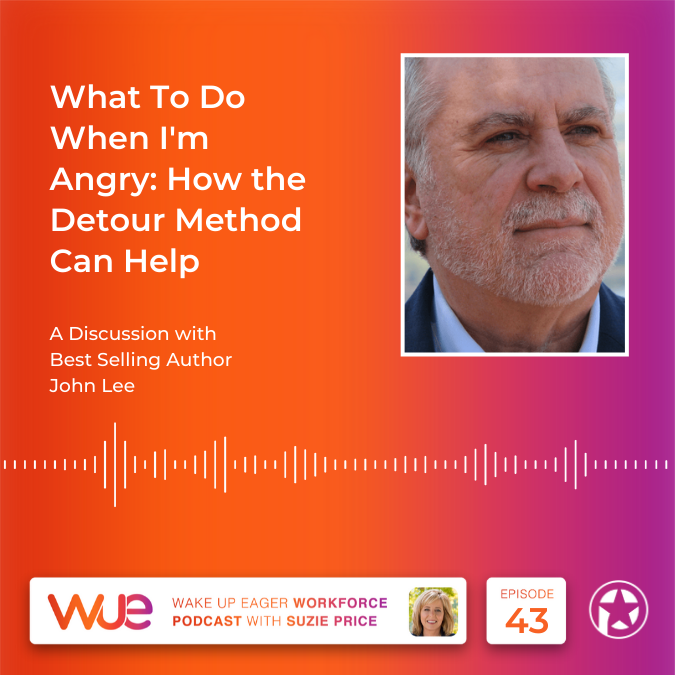 Overview of Episode #43 --- 

Understanding the importance difference between anger and rage.

Nine things we all do when we think we are expressing anger, but we're actually expressing rage.  

How regression happens to all of us at times, and leads to rage and what we can do about it to move rage to appropriate anger.

 

Actions we can take to help someone who's in rage.

 

The Detour Method: The five questions we can use on ourselves or with another to move out of regression and rage.
Contact John Lee

 Website: www.johnleebooks.com
Timing on Recording: @ 9:55  ---

Topic 1: Welcome; Getting to Know Best Selling Author, John Lee.

Tell us your favorite guilty pleasure TV show(s): Downton Abby and Poldark

What actor would you want to play you in a movie?: Will Smith
Timing on Recording: @ 17:00  ---

Topic 2: How did the topic of anger become a topic that you write about? Why does this topic matter to you and how did it become part of your specialty?

"You are the angriest man I have ever known." 

"I just wanted to do this so that nobody else that I loved or I was loved by would be hurt by my repressed, stored-up, bottled-up anger that I didn

't even know that I had." 

"

 

I read every book that was written on anger, and none of them were satisfactory to me because they were leaving out big, big parts. They were leaving out the body, anger management and anger books make it an intellectual and head issue."

 

People get confused between anger and rage, and using those terms interchangeably as if they meant the same thing.

Anger expressed appropriately equals: Energy, intimacy, and serenity.

 

Anger is about what you said or did or didn't do last night, yesterday or today. Rage is about what you've been saying for 20 years.

 

Three Ds: Distance, Disaster and Divorce.

 

Inrager vs. Outrager.
Timing on Recording: @ 26:05  ---

Topic 3: Triggers.

If you're Hungry, Angry, Lonely or Tired, H.A.L.T.


Four drinks metaphor.

Rage is contagious, anger is spontaneous.

Emotional regression.

 

Nine things we all do when we think we are expressing anger, but we're actually expressing rage:
Shaming

Blaming 

Demeaning

 

Demoralizing

Preaching 

Teaching

Judging

Criticizing

Analyzing
Rage is an action or  behavior that numbs people's feelings.

 

Anger is a secondary emotion and it covers up what people are really feeling.   

 
Timing on Recording: @ 39:45  ---

Topic 4: The Detour Method.

Catch your rage and regression before you do too much damage.

What are your triggers? What are your "buttons?"

 

Cornerstone for doing the Detour Method: Attention is key, Empathy, Listen to people, Time, give them time, Contact and Release.

 

The Detour Method questions: 
How am I feeling right now?
What does this remind me of from my history? (stick with this…) Has there been anything else like this, in my past? 
What would I have liked to have said? 
What do I wish the other would have said or done? 
(Usually moved out of Rage and ready to express anger appropriately- go back to present day session) Now, what do I want to say to this person/in this situation – now? 
Timing on Recording: @ 58:00  ---

Topic 5: Changes/differences made as people better understand anger/rage.
"I've never heard this before."

 

Body signals.

 

Locate where in the body that they're feeling this overreaction, disproportional reaction.
Timing on Recording: @ 1:03:15  ---

Topic 6: What to do when you're not the person in rage, but someone around you is.

Timing on Recording: @ 1:06:20  ---

Topic 7: Close.

Your billboard – "

Treat our children with respect and cherish them and get rid of this petty, scary, inappropriate racism."

Advice to 25/30 year-old self – "Buy stock in Whole Foods, Dell, Microsoft," and "Just relax." 

Biggest takeaway you want everyone listening to podcast to remember – "Before you make somebody angry, walk a mile in their shoes, and then if they get angry, you're a mile away and you've got their shoes," and "There-Are-No-Big-Deals." 

 
Links to Episode #43:

Subscribe via iTunes or Leave a Review

Podcasts and Books Mentioned in This Podcast
Get a complimentary audio book and support this podcast by using my affiliate link: 
Get a Free Audio Book w/ 30-day Trial

Episode #35 -How to Handle Conflict Like a Pro
Essential Leadership Performance Skill Development for All Levels of Leadership
Related Services:
Coaching Senior Leaders - Executive Presence

Schedule a Complimentary Consulting Call or Send Us Feedback:
Contact Suzie
STAY IN TOUCH: Are you a leader, trainer or consultant focused on building a Wake Up Eager Workforce?  Subscribe to this Podcast Here.   You can also sign up for monthly email updates, here.   Thank you for being a part of the Wake Up Eager Workforce Podcast!!