Podcast Episode #61:
Motivating Yourself, Motivating Your Workforce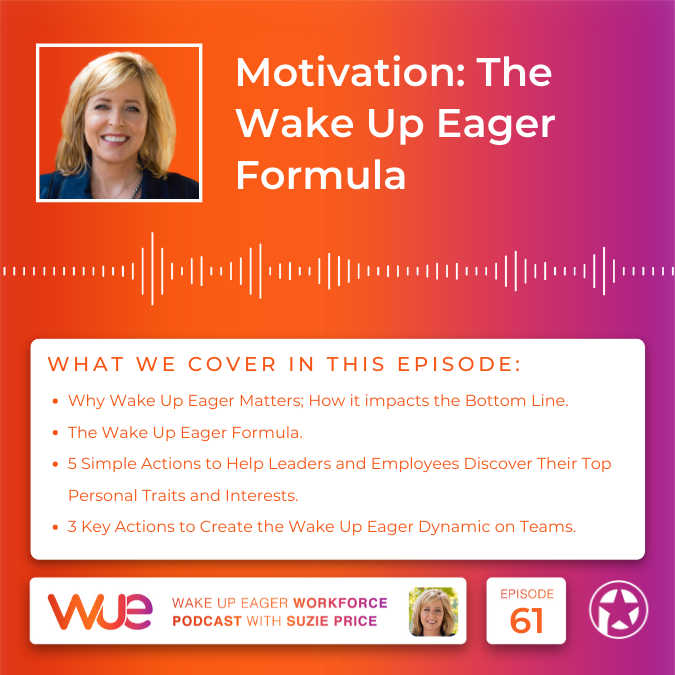 Video and Audio:
Overview of Episode #61 --- 
Why Wake Up Eager Matters; How it impacts the Bottom Line.

The Wake Up Eager Formula.

Five Simple Actions to Help Leaders and Employees Discover Their Top Personal Traits and Interests.

Three Key Actions to Create the Wake Up Eager Dynamic on Teams.
Timing on Recording: @ 15:52 ---
Topic 1: Why Wake Up Eager Matters
If you know what your strengths and talents are, the next day after you've been informed about what they are, it has been measured that you're 8% more productive.

When you use your talents and strengths, these are your unique personal traits, your interests, in addition to your background and experience, you are THREE times more likely to be committed to the work, and you are SIX times more likely to say, "I have a high quality life."

When you are a leader who leads based on strengths, you help people know what their strengths and talents are, you acknowledge them, you embrace their strengths and talents and you help them do more of who they really are, you're 86% more successful.

When a team uses their strengths on the job every day, a 25-person team, they have 44% higher customer service scores, 38% higher productivity scores.

THREE out of FOUR adults don't know what their strengths and talents are. If you line up 100 people, the Gallup Organization research, 75 of them cannot name their strengths and they're not using them on the job every day.
Timing on Recording: @ 19:04  ---
Topic 2: The Wake Up Eager Formula
Using Strengths & Talents = Feeling Satisfied & Motivated = Finding Success & Happiness.

We need to be able to use our strengths and talents in our work every day, when we do, they go together with being satisfied and motivated. From there we are going to find more success. You are going to have higher performing employees if you help people be more of who they are, they will reward you with higher performance.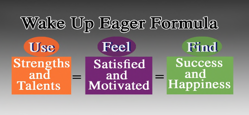 Timing on Recording: @ 19:58 ---

Topic 3: Five Simple Actions Wake Up Eager Leaders Can Take
Brainstorm the 3 "Why" questions, "While working at _____, I want to gain…; I am a _____ because I most want…; I work at ______ because…"

See contrast.

Review feedback for top strengths and talents.

Pay attention to what you are compelled to do – Exercise.

Take daily tune in time (TNT).
For more information on the your top interests and motivators - so that you can stress less and fill 'your gas tank' go to:  www.motivatorsppd.com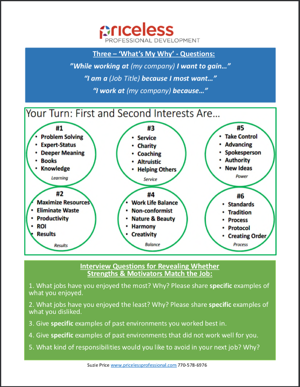 Go to www.motivatorsppd.com for more tips about your top interests.
Timing on Recording: @ 36:46  ---

Topic 4: Making a Wake Up Eager Team
Hire for the job.

Learn to embrace differences.

Be a Wake Up Eager Leader.
Books Mentioned in the Podcast:
PRICELESS RESOURCES
PODCAST: Subscribe to our Podcast or Help Us and Leave a Review 
NEWSLETTER: Sign up for Monthly Email Updates 
PODCAST: Most Recent Episodes      Directory of All Episodes 
RELATED DEVELOPMENT SERVICES:
·    Certification: Become the Expert: Assessment Certification Training
·    Hiring: Hiring: Secret to Superior Performance
·    Surveys: 360 Feedback and Organizational Surveys
·    Complimentary Consulting Call or Send Us Feedback: Contact Suzie