Podcast Episode #54:
7 Stages of Growth Model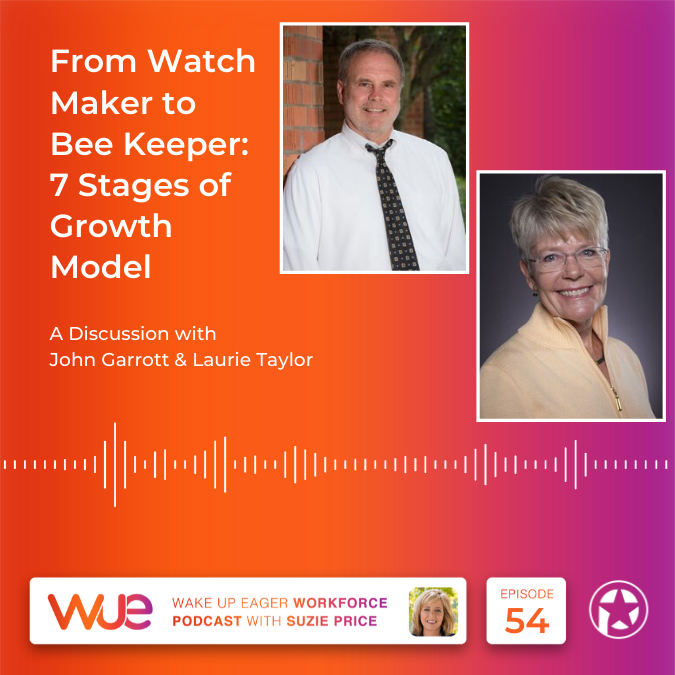 Overview of Episode #54 --- 
How SSOG helps organizations know what they need to do to grow - The components involved.

Understanding the keys to strategic growth and successful strategy.

Sharing about Laurie and John's influences, favorite books, key tips for planning and more…
Timing on Recording: @ 6:46  ---

Topic 1: Going from watchmaker to beekeeper, what does it mean and how does it relate to business and the work around the Seven Stages of Growth. 
James Fisher story – Watchmaker vs. Beekeeper.

Watchmaker – Precise, knows exactly what he/she is supposed to be doing.

Beekeeper – Can sit back and watch their bees/team do their roles and understand their responsibilities.

Stages of Growth X – Creates dialogue, clarity.

Unusual dialogue.

Key indicators.

Language of growth.
Timing on Recording: @ 11:52  ---

Topic 2: Seven Stages of Growth. 
Built around number of employees.

One size doesn't fit all.

Stage One: Startup, 1-10 employees.

Stage Two: Ramp Up, 11-19 employees.

Stage Three: Delegation, 20-34 employees.

Stage Four: Professional, 35-57 employees.

Stage Five: Integration, 59-95 employees.

Stage Six: Strategic, 96-160 employees.

Stage Seven: Visionary: 161-500 employees.

Four rules that govern the model: 

1.

    

As soon as you land in any stage of growth, you're going to get ready for the next stage of growth.

2.

    

What you don't get done in any stage of growth doesn't go away.

3.

    

Time will make a difference.

4.

    

If you're not growing, you're dying.
Timing on Recording: @ 34:43  ---

Topic 3: How do you prepare a leader, CEO, for the Seven Stages of Growth? What has to be in place for it to be successful?

CEO Debrief.

We try to take the surprise.

Get the dialogue on the table.

"It's an organization issue, not a CEO issue."

Take the CEO out to dinner beforehand and may sure you pay.
Timing on Recording: @ 40:35  ---

Topic 4: Final key points.
Timing on Recording: @ 49:03  ---

Topic 5: Who has been your biggest influence and how have they influenced you?
John: 

My Mother, influenced a thousand different ways.

Laurie: Parents, Mother teaching the Golden Rule, "Treat others as you would want to be treated." First boss who was caring and good at teaching, didn't let things slide if they didn't go well.
Timing on Recording: @ 53:37  ---

Topic 6: Education, books or training that have been most instrumental in development.
John: Books: Seven Habits of Highly Effective People by Stephen Covey and Theory U by Otto Scharmer; Training - Target Training International Success Insight DISC and EQ
Laurie: Master's degree ("Stopped trying to talk to people and I started engaging people in conversations."), John Maxwell Speaking Program, John Maxwell Book The 21 Irrefutable Laws of Leadership
Timing on Recording: @ 59:32  ---

Topic 7: When you think of the word successful, who is the first person that comes to mind?
John: Supervisor, Truman Brooks ("

He was an iron fist, but a velvet glove.")

Laurie:

Business owners, especially business owners who are juggling families and trying to run a business at the same time.
Timing on Recording: @ 1:04:11 ---

Topic 8: Things that you do that helps you create the days that feel good and right for you, mind, body, spirit.
John: Divide my day into three quadrants; Mentally, physically and soul a spirit, make time for quiet time, 20 minute hard walk.

Laurie: I always find something positive about the day, exercise, stay active, spend time with family, enjoy working with my Growth Curve Specialist and Strategists Community.
Timing on Recording: @ 1:08:27  ---

Topic 9: Getting to know John Garrott and Laurie Taylor.
       - John: Charlton Heston or Gregory Peck
        - John: My horses.
        - Laurie: I don't look at things as possessing them, I look at how I look at things
        - Laurie: Driving around in my hometown lost.
       - John: Enjoy the journey, seize the moment, carpe diem, how do you love?
       - Laurie: save for that rainy day, be true to yourself, know what your values are.
       - John: A billboard with a picture of me next to Elvis.
       - Laurie: Believe in yourself.
        - Laurie: You do not have to figure it out as you go, there is a model to help you grow your business.
        - John: Pick up the phone and call somebody about Seven Stages of Growth, just begin the conversation.
Links Mentioned in this Podcast:
PRICELESS RESOURCES
PODCAST: Subscribe to our Podcast or Help Us and Leave a Review 
NEWSLETTER: Sign up for Monthly Email Updates 
PODCAST: Most Recent Episodes      Directory of All Episodes 
RELATED DEVELOPMENT SERVICES:
·    Certification: Become the Expert: Assessment Certification Training
·    Hiring: Hiring: Secret to Superior Performance
·    Surveys: 360 Feedback and Organizational Surveys
·    Complimentary Consulting Call or Send Us Feedback: Contact Suzie