THANK YOU for Buying
How to Hire Superior Performers: 70 Best Practices, Strategies and Tips for Interviewers: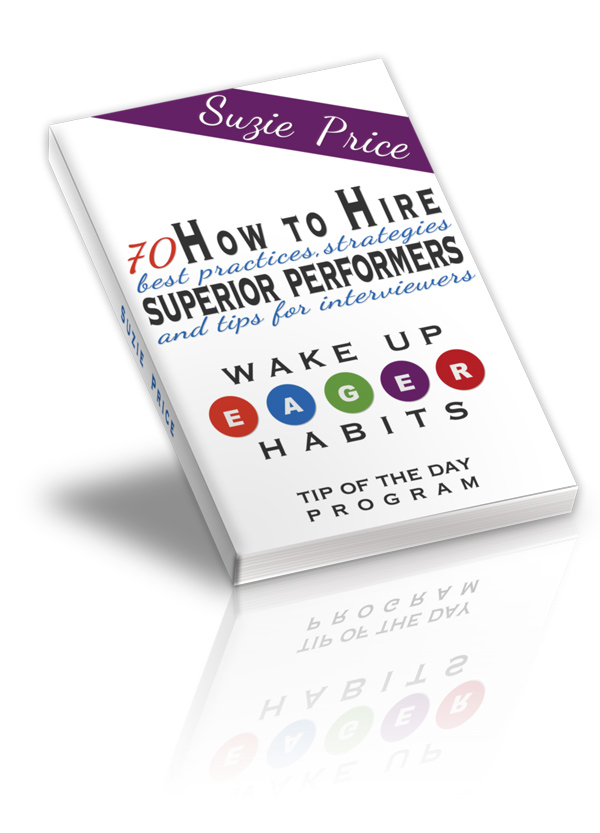 I can't wait for you to start using these Sales and Leadership Interview Questions, and Best Hiring Practices Tips! 

Your Tips Schedule: What You Get & When...

Your first Tip will arrive in your in-box on the first Monday after the day you sign up, and will continue to arrive, Monday through Friday, for 14  weeks.

If you decide you want to have the 70 Daily Actions Tips, all at once, you can get my Kindle Book, when it is available in the coming months.

The Best Ways to Reach Me, To Comment and To Share:  I'd love it if you are interested and have time to share your questions, comments, suggests and thoughts about the Tips.  Here's some of the best ways to connect and share:

Have a Question about an area that we're covering?  Post it anonymously via my

Talk Back Forum.

Or, You can contact me directly  via my

Online Contact Form, here. 

Or you can call me at 770-578-6976 or email me directly: suzie (at) pricelessprofessional (dot) com

If you like these Free 1% Daily Action Tips, it would really help me please help me 'Spread the Word' by sharing your comments on my Evaluate Job Fit Tip Sign Up Page, Here. 

Look for your first Tip the first Monday after you are reading this.  They'll continue every Monday-Friday for 14 Weeks.  
Remember to take Action, as called for in each Tip, and in 70 days you'll be twice improved!  How cool is that?

Remember...
The 1% A Day Exponential Growth Principle**:  My Daily Tips Program is built around the idea that taking small Action every day leads to exponential (not linear) growth.

You can strengthen ANY Area of your life, by leaps and bounds, by focusing on that Area for less than 15 minutes a day (1%). And, in 70 days, you'll be twice as good. 
For more on this Principle, read this Article:  This Self Motivation Skills Tip is Almost Too Easy... The 'Magic' of The Compound Effect

** The 1% A Day Exponential Growth Principle:

Taking small Action every day leads to exponential (not linear) growth.

You can strengthen ANY Area of your life, by leaps and bounds, by focusing on that Area for less than 15 minutes a day (1%). And, in 70 days, you'll be twice as good. (You know, the concept of compound interest...right?)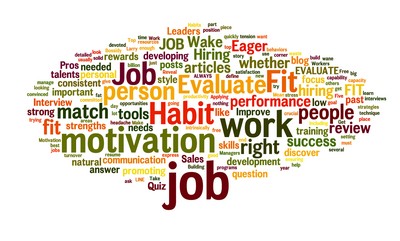 If You Missed the Sign Up -
Sign Up To Receive Email Tips Here
Suzie Note: Hey There, I want you to know that links on this website, in these sales and leadership interview questions and hiring practice s tips and in my newsletters to other resources may, at times, be affiliate links where if you purchase something, Priceless Professional will receive a financial thank you from the seller.
I stand by the recommendations of the products and people that I mention. For every product
I share with you there are many others I've chosen not to include.  Thanks! Suzie
Contact Us To Schedule a Complimentary Consulting Call or to Ask Questions
Leave This Hiring Practices, Sales and Leadership Interview Questions Thank You Page,
Go To the Main Wake Up Eager Evaluate Job Fit Habit Page