The Dark Secret of HRD: Everything You Need to Know About Leadership Development ROI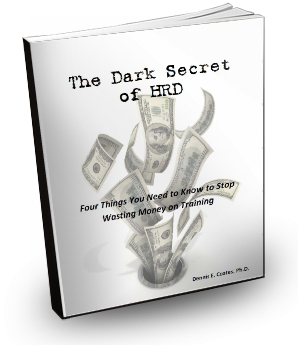 What you don't know about leadership development ROI (return on investment) may be causing you to pour a lot of money down a big rabbit hole, without even realizing it.  
Did you know that  80-90% of the money spent on training fails to change behavior keeping you from getting the results in performance you want?
If you're a consultant, trainer, business owner or executive responsible for spending money on training you need to read this book. 
In it you'll to find out why most training programs don't work and find out exactly what you can do about it.

In this detailed and easy to read 46 page eBook you get the four things you need to know to stop wasting money. You will learn what it really takes to develop people.  Share your name and email address and you'll be a directed to a link for this complimentary eBook.

**Full Disclosure: By completing this form for The Dark Secret of HRD ebook, your email address will
be added to the Wake Up Eager Update List. We value our connection with you. We NEVER share
your information with anyone. We also make unsubscribing easy, immediate and permanent.


Related Leadership Development ROI Links:

LET'S TALK:
Contact us to schedule a Complimentary Consulting Call
or to ask questions about any of our Hiring,
Coaching, Training and Assessment services.