How to Debrief a 
TriMetrix Talent Report

PODCAST #42 SHOW NOTES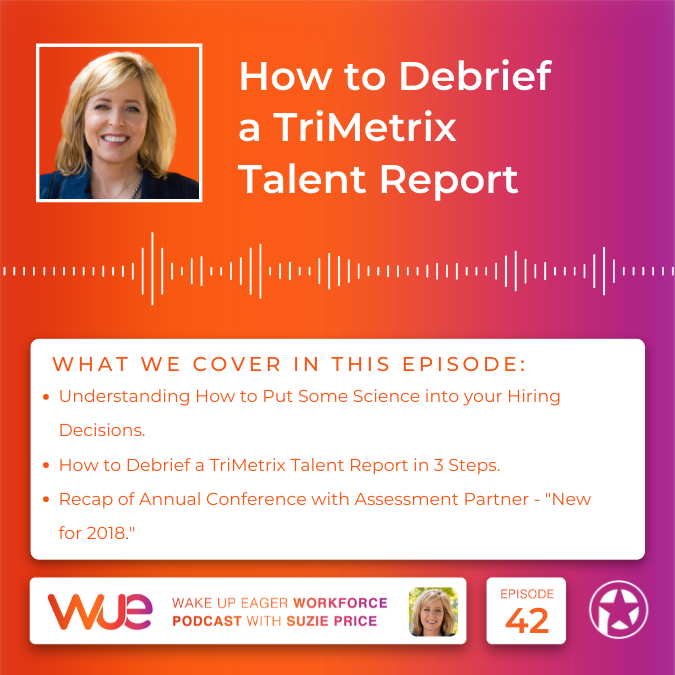 There is a Transcript for This Podcast, find it here: Transcript for Episode #42

Topics covered in this Episode:
Understanding How to Put Some Science into your Hiring Decisions. 

How to Debrief a TriMetrix Talent Report in Three Steps. 

Recap of Annual Conference with Assessment Partner - "New for 2018." 
Timing on Recording: @ 5:45 --- 

Topic 1: Introduction to the TriMetrix Assessment and My Experience using this Product.

 

About TTI SI and their TriMetrix Assessments.

What is new at TTI SI.

What I took away from the conference.

My award and presentation about podcasting.    



Timing on Recording: @ 18:50 ---
Topic 2: What is measured in TriMetrix.
DISC – How a person tends to drive.

Workplace motivators – What puts gas in a person's tank.

Competency and Personal Skills – What's under the hood. 

What TriMetrix does NOT cover.
Timing on Recording: @ 24:20  ---
Topic 3: Accuracy of the assessments.
Percentages of accuracy using 1-3 sciences.
The Department of Labor recommendations on assessments.
Timing on Recording: @ 25:45 ---
Topic 4: How assessments results should be applied.
Less than 30% of the decision-making.
Ranking system.
Timing on Recording: 28:36 ---
Topic 5: Debriefing an assessment in 3 steps – B.C.R.
Power of a benchmark.
Process of creating a benchmark – explanation of different sciences.
C - Compare the benchmark.
Gap report.
Determine level of risk; Rating of 1 to 5 or color coding.
Interview questions from Gap report for low rated areas. 
Check references. 
Determine how to follow-up.
Resources
Podcast Episode 3 - Three Biggest Interview Mistakes And How to Avoid Them... 
Podcast Episode 12 - Getting Your Interview Team READY in Five Steps     
Podcast Episode 18 - Demystifying and Understanding TriMetrix: What, Why and How to Use it for Hiring and Coaching
Book: "How to Hire Superior Performers: 70 Best Practices, Strategies and Tips for Interviewers" 

There is a Transcript for This Podcast, find it here: Transcript for Episode # 42

Subscribe via iTunes or Leave a Review
Podcasts and Books Mentioned in This Podcast
Get a complimentary audio book and support this podcast by using my affiliate link: 
Get a Free Audio Book w/ 30-day Trial

Schedule a Complimentary Consulting Call or Send Us Feedback:
Contact Suzie
STAY IN TOUCH: Are you a leader, trainer or consultant focused on building a Wake Up Eager Workforce? Subscribe to this Podcast Here.  You can also sign up for monthly email updates, here.   Thank you for being a part of the Wake Up Eager Workforce Podcast!!
LET'S TALK:
Contact us to schedule a Complimentary Consulting Call
or to ask questions about any of our Hiring,
Coaching, Training and Assessment services.

Focused on Building Self Confidence? Check Out ProStar Coach - Strong For Success