Podcast Episode #49:
Grow Trust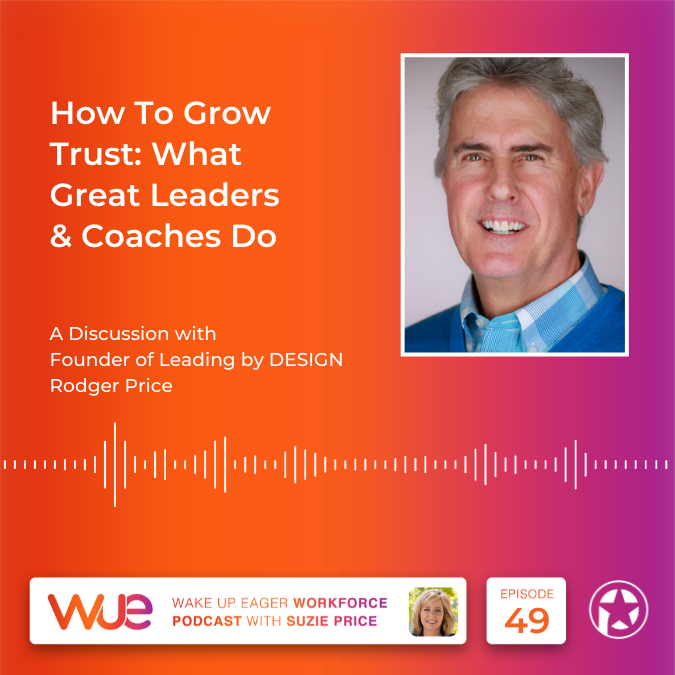 Overview of Episode #49 --- 

Three Things You Can Do To Grow Trust.



Five Fingers of Trust.

How Fear Gets in the Way and a Bridge to Help You.


Five Step Process for Leaning into Healthy Conflict. 
Contact Rodger Price
 Website: https://leadingbd.com
Timing on Recording: @ 7:04  ---

Topic 1: Welcome; Why Does Growing Trust Matter?
Produce more results.
Produce more efficiently/effectively.

 

It enriches your life, as well as other's.
Timing on Recording: @ 13:12  ---

Topic 2: This life is about love, especially if you want to lead, it is really about love. 
There is truth.
Servant Leadership Model.
Be willing to ask tough questions.
Timing on Recording: @ 20:18  ---

Topic 3: Two things that will help you accomplish more than you ever have.

Relationships: Have rich relationships, people will do things, people will give you discretionary effort that they wouldn't give you if you don't have a good relationship with them.

Make better decisions: When you are too busy, you make poor decisions, if you make better decisions, even just 10% better, and the people you are counting on help you achieve whatever it is you are trying to accomplish, then you have better relationships, you accomplish more.
Timing on Recording: @ 32:03  ---

Topic 4: What Gets in the Way of Growing Trust?
Being busy.

Fear , fear is number ONE.

Not finding your courage.
Timing on Recording: @ 59:06  ---

Topic 5: How Do You Help People and Challenge People at the Same Time?
Lean into healthy conflict. 

Put the issue on the table, this takes courage. 

Seek first to understand, then to be understood. 

You don't have to agree, but you do have to figure out to move forward. 

Follow through.
Timing on Recording: @ 47:20  ---

Topic 6: Five Fingers of Trust.
Character – Have to trust someone's character. (Middle finger)

Commitment – How committed are you to the team and to me? (Ring finger)

Competence – Can you do what you say you are going to do? (Pinky finger)

Communication – Do we connect? (Thumb)

 Alignment – Are we aligned on something? (Pointer finger)
Timing on Recording: @ 58:11  ---

Topic 7: What are some of the traits or things the people who influenced you the most do?
Timing on Recording: @ 1:05:35  ---

Topic 8: Close.
Favorite TV Show: Sports or American Idol, real life drama, anything learning (theology, history), and comedies, The Big Bang Theory.

Favorite Possession: My house.

Advice You Would Give Your 25 Year-Old Self: "

My greatest failure to this point is I have no great failures." "Be willing to fail because that's where you're going to really grow the most."

One billboard anywhere, where would it be and what would it say: "Are you living?"

Bit of Advice or Wisdom You Want Every Leader to Take Away About Growing Trust: "

risk being willing to give when you might not receive."
Books Mentioned in this Podcast:
Subscribe via iTunes or Leave a Review
Podcasts and Books Mentioned in This Podcast
Get a complimentary audio book and support this podcast by using my affiliate link: 
Get a Free Audio Book w/ 30-day Trial 
Essential Leadership Performance Skill Development for All Levels of Leadership
Relevant Articles:
Why and How to Build Trust: The Foundation of All High Performing Teams
 Leadership Article: Four "How To Build Trust on Teams" Tips 
Related Podcasts:

Episode #6 How To Get Out Of Overwhelm...And Get Things Done - Tools, Tips & Tricks 
Podcast Episode #13 Four Skills Best Bosses Have Mastered
Podcast Episode #14 Being a Best Boss - An Interview with VPHR Dr. Randy Reece
Related Services:
Coaching + TriMetrix = Developing Self Awareness & Effective Leadership 
Schedule a Complimentary Consulting Call or Send Us Feedback:
Contact Suzie
STAY IN TOUCH: Are you a leader, trainer or consultant focused on building a Wake Up Eager Workforce?  Subscribe to this Podcast Here.   You can also sign up for monthly email updates, here.   Thank you for being a part of the Wake Up Eager Workforce Podcast!!