Two Very Important

Free Interview Tips for Hiring Managers: Don't Make These Mistakes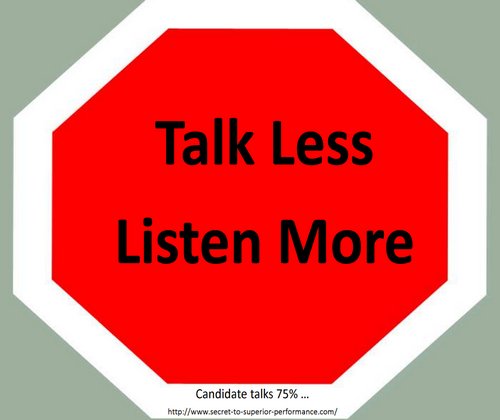 Two of the most important free interview tips for hiring managers are: #1) Talk Less Listen More, and #2) Leverage the Power of Silence  The beauty of these simple tips are that you can begin using them right away - no 'fancy' training needed!

Did you think the two very important tips I would share would be more profound then they sound?  Before you dismiss them?
Think back to your last couple of hiring interviews. Recall who you interviewed and the position you were filling.  Think back about how much you talked, as compared to the percentage of time the candidate talked.  Did the candidate get 75 to 80 percent of the 'interview air time?'

If not, it's time to change the equation.

A Big Shift - This is a big shift for many interviewers. That's because you're competent, excited about your company and an expert in the business. More than likely you're considered a great ambassador and representative of the company, or you wouldn't be in charge of hiring.  You have a lot of good information to share with your candidates.

In addition, it's natural when you invite a 'guest into your home' to want to share everything you know about the company and the position, especially if, on the surface, the candidate 'looks good.' 

Yes, you do want to be friendly and a great host or hostess to all candidates, but you must always keep the bottom-line in mind.

The Bottom-Line -Your bottom-line goal is to hire someone who's a great fit for the job. Someone who will be a superior performer.  And the only way you can do that is to get your 'guest'  to talk and share specific examples around his/her relevant experience and skills by using Competency Behavioral-Based Interview Questions. 
"If you think hiring professionals is expensive, try hiring amateurs!"

During initial interviews your focus should be on asking questions, pressing for specifics, and allowing silence. Talking less and listening more ensures that your candidates are sharing and revealing their level of competence in each area that is important to success in the job.
The Trouble With Silence... If you talk less and listen more you will be learning to leverage the power of silence.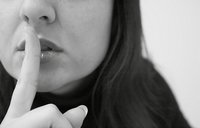 The trouble with silence is that it can be disconcerting. It can make many interviewers feel uncomfortable. So, rather than 'sit with the silence' they feel the need to fill the void with needless chatter or by over-sharing.

Realize, though, if you can could hold your tongue and not fill-in breaks in the conversation with your own voice, the candidate will usually fill those pauses with more candid, unrehearsed information about themselves.  
And that's what you want.  You want to know who this person really is and if s/he is a fit.

Candidate Talks 75-80% -Make sure that the Candidate talks 75-80% of the time - at least in the first few interviews. The Interviewer (YOU) should talk 20-25%.  
These simple and very important free interview tips for hiring managers: talk less and listen more so you can leverage the power of silence, are so important.  Talking too much is a classic mistake made by almost all interviewers. And it's one that can be very easily corrected.
Start changing the talk-to-listen ratio in all your interviews.

Free Interview Tips for Hiring Managers, Full Page Printable Reminder Card  -Remember: YOU listen more and talk less.  Get that candidate talking!  Place this full page printout reminder on your desk or in your interview folder as a reminder to Talk Less, Listen More. 
Download This PDF Reminder Handout.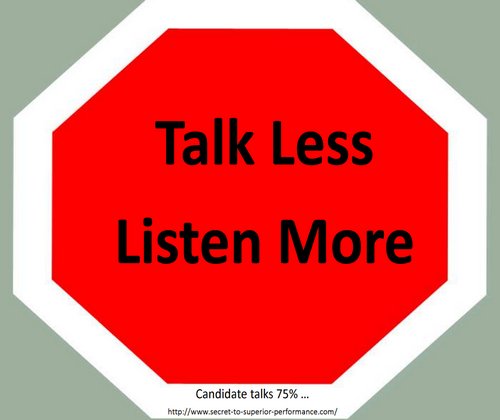 Hiring Manger and Employer 
Interviewer Resources: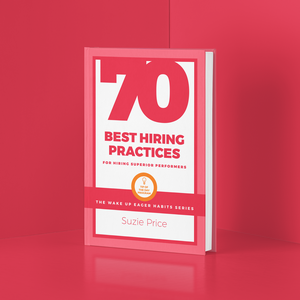 LET'S TALK:
Contact us to schedule a Complimentary Consulting Call
or to ask questions about any of our Hiring,
Coaching, Training and Assessment services.

Get More Free Interview Tips for Hiring Managers, a Free Quiz, 
Management Interview Questions and More, Here...