Communication Style DISC Leadership Training Class Registration Page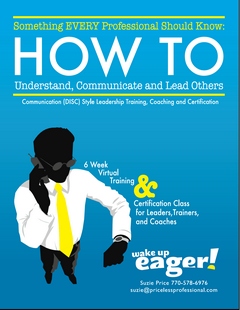 Thank you for registering for the upcoming Communication Style DISC Leadership Training Class!
I look forward to working with you!
(If you landed on this page in error, and want to know more about this program, click HERE.)
Mark Your Calendar Now: Your 6 week virtual program begins on Tuesday, September 13th at 12:00, noon - 1:30 p.m. EST, 11-12 a.m. CST, 10-11 a.m. MST, 9-10 a.m PST.
Our last class together will be on Tuesday, October 18.
Coming to You, Via Regular Mail...
I will be sending to you via regular mail you DISC Reference Book: The Universal Language DISC and your DISC Study Guide CD. Later on, after you completed the course, I'll send you your Certification Certificate and CPBA Designation stickers.
Coming to You, Via eMail...
In your email inbox you will be receiving: the class agenda, class guidelines, class log-in information, DISC assessment links and your first pre-work assignment. Throughout the program I'll send via email links to recorded classes, prework assignments, your exam link and details around your Assessment Center.
Your Contact Information Here, Please
Please complete this form so I can immediately mail and email you your course materials.
My Contact Information

I am truly excited about all we will be about, learn and share together in this Program!
Throughout the program we will be meeting in class, by email and through our coaching sessions.
The best contact information for me, your Facilitator Suzie Price, is:
Look for your book and CD in the mail and a follow up email from me, shortly. "See' ya' in class!
Reminder About My Cancellation Policy
Just as a reminder, since this class has limited enrollment and training products are provided to you immediately, I do have a Cancellation Policy:
Cancellations received 7 days following the initial start date are subject to a $ 300 cancellation fee, plus the price of all materials shipped.
Don't Forget About My Referral Program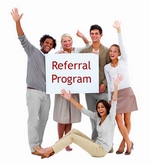 Refer a Friend to the Communication Style DISC Leadership Training and Certification Course Get $180 Assessment Credit.
Just make sure your friend lists your name on their registration form!
Also, if you are not on my email newsletter list, and you want to be, subscribe here:


We value our connection with our subscribers. 
We never share your information with anyone.
We also make unsubscribing easy and immediate.


LET'S TALK:
Contact us to schedule a Complimentary Consulting Call
or to ask questions about any of our Hiring,
Coaching, Training and Assessment services.