Podcast Episode #15:
Top Selection & Retention Trends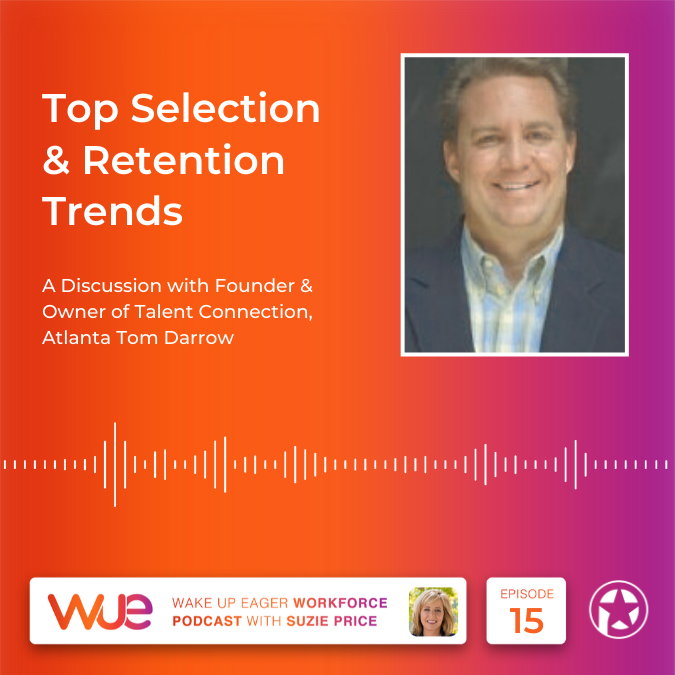 Overview of Episode #15 ---

Hear Talent Connections Owner and Founder, Tom Darrow, a leading Atlanta Businessman and Community Leader share this wisdom and insights from 30 years of professional experience in  helping National Corporations formulate strategies to turn employees into their most valuable competitive advantage.
Find out about:
The top 2 trends Tom shares on how corporations manage talent acquisition. 




Actions leaders should be taking right now. 




Top trends in employee retention and what actions you can implement immediately. 



Contact Information:
Timing on Recording: @ 4:25 ---
Topic #1:  About Tom Darrow and His Extensive Involvement in Leadership in  Business and Community

Overview on Tom's 30 years experience in HR and recruiting




Tom's company Talent Connections, in 2007 and 2008 was listed as one of the fastest growing companies.

Tom serves on various boards in the community and is at the leading edge of national trends in HR.



Timing on Recording: @  10:00 ---
Topic # 2: Tom Darrow's Background - Fun and Interesting Questions to Get to Know More About Him
Tom designed and built his own mountain hideaway in Murphy, North Carolina. For some inspiration check out his mountain house at

mountainmajesty.com.




His most challenging moment in HR




His most rewarding moment as a leader

His journey as a leader and business owner




One thing – most people do not know about Tom




The one person who had the greatest influence on his career



Timing on Recording: @ 31:10  ---
Topic #3: What books and programs have helped you on your leadership journey?

Timing on Recording: @  40:49 ---
Topic #4: Top Trends  in Employee Selection

The major problem now in talent acquisition  is the volume of candidates and inundation of communications via email, phone, fax, mail




Ask your employees. With an employee referral program, while it's necessarily automatically ideal for the role, it does go a long way




How can you turn the impersonal hiring process into a positive experience of relationship building between the corporation and the prospective candidate.




What is your sourcing strategy?  The key is to specifically narrow down the role so that you have not just a job description, but also, key criteria of what the person is expected to achieve, an idea of their profile, their benchmarks, behaviors, competencies, and so forth.




Be proactive - commence the process of creating the pipeline early. Most companies know within a year, what positions will need to be filled.




Create an employment brand. Get out there, boots on the ground, so candidates want to work for you.

It's not about getting a bunch of candidates for the role. It is about how to find the right one.  To assist your client, you must go deeper than just the job description.

Talent acquisition must be seen to be as important as anything else the company does. The objective is to think of talent acquisition as an investment where employees are the competitive advantage.

THE Superior Performance Secret: Simple, Not Easy & Often Missed




In this video I share THE main superior performance secret. It's something that most Leaders know, but without meaning to, don't focus on enough. Watch now:

https://www.pricelessprofessional.com/superior-performance-secret.html




Timing on Recording:  @ 55:40  ---
Topic #5: Top Trends in Employee Retention

The new focus is engagement or re-engagement of employees.




This is a challenge as many think they are not happy and are willing to search for other roles. They may be kicking the tires...




Take a critical look at each of your people and sit down with each one. Do an employment survey once a year, talk to them, get their feedback - what do they like or don't like, help them understand how their role is critical to the company.

Walk up to people every day. Engage them.

Re-engage and re-energize your people.



Timing on Recording: @ 1:02:15 ---
Topic #6:  How do you know if you're doing enough?

Timing on Recording: @ 1:07:25  ---
Topic #7: What advice would you give to your 30 year old self?

Timing on Recording: @ 1:11:30  ---
Topic #8: If you were to create a Tom Darrow bill board, what would it say?

Timing on Recording: @ 1:11:30 ---
Topic #9: Reach Out

Speaking engagements - recruiting, HR, Career Management, Leadership, How to Build  A Legacy Not A Resume, Mis-employment, Optimize your career, Intentionally take charge of your career.




Talent Connections specializes in HR, recruitment, executive level searches for key talent.



Related Podcasts:

Four Skills Best Bosses Have Mastered
What Research Reveals About How to Train
and Retain the Millennial Employee 
Related Service:

TRAIN/COACH: Corporate Leadership Training, Team Building and Coaching Programs

Employee Selection Assessment Tools and Resources
PRICELESS RESOURCES
PODCAST: Subscribe to our Podcast or Help Us and Leave a Review 
NEWSLETTER: Sign up for Monthly Email Updates 
PODCAST: Most Recent Episodes      Directory of All Episodes 
RELATED DEVELOPMENT SERVICES:
·    Certification: Become the Expert: Assessment Certification Training
·    Hiring: Hiring: Secret to Superior Performance
·    Surveys: 360 Feedback and Organizational Surveys
·    Complimentary Consulting Call or Send Us Feedback: Contact Suzie
LET'S TALK:
Contact us to schedule a Complimentary Consulting Call
or to ask questions about any of our Hiring,
Coaching, Training and Assessment services.