Podcast Episode #59:
Putting People First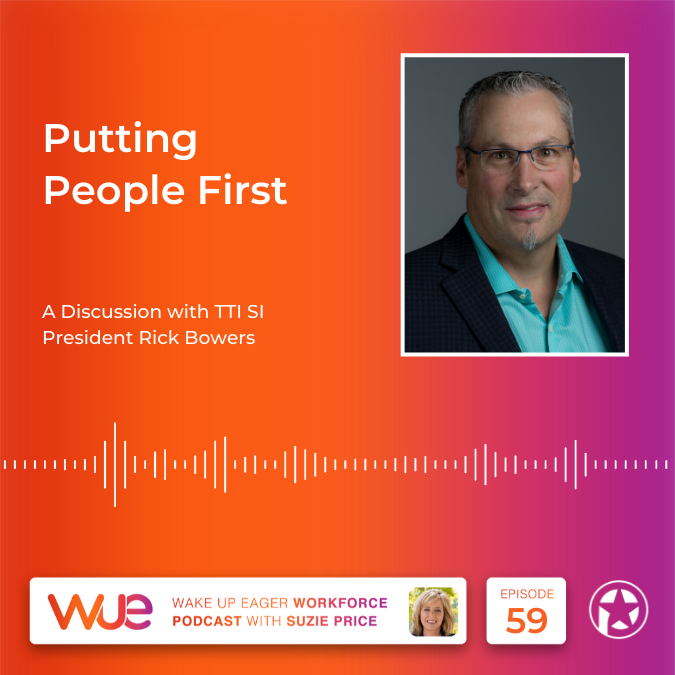 Overview of Episode #59 --- 
Why TTI SI is committed to sharing the Science of Axiology with the world.

How to use this science to change and grow, and upcoming updates, what's next for TTI SI's Acumen report.

Gain insights from a super busy Executive, husband and father – his favorite books, tips and inspiration. 
Contact Rick Bowers:
Timing on Recording: @ 6:13  ---
Topic 1: Welcome Rick Bowers; How You Became Aware of Robert S. Hartman's Work; Why Did You Decide That This Is a Tool You're Interested in Learning More About and Bringing It to People; Why Have You Continued to Stay Committed to It. 
It is getting inside someone's head, understanding how they think, and people are so complex that you just can't look at a person from just DISC or just from a couple assessments, you really have to have this complete picture of the individual and understand what's going on and where are their filters, what's going on in their brain.

 

The Hartman tools give us the ability to understand how people look at the world and how they look at themselves.

      

It is tough to look and assess a person without looking at everything, including the Axiology, Hartman's work.
Timing on Recording: @ 10:05  ---
Topic 2: When You Use the Tool, How Have You Used it Within the Organization? How is It Used Across the Country? Across the World.
We use it with every internal hire.

When we're bringing in Chief Marketing Officers and VPs of people, different people at that level, you really have to truly understand how they think.

World view vs. Internal view.

Business is off a little bit this year, but the training and the development business is up because organizations have been hiring people without assessments over the last 12 months because they needed a person, and now they're having problems within the organization because they didn't make that connection, they did not use Acumen.

If you don't match the person to the job, you're going to have issues as you go forward.
Timing on Recording: @ 13:38 ---

Topic 3: How Has Hartman's Work Impacted Your Life?
You start to look at things very differently.

Intrinsic, Extrinsic and Systemic.

Hartman's work is a mental mind map that is so powerful personally and professionally.
Timing on Recording: @ 16:46  ---

Topic 4: What Do You Say to Consultants Who Are Struggling to "Bring it all together?"
Use Axiology at the level that you're comfortable with.

Focus on three main things: The people piece, feeling, the doing or practical piece, and then the systems or thinking piece.
Timing on Recording: @ 18:48  ---

Topic 5: What Do You Think the Future of Hartman's Work Is? Do You See Changes in the Tools?
There's so much opportunity, there's so much potential for growth and expansion.

The Hartman Institute's goal is to change the world for the better.

Get more business-minded people into the Hartman Institute.

Update training recertification.

Updated Dimensional Balance page.
Timing on Recording: @ 28:02  ---

Topic 6: Who Has Most Influenced You in Your Life and Career? Who are They, What Do They Say and Do? What Was Most Useful?
Timing on Recording: @ 30:39  ---

Topic 7: What Books, Training Programs, What Kind of Things Have Been Instrumental to Your Development?
Timing on Recording: @ 32:33  ---

Topic 8: When You Think of the Word Successful, Who's the First Person That Comes to Mind?
Jeff Bezos from Amazon.

"How can we make it easier for our customers to buy?"

"How do I make it easier?"
Timing on Recording: @ 36:27  ---

Topic 9: What Are Some of the Things That You Do That Regularly That Help You Have More Wake Up Eager Days?
It's all about routine.

Clean living.

Protein shake in the morning.

Clear your glass, 

taking a step back visualizing some of the better times that you've had, just have to get it out, and let people know what you're feeling.

2-3 physical workouts per week.
Timing on Recording: @ 42:46  ---

Topic 10: Getting to Know Rick Bowers.
Your favorite guilty pleasure TV show: Chicago PD, Chicago Fire, Chicago Med.

Your favorite possession: Cars (Camaro, 

Porsche Cayenne, Audi Spider).

Advice you would give you 25 year-old self: 

"Every mistake is an opportunity to learn. Don't be defensive."

If you could have a billboard anywhere, what would it say?: "Chase your dreams, not the competition."

Last bit of wisdom, advice that you want everybody who's listening to take away: 

You can't fill an intrinsic hole with extrinsic or systemic dirt.
Books Mentioned in the Podcast: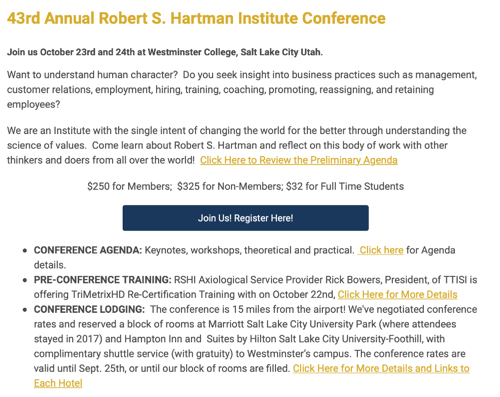 Hartman Conference Link: https://www.hartmaninstitute.org/2019-annual-conference
Conference Overview Flier: https://www.hartmaninstitute.org/assets/docs/2019ConferenceDetails.pdf
PRICELESS RESOURCES
PODCAST: Subscribe to our Podcast or Help Us and Leave a Review 
NEWSLETTER: Sign up for Monthly Email Updates 
PODCAST: Most Recent Episodes      Directory of All Episodes 
RELATED DEVELOPMENT SERVICES:
·    Certification: Become the Expert: Assessment Certification Training
·    Hiring: Hiring: Secret to Superior Performance
·    Surveys: 360 Feedback and Organizational Surveys
·    Complimentary Consulting Call or Send Us Feedback: Contact Suzie