Corporate and Small Business
Team Building Workshops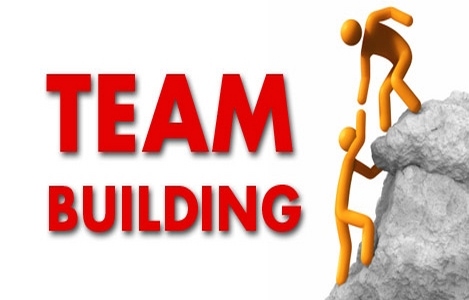 Use these team building workshops and programs to build the communication, connection, energy, collaboration and productivity for existing and new teams:


Talent Tracker Team Building Workshop

This interactive and high energy workshop includes a DISC and Workplace Motivators Assessment  results for each team member and a team report.

Assessment results reveals team strengths, blind spots and how to best optimize the team.  This workshop gets the team talking to each other about individual communication preferences, development opportunities and next step action planning in
a positive and energizing manner.

** Two hour, Half day or one day sessions available.
** DISC and Motivator Wheel images (below) help the team understand and talk about similarities, differences, strengths and blind spots
** Can include a Talent Tracker Poster or Worksheet for each participant a visual tool for sharing and follow up. (Worksheet sample, below)

| | |
| --- | --- |
| Each Team Member's Natural DISC Communication Style | Each Team Member's Top Two Motivators/Drivers |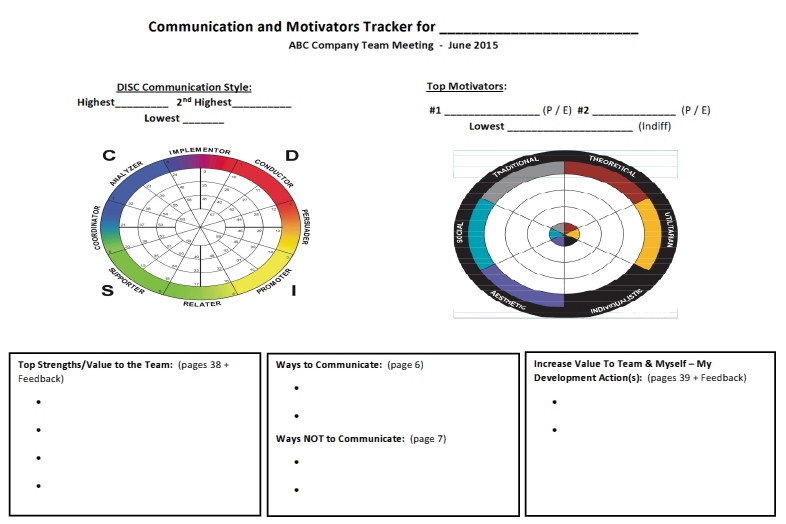 Talent Tracker: Follow Up Worksheet for Each Team Member
Team Survey and Action Planning Meeting

In this interactive workshop each team member shares his/her feedback about the team, in advance of the meeting, by completing an online and confidential survey  that I've tailored to your specific company and team.

During the meeting Team Survey Results are shared, dissected and discussed. The team works together to create initial action plan ideas with powerful facilitation exercises that include brainstorming, decision-making and key action steps for the top focus areas of development for the team.

** Two hour or Half day sessions available.
** Your Team/Organizational Survey will be tailored to your team/organization.


Overcoming the Five Dysfunctions of a Team - Building Trust, Communication, Commitment, Accountability and a Focus on Results

This interactive workshop is based on the New York Times best-seller, The Five Dysfunctions of a Team, by Patrick Lencioni.

This learning experience will help any team take its first steps towards greater cohesiveness and productivity. Using powerful exercises, teams will make significant progress in each of the five fundamentals: trust, conflict, commitment, accountability, and results.

**Half day, one or two day sessions available.
**Can include an optional online team survey gathering feedback about how well the team is currently doing around each of the Five Dysfunctions and a Talent Insights Report on Each Team Member.

Leave Team Building Workshops, Go To More Training and Coaching Options

Contact Suzie To Schedule a Complimentary Consulting Call or to Ask Questions

Priceless Professional Home