What Great Leaders Do to Keep Their Motivation and Self Esteem Strong...
Do you pay enough attention to your ever-evolving motivation and self esteem needs? If your energy and interest in your work is lagging, putting more attention here will help.
Great leaders are ALWAYS paying attention to improving their skills and evolving their understanding of themselves and of others. They don't allow themselves to get complacent and lazy about their personal and professional development 'work,' even as they move up and find success.
Ongoing personal and professional development keeps motivation and self esteem strong. It's one of the ways great leaders stay great, focused and engaged in their work.
"Income seldom exceeds personal development." Jim Rohn

"Play" To Your Strengths...

Successful people have also figured out that they can't be great at everything. They've learned how to name, claim and fully leverage their interpersonal and professional strengths.
Ask any successful Leader about their strengths and greatest talents they'll be able to tell you, specifically, what they are.  They're really good at naming their strengths because they've figured out that success comes from spending their time cultivating and building upon them.
They don't waste a lot of time worrying about their 'weaknesses' or trying to 'be perfect.' They build upon, and leverage, their strengths! (THIS is how everyone can strengthen motivation and self esteem: 'play' to your strengths...)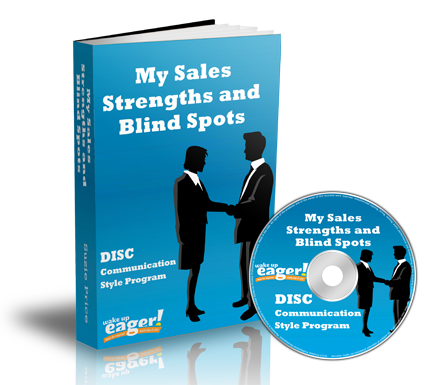 Can YOU name YOUR top strengths as a Leader? Are you leveraging and building upon them every day? If you are not able to name your strengths, consider taking my Leadership or Sales Strengths and Blind Spots DISC Assessment Program. Find out more, below, here.
"Let everything be allowed to do what it naturally does,
so its' nature will be satisfied." Chuang Tzu
"Manage" Your Blind Spots

Knowing and consciously using your strengths is essential to more motivation and self esteem (and success) because, once we know what they are, we can also become aware of and "manage" our Blind Spots.
What are Blind Spots? Blind spots are the things you say and do unconsciously that get in the way of your being effective with others. Your blind spots are, almost always, related to an overuse of your strengths.

They're called blind spots because YOU don't "see them" or even realize that you're doing this 'thing' that bothers others. That's because you're so good at your strengths, without specific awareness of them,, they can ALSO become your downfall! YOU don't "see" your blind spots, but OTHER PEOPLE do.
Unless you seek out the information you unwittingly remain unaware that you're causing your own 'slip and fall' career situations and problems! And THAT can certainly dampen your motivation a nd self esteem, as well as your long-term success.

Blind Spot Examples
Blind Spot Example One: One of Sales Pro Jim's greatest strengths is his ability to make connections with other people (including strangers). His friendly, open and optimistic nature helps him open doors and get appointments with ease. People like him and are willing to meet with him.
His blind spot causes problems in meetings when he, without realizing it, overuses his strength and he talks to much, listens too little and ends up misses key client objections and buying signals.
Blind Spot Example Two: One of Leader Sally's great strengths is her ability to analyze data and situations accurately and thoroughly. She's almost never wrong about any detail, and she makes sound and thoughtful decisions.
Her blind spot can cause problems for her when she, without realizing it, overuses her strength and she over-analyzes decisions, misses deadlines and stalls progress because she's over-focused on accuracy and perfection.
Unawareness of your blind spots causes stress and strain at work. Without awareness of them, you don't manage them, and the backlash can cause your motivation and self esteem to plummet!

Using the D.I.S.C. Assessment This Program To
"Play" to Your Strengths and "Manage" Your Blind Spots

The best tool I've found to help all Leaders and Sales Pros "play" to their strengths and "manage" their blind spots is the The DISC Communication Style Report.
This popular online assessment tool (over 40 million people have taken it!) along with my online coaching and self-study tools - tell you:
Your DISC Communication Style Strengths
Specific Talents and Value You Bring to Your Work
'Do's and Don'ts' for Communicating with You (A great list to share with your team, peers and family!)
Your Ideal Work Environment
Others Perceptions of You and Your Approach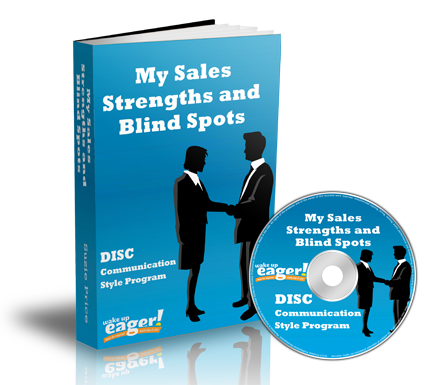 Keys to What Motivates You and how You Like to Be Managed
Areas of Improvement
Top DISC Style Strengths
Top DISC Style Blind Spots
Top DISC Style Stressors

Top DISC Style Motivators

DISC Style Buyer Tendencies and Effective Sales Approaches
Specific Communication Tips for Each DISC Style
See Sample Reports

To see a Sample Report:
Can you see why I think this is one of the best tools for 'playing' your strengths and 'managing' your blind spots?
Instead Of "What's Your Sign?" It's "What's Your Style?"
The Model used in this highly validated report is based on four Communication Styles that match the letters: D I S C - Each Communication Style represents different observable-by-others behavioral and communication tendencies.
Here's a quick overview of the Styles found in the D I S C model. (Most people are a mix of Styles):
D = Dominance
I = Influence
S = Steadiness
C = Compliance
For more information about the Four DISC Styles review my: Self Study, Online Motivation and Self Esteem Development Tools Course Section for a video eCourse, worksheets, memory jogger cards and more.
Knowing which combination of Styles most reflect your natural approach to working with and communicating with others helps you "play to your" strengths and "manage" your blind spots.
When you build self awareness like this you are also strengthening your on motivation and self esteem. That's because not only can you can see yourself more clearly, you begin to understand how you are being perceived by others. This helps you get better at 'adapting your Style and at being more effectively communicate and working with others.
Leader, Denise, Shares How This Program Helped
Her Build Motivation and Self Esteem:

"This information helped me see my strengths AND my blind spots!
I used my results to write my resume and in interviews
when I'm asked about my strengths."

"I can now see how I tend to overuse my strengths, which can frustrate others. I'm more aware now. This report has really helped me work more effectively with others. I not only understand myself better, I can better understand the people who work for me and my bosses! A huge help to me. Every time I re-read my Results I find another 'nugget' of insight that's helpful. Thank You!"

Denise Stevens, Marketing and Sales Executive, Charlotte, NC

Mark Completed My Leadership DISC Assessment Program,
Here Are His Reactions:

"I can't believe how accurate this report is...
I've never seen anything like it!
It's like my wife, my mom and my best friend wrote this thing!
How is that possible in just 10 minutes!
This is very accurate and very helpful information.
It's already helping me be a better leader!"

Mark Hamilton, Technology Executive, Atlanta, GA


Another Sales Pro Assessment Completer, Linda:

"I love all the Program Materials, but I especially benefited from
the Buyer Tendencies and Effective Sales Approaches Handout
that I received when I got my Results by email. WOW!!"
"Before taking this I wasn't adjusting my Style based on what the Buyer needed. I'm more effective in sales meetings and I;m closing more deals. This one handout (and of course, my own Results) is so worth it. I now know how to manage my blind spots. Business is picking up! Yea. Thank you!"

Linda David, Sales Professional, Denver, CO

"Get Me My Report and Let Me Use Your Online Coaching Tools, Now!"
Do you know your Style? Do you "play" to your strengths and "manage" your blind spots? Do what great Leaders and Sales Pros do: continually focus on building your motivation and self-esteem.
Get your 24+ page customized-to-you and all-about-you DISC Communication Style Report.
Use your Results to help you build more synergy, trust, motivation and self esteem when you interact with your teammates, customers and peers. It works, I've shared the same materials you have access to here, with many companies. (See my client list, here.)
Your Investment in You, for Assessments and Online Coaching & Consulting Resources is Only $65
The Buy Now link, below takes you to a shopping cart where you can pay by credit card or PayPal.
Once paid you receive a web address and an access link to complete your report online. Your completed report will be emailed to the email address you select.
The time involved in taking the Assessment, from start to finish, takes about 15 minutes, your results and what you do with them by using my Program Materials, will last a lifetime!
You'll be able to begin increasing your motivation and self-esteem with your results, very quickly! If you are unsure about the purchase process or you have questions or you need team purchasing cost options - call me at my office: 770-578-6976; cell:770-842-2669 or email me: suzie (at) pricelessprofessional (dot) com
Don't miss my 365 day, 100% guarantee, here.
My LEADERSHIP Strengths and Blind Spots DISC Assessments Report Program




"LET ME COMPLETE MY REPORT!"
CLICK HERE NOW





My SALES Strengths and Blind Spots DISC Assessments Report and Program Now.




"LET ME COMPLETE MY REPORT!"
CLICK HERE NOW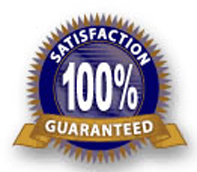 "My Crazy 365 Day Guarantee" I'm so confident that you'll benefit from my Programs and Material that I'm willing to take the entire risk. Order today, use my material for as long as 12 full months.
If you do not gain any benefit from having implemented this material, then I want you to ask for a refund because I don't deserve your money. Just send me an email if you are unhappy with any product I provide,and I will promptly and courteously offer you either a replacement with another session/recording or a refund, at your discretion.
Most online development sites "hide" the development tools - you have to pay for the assessment before you can see them. Not, here, at Wake Up Eager. You can view and use the development tools all the time, any time - whether you purchase an assessment from us or not.

BONUS HANDOUT: If you decide to complete a DISC Communication Style Report here, with me, you'll receive a BONUS Handout that includes: SPECIFIC Style Strengths & Blind Spots; Top Stressors and Motivators for Each Style; Sales and Buyer DISC Style Tendencies; Buyer Tendencies By DISC Style & Effective Sales Approaches. Using these Resources WILL boost all of your motivation and self esteem development efforts!

In this 30 minute video, I help you fully understand how to determine your Style, the difference between your Natural and Adapted Style, the various Sections found in your Results and more.To see this video full screen, click here.

Leave This Motivation and Self Esteem Article To Review
More Wake Up Eager Programs and Products, Here.

Contact Suzie To Schedule a Complimentary Consulting Call or to Ask Questions

Priceless Professional Home