Episode #88 - The Seven Stages of Growth with Steve and Dobbie of The Oval Group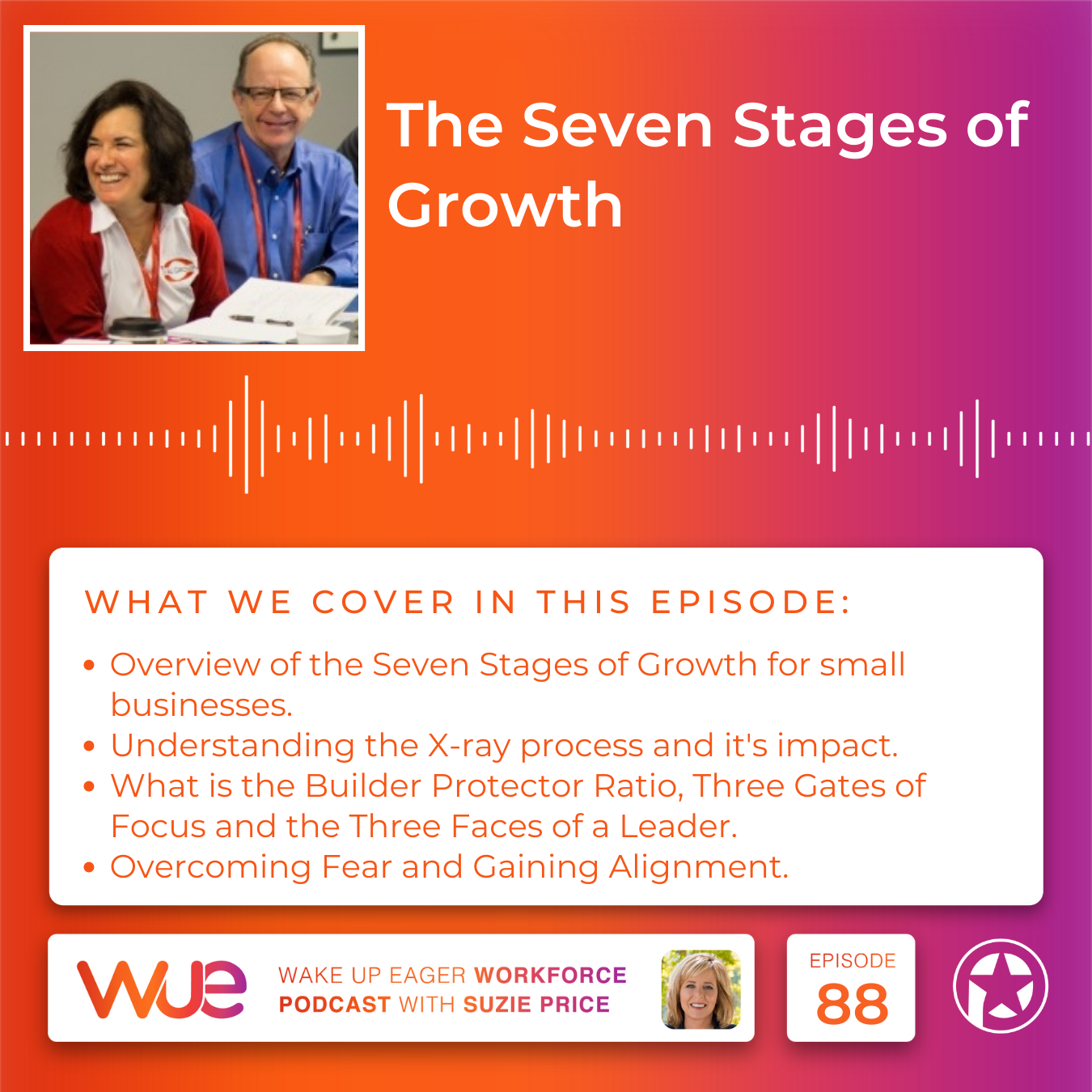 The Oval Group is a talent management solutions provider specializing in talent assessments and services that help business leaders make informed decisions about their unique business… and the people who hold the keys to its success.
Overview of Episode #88 --- 
Overview of the Seven Stages of Growth for small businesses.

Understanding the X-ray process and it's impact.

What is the Builder Protector Ratio, Three Gates of Focus, and the Three Faces of a Leader.

Overcoming Fear and Gaining Alignment.
How? 
Through defining The Seven Stages of Growth and understanding the challenges leaders and stakeholders must overcome to continue growing. 
Steve Graham is the president of the Oval Group and his career spans more than thirty years as an executive, entrepreneur, and trusted business adviser to presidents, CEOs, executives and business owners. Dobbie Newman is Vice President of the Oval Group and is a marketing professional who honed her skills through 25+ years helping businesses formulate successful strategies that deliver results.
Steve and Dobbie join Suzie as they discuss The Seven Stages of Growth, their importance, and things to consider as you move from one stage to another. So many business development professionals focus on larger companies and corporations who have thousands of employees. The Oval Group is specifically focused on small and medium sized businesses and the challenges they are specifically looking to overcome. 
Join this brilliant trio as they discuss the stages of growth, what to consider as you traverse each one, and why small business is so important. 
In this episode:
[00:07:12] Welcome to the Wake Up Eager Workforce Steve and Dobbie!
[00:07:55] Steve shares more about the Seven Stages of Growth process. 
[00:10:31] How many years of research went into developing these stages? 
[00:11:50] Where the process starts and the keys to change and understanding.
[00:14:32] What kinds of results are they seeing and the timelines? 
[00:19:01] Steve and Dobbie share more details about this case study business. 
[00:22:12] What are the three gates of focus when determining the root cause of business problems? 
[00:25:09] How do they address various fears of the team involved? 
[00:28:50] No matter how a company matures they all face the same 27 challenges. 
[00:30:16] What's the builder protector ratio? 
[00:35:42] The CEO and leaders have to grow and change to remain relevant as the company grows. 
[00:39:04] Learn about the four rules that govern the stages of growth. 
[00:42:47] Dobbie and Steve share about the quiz they've created to determine where you're at in the stages of growth. 
[00:45:48] What kind of commitment are people looking at as they take on this process? 
[00:48:09] Dobbie and Steve share what they're doing to protect their mind, body, and spirit. 
[00:51:39] What advice would they give their 25 year old selves? 
[00:52:58] Where would they put a billboard and what would it say? 
[00:55:03] The advice they'd like to leave leaders with. 
[00:56:33] Suzie takes it out with her final thoughts. 
Information Shared in the Podcast:
Seven Stages of Growth Info Page

Connect with Dobbie:
Connect with Steve:
Connect with Suzie:
LinkedIn: Suzie Price 
LinkedIn: Priceless Professional Development
LinkedIn: Wake Up Eager Workforce Podcast
Wake Up Eager Workforce Podcast – 
Directory: www.wakeupeagerworkforce.com
Get our app and leave a /review
If I can help you /suzie
PRICELESS RESOURCES
PODCAST: Subscribe to our Podcast or Help Us and Leave a Review 

NEWSLETTER: Sign up for Monthly Email Updates 
PODCAST: Most Recent Episodes      Directory of All Episodes 
RELATED DEVELOPMENT SERVICES: