Podcast Episode #25: Using the Power of Relational Presence to Engage & Influence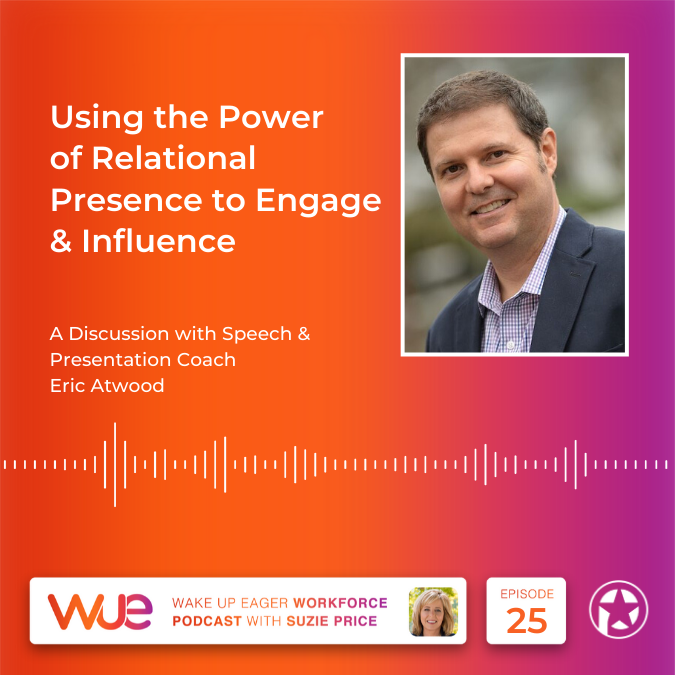 Overview of Episode #25 ---
Contact Eric Atwood

Timing on Recording: @ 1:35  ---

Topic 1: My First Remembered Experience of Relational Presence

Timing on Recording: @  8:10 ---

Topic 2: What is Relational Presence, Why Do You Care About It?  Why Should Leaders Care
Timing on Recording: @ 31:06 ---

Topic 3:  How Does Somebody Get Better At This?  What Gets in the Way?
Timing on Recording: @  50:20 ---

Topic 4:  If a Leader Says, "That's too soft..." What Do you Say In Response?  What Changes Have you Seen?  What Does it Mean "to Be Witnessed?
Timing on Recording: @ 1:04:16 ---
Topic 5:  Eric's Billboard,  Advice to His 25/30 Year Old Self and Last Bit of Advice, Suzie Recap, Contact Info
Suzie's Recap of Eric's comments about Relational Presence: 
Eric reminds us to think about how we are relating to people, & that how we are being with people matters more that the words and content we use, those things are not what people remember, and by themselves are not what make people want to work for you and with you…
AWESOME Eric Quotes:

"Sometimes the most influence you can have is when you invite people into the conversation."

"Your presence really matters."

"Be fully present."

"Speak from your heart, not just from your mind."

"Words are just a small part of how we express ourselves."

"The best way to engage with people is to be real with others and relate-able."

"The most powerful way to connect with someone is to just be yourself."

"Be yourself in every interaction."

"Be aware of how you are being with people."

Reach Eric Atwood Here:

www.TheSpeakersStudio.com

Want to find a Speaking Circle near you?

Speaking Circles Worldwide

Podcasts and Books Mentioned in This Podcast
Get a complimentary audio book and support this podcast by using my affiliate link: 
Get My Free Audio Book w/ 30-day Trail

Four Skills Best Bosses Have Mastered
Being a Best Boss - interview with Dr. Randy Reece
Related Services:
Four Skills - Leadership Training Classes

Short- Term Leadership Coaching – Using TriMetrix
PRICELESS RESOURCES
PODCAST: Subscribe to our Podcast or Help Us and Leave a Review 
NEWSLETTER: Sign up for Monthly Email Updates 
PODCAST: Most Recent Episodes      Directory of All Episodes 
RELATED DEVELOPMENT SERVICES:
·    Certification: Become the Expert: Assessment Certification Training
·    Hiring: Hiring: Secret to Superior Performance
·    Surveys: 360 Feedback and Organizational Surveys
·    Complimentary Consulting Call or Send Us Feedback: Contact Suzie
LET'S TALK:
Contact us to schedule a Complimentary Consulting Call
or to ask questions about any of our Hiring,
Coaching, Training and Assessment services.