Podcast Episode #10:
Poll Everywhere: A Meeting & Training Tool

Overview of Episode #10 ---

Topic #1: The best way to open and a meeting and keep participants engaged.
Timing on Recording: @ 2:00 ---
Timing on Recording: @ 3:45 ---
What is Poll Everywhere?  Poll Everywhere provides text message voting and audience Q&A, straight to your PowerPoint slide. It's the easiest way to gather live responses in any venue: conferences, presentations, classrooms, radio, t.v., print — everywhere. It works internationally via text, web, or Twitter. Our customers includes large and small companies, school and community organizations: Google, several global consulting firms, GE, McDonald's, and countless Kindergarten Idol competitions.

Examples of how it can be used - from the

Poll Everywhere

website blog: Ways to use it- website: Icebreaker;  Break up a marathon PowerPoint session; a pop quiz; team competitions.



Timing on Recording: @ 7:00 ---
Topic # 2:  Interview with Poll Everywhere Product Manager Steve Farrelly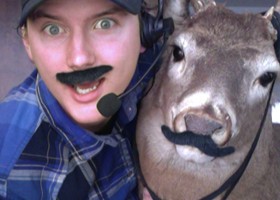 All about: Steve Farrelly - Product Manager, Chief Gaiety Officer and What's a Chief Gaiety Officer  and Why Steve is posing with a deer head wearing headphones and mustache in his company photo.




What it's like to work at Poll Everywhere.
Timing on Recording: @ 14:40 ---

What keeps people from using it.

How trainers use this tool.
Timing on Recording: @  18:40 ---

Super unique and unusual ways people use Poll Everywhere.
Timing on Recording: @  26:34 ---
Clickable images feature – how this can be used. 
Timing on Recording: @  30:07 ---
What's coming next from Poll Everywhere.

Steve tells us how to get started:  "I recommend that everyone go to

www.polleverywhere.com

to try it out – it literally takes 30 seconds and there's no signup required.  Get tips and best practices on the

Poll Everywhere Blog

and follow up on

Twitter

and

LinkedIn.

 

Topic #3: How Facilitator Linda Duncan Has Seen Poll Everywhere Be Used.
Timing on Recording: @ 43:19 ---
Share Your Comments, Questions and Uses for Poll Everywhere Here
Do you have a question or comment about Poll Everywhere? Have you used it? Share it all here!
Related Podcasts:

Episode #7: Six Tools for Better Meetings and Training Sessions
Episode #5: Mythbusters: The Dark Secret of HRD


Related Service:
Workshops I Facilitate

PRICELESS RESOURCES
PODCAST: Subscribe to our Podcast or Help Us and Leave a Review 
NEWSLETTER: Sign up for Monthly Email Updates 
PODCAST: Most Recent Episodes      Directory of All Episodes 
RELATED DEVELOPMENT SERVICES:
·    Certification: Become the Expert: Assessment Certification Training
·    Hiring: Hiring: Secret to Superior Performance
·    Surveys: 360 Feedback and Organizational Surveys
·    Complimentary Consulting Call or Send Us Feedback: Contact Suzie
LET'S TALK:
Contact us to schedule a Complimentary Consulting Call
or to ask questions about any of our Hiring,
Coaching, Training and Assessment services.