Motivation in the Workplace
Wake Up Eager Interview
Get more motivation in the workplace as you manage career change and transition.
Secrets to Successful Career Transition:
It's an Inside Job

The Program  With President of Bridge Career Management, Leigh Moore from Atlanta, GA:

Are you in the middle of a career change or considering one? Do you know how to navigate this new world of project-based hiring and the changing employee/employer relationship?
Have you tried 'everything' to make a change, but still no success?
Career Counselor Leigh Moore shares simple and powerful insights to help you approach your career change in a more effective, life-giving way.
Leigh's coaching clients pay large fees for her time -- invest one hour and have tools to help you use these inside out career change 'secrets'. All of these tools help you build more motivation in the workplace AND at home.
You will learn how to:
Set an intention and better understand the power of this action
Easily add the power of meditation and journaling and how both can help you get to where you're going faster
About resource tools and books to guide your reflection time and gain new and fresh energy and insights
Connect with your intuition and how it saves time and energy
The power of finding a greater sense of purpose to guide and enliven you and your search (and help you bring more motivation in the workplace to your next position).

What You Get...
Information-packed, Hour-long Download-able Audio Interview
Fully Edited Transcript
Detailed Fast Action Worksheets - to help you put every insight and wisdom into action.
More about our guest expert:
Leigh has a masters degree in Clinical Social Work. She also has her PHR, a professional human resource certification. Leigh has 15 years experience in recruiting, career coaching and training. She teaches meditation at Evenings At Emory and has visited India, for study and reflection, several times.
As a service for anyone going through career transition,
this program is FREE.
*Full Disclosure:By down loading this free interview,
your email address will be added to the Wake Up Eager Updates List.

---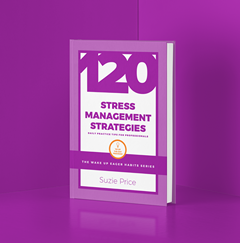 120 Stress Management
Strategies and Daily Tips Digital Book:
Mind, Body & Spirit Insights for Professionals
See a Complimentary 36-page Preview, Here

---
LET'S TALK:
Contact us to schedule a Complimentary Consulting Call
or to ask questions about any of our Hiring,
Coaching, Training and Assessment services.