Podcast Episode #53:
Feeding Intrinsically Starved Employees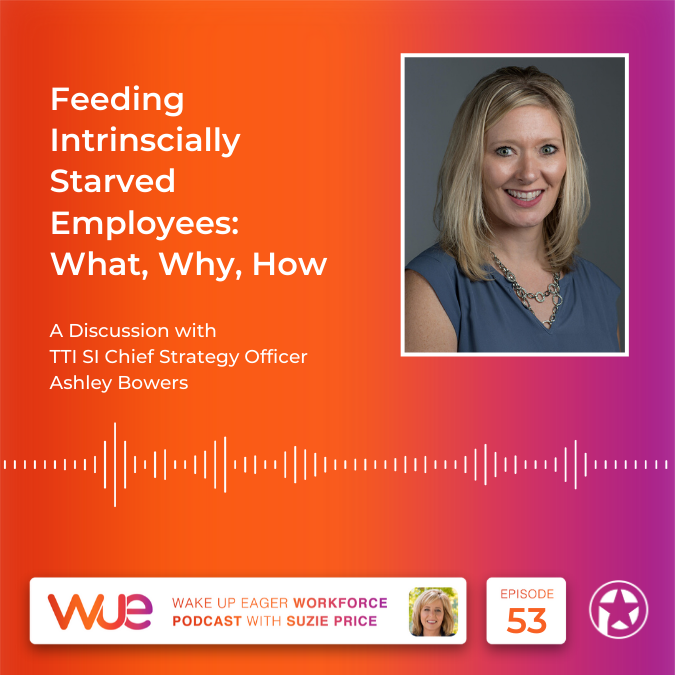 Overview of Episode #53 --- 
What does an intrinsically-starved employee look like, how does it impact and what to about it. 

Impact of Glassdoor.

The power of having high interpersonal versatility and how to build it.

Sharing about Ashley's influences, favorite books, key tips for planning and more…
Contact Ashley Bowers
Timing on Recording: @ 6:14  ---

Topic 1: The idea of intrinsically starved employees. What is it? How do you know? What is the impact? Three things leaders can do about it?
Employees want to know that their work matters.
Employees want to know how they are contributing/making a difference.
Employees are looking for deeper connections to their co-workers, leaders and to the company.
Timing on Recording: @ 8:30  ---

Topic 2: How do you know if you have this problem (intrinsic employees)? What's the impact?
What are others saying about your organization?
What are your employees saying about your organization?
Do your employees have the renter's mentality or the owner's mentality?
Leading indicator vs. lagging indicator.
How likely are your employees to refer another employee to work here?
Book: The Ultimate Question.
Job board: Glassdoor.
Timing on Recording: @ 15:46  ---

Topic 3: Top 3 things leaders can do for intrinsically starved employees.

Be real.
Be intentional about making a personal connection with each employee.
Share failures.
Timing on Recording: @ 23:04  ---

Topic 4: High Interpersonal Versatility. What is it and how can leaders figure out where they are in this set of words and how can they grow?
The ability to be a chameleon.
Use that self-awareness muscle.
Being okay with your self-awareness information but never allowing any of that to be an excuse for how we behave or don't behave in a situation.
Have an accountability partner inside of your organization.
Timing on Recording: @ 31:41  ---

Topic 5: Who has most influenced you in your life and career?
Personally: Aunt Sherry, beauty salons.
Professionally: VP of Operations of Real Estate company.
Timing on Recording: @ 35:20  ---

Topic 6: What books, training programs, education, what's been most instrumental in your development along the way?
Timing on Recording: @ 38:33  ---

Topic 7: When you think of the word successful, who is the first person that comes to mind?
My Grandfather, taught me how to be the person that I wanted to be and  what success meant from a full picture.
Timing on Recording: @ 41:16  ---

Topic 8: Top things that you do to wake up eager?
Vision board.
To Do lists.
Plan vacations well in advance.
Workout.
Family connections and community.
Plan vacations for the experience.
Timing on Recording: @ 43:27  ---

Topic 9: How do you plan your days? Insights, tips?
Internal meetings ONLY Tuesdays and Thursdays.
Accountability and coaching relationship meetings the 2ndand 4thweek of every month.
Google Time Efficiency button.
Timing on Recording: @ 45:32  ---

Topic 10: Getting to Know Ashley Bowers.
Actor or actress that would play you in a movie: Sandra Bullock, in particular, The Blind Side.
Favorite possession(s): Porcelain dolls.
Advice you would give your 25 year old self: Stop trying to prove yourself.
Billboard anywhere, where would it be, what would it say: A compass saying, "Most people are good."
Last bit of advice or wisdom: "Lean into your people."
Subscribe via iTunes or Leave a Review
Podcasts, Links and Books Mentioned in This Podcast
Get a complimentary audio book and support this podcast by using my affiliate link: 
Get a Free Audio Book w/ 30-day Trial 
Related Podcasts:
Podcast Episode #14 Being a Best Boss - An Interview with VPHR Dr. Randy Reece
Podcast Episode #17 Get More Motivation with the Workplace Motivators Assessment
Podcast Episode #27 A Powerful Leadership Skill: Listening Aggressively
Podcast #36 Architecting Your Culture with Novologic CTO/VP Jeff Gray
Podcast #37 Improving Work Motivation and Inspiration - An Interview with "Just Listen" Author Dr. Mark Goulston
Podcast #44 Getting New Hires to Stay: Reduce Turnover & Increase Motivation in the Workplace
Related Services:
Coaching
Schedule a Complimentary Consulting Call or Send Us Feedback:
Contact Suzie
STAY IN TOUCH: Are you a leader, trainer or consultant focused on building a Wake Up Eager Workforce?  Subscribe to this Podcast Here. You can also sign up for monthly email updates, here. Thank you for being a part of the Wake Up Eager Workforce Podcast!!