Podcast Episode #47:
Enter the Zone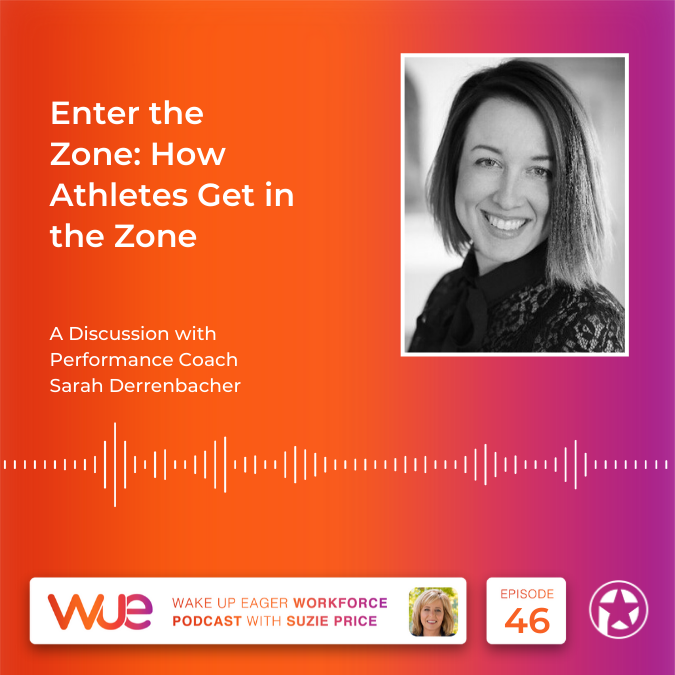 Overview of Episode #46 --- 

Learn about these terms: "Playing from the Neck Up, Working Outside the Pocket of Play and the River of Flow," and how each can impact your level of performance.  

Four performance barriers that can keep out of the zone or flow. 

Five actions you can take to prepare for high performance.

Four actions you use when you are in high-pressure performance situations.
Contact Sarah Derrenbacher
Timing on Recording: @ 11:02  ---

Topic 1: Welcome; Getting to Know Performance Coach Sarah Derrenbacher.

Timing on Recording: @ 13:44  ---

Topic 2: Share a situation where an athlete was struggling to meet their goal, of what was getting in the way to meet their goal of performance?  How did you work through it with them so that they could get "back in the zone" or get into high performance?

4th year female college student, jam-packed curriculum, 3.9 average GPA, team captain, phenomenal presence, great in practice, but

she was crippled by fear inside of these big game situation, she would go into a paralysis (play reactive versus proactive, miss shots she always made, fall on defense).

 

She had a fear of failure, it was not an option for her. 

Challenge to skill ratio. 

Find a middle ground, where it's enough stress to push you just beyond your comfort level, but not so much stress that it causes you to shutdown, that paralysis. 

If you learn to anticipate failure as part of high performance, you will be less stuck when failure happens.

       

Four-step process about awareness, acknowledgement, acceptance, and then adjustment. 

What we resist, persists.
Timing on Recording: @ 24:57  ---

Topic 3: What happens when someone is more present?

Timing on Recording: @ 26:58  ---

Topic 4: "Being in the zone/Being in flow."

Sarah's definition of "Being in flow."

"All of us, everyday, are standing right next to this "River of Flow," and we have a choice about whether we surrender and drop into that "River of Flow," which gives us that sense of limitless potential, or do we stay in this place where we need to control and predict all of the time." 

Observations of athletes "in the flow."

Working smarter, not harder "in the zone/in flow."

How do you know when you are "out of flow?"

"Where the heck did that come from?"

4 personal performance barriers. 
Fear of failure.
Perfectionism.
Not being connected to your desire, your "why."
Trust.
Playing from the neck up.

Levels of passion.

What is it that makes you feel alive? 

Repeating question.

High consequences.

State of concentration.

Visualization.

Restorative movement.

Clarify our goals.
Timing on Recording: @ 56:59  ---

Topic 5: Prescription to being/bringing your best.
  Identify the risks. 
Articulate the goals.
Be aware of performance barriers.
Embodiment practices.
Relief and recovery strategies. 
Performance habits/triggers. 
Self-talk.
Timing on Recording: @ 1:09:10  ---

Topic 6: Resources.

Timing on Recording: @ 1:11:26  ---

Topic 7: How do you get in the zone for your work and interaction? What are some key tools, actions, mindsets that you use? What do you do to get into flow?

Daily meditation.

Visualization. 

Embodiment.

Single attention/risk.
Timing on Recording: @ 1:17:50  ---

Topic 8: Close.
PRICELESS RESOURCES
PODCAST: Subscribe to our Podcast or Help Us and Leave a Review 
NEWSLETTER: Sign up for Monthly Email Updates 
PODCAST: Most Recent Episodes      Directory of All Episodes 
RELATED DEVELOPMENT SERVICES:
·    Certification: Become the Expert: Assessment Certification Training
·    Hiring: Hiring: Secret to Superior Performance
·    Surveys: 360 Feedback and Organizational Surveys
·    Complimentary Consulting Call or Send Us Feedback: Contact Suzie