Podcast Episode #47:
Enter the Zone #2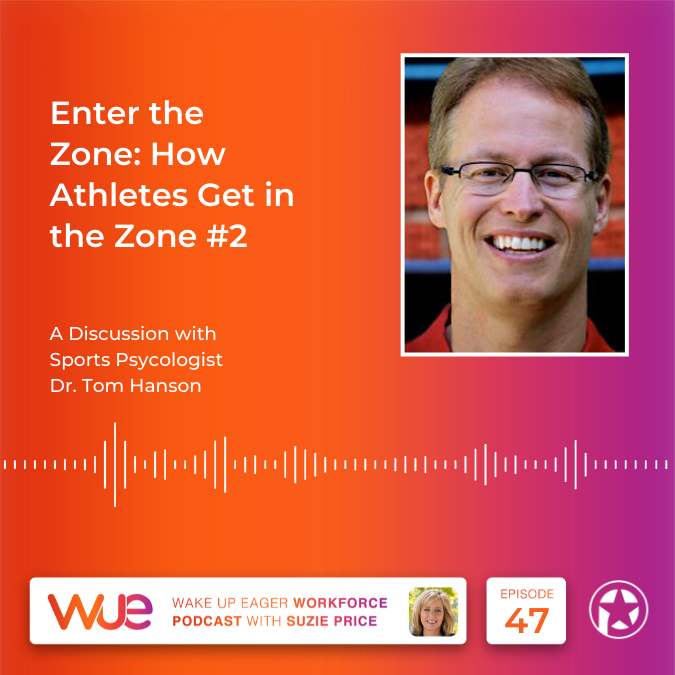 Overview of Episode #47 --- 

Hear about what Tom learned about what Superior Performers do interviewing Hall of Fame Baseball Players, like Hank Aaron.

Discover tips and insights on how to be in the top 5 percent in your field.

Practice the three ABC steps to guide yourself to top performance.

Learn how insight from Assessment Tools can help coaches and leaders provide specific guidance to each "player."
Contact Dr. Tom Hanson
 Websites: 
Timing on Recording: @ 12:10  ---

Topic 1: Welcome; Getting to Know Dr. Tom Hanson.

Tell us your favorite guilty pleasure TV show: "Jane the Virgin" on Netflix.
Tell us your favorite possession: My Doctoral Dissertation: "The Mental Aspects of Hitting."
Favorite interview: Hank Aaron.
Timing on Recording: @ 20:42  ---

Topic 2: What do you have players/executives do during visualization?
Know yourself.
Know what you need to do to play your best.
Know your ABCs; Act big, Breath big, Commitment big.
Examples of using your ABCs as a player and leader.
Go out and do a great job with what YOU can control.
Put yourself in a resourceful state.
How the ABCs came out of talking to an eight-year old baseball team.
Timing on Recording: @ 34:59  ---

Topic 3: How do you guide executives, as well as athletes, around committing in a way that's helpful and helps them get in the flow/in the zone?

When you have been the most successful, how did you do it? What really works for you?
What feels right, what feels empowering?
"Segment it down."
"Get freed up and let go."
Instead of having a "training mindset," have a "trusting mindset."
Life is a double-header, win BOTH games.
Timing on Recording: @ 44:48  ---

Topic 4: How do you use the assessments with players?

Know yourself.
Individual differences and situational differences, you have to really know yourself to know what buttons to push and what moves to make.
Figure out what you're good at and build that as a strength and understand what your blind spots are.
Step out of yourself.
Timing on Recording: @ 59:06  ---

Topic 5: What resources do you think leaders could refer to? What else would you suggest so they can bring the best of who they are, to their work and have that double header that you talked about.
Timing on Recording: @ 1:05:40  ---

Topic 6: What you do to get in the zone yourself? Actions, key tools, mindsets.
Visualize what I want to have happen.
Five Tibetan rights.
A muse, a meditation device.
Smoothies.
Pilates.
Dan Sullivan's Free Day, Focus Day, Buffer Day.
Timing on Recording: @ 1:09:28  ---

Topic 7: Close.
Your billboard to leaders and athletes about playing big, getting in the zone, being your best, what would it be and where would you put it? – "Everything is always working out for me." "We are all headed for a box." "The clock is running and it is not infinite in this life, what is important to you, and do that."
Advice you would give your 25 year old self – "Lighten up and have more fun."
One last bit of advice or wisdom you'd like every leader to take away from our discussion today about playing big, bringing their "A" game – "Pay attention to when you were "lit up" in this conversation and then look to extend that out into taking some action."
Books Mentioned in this Podcast:
Recipe for Suzie's "Get in the Zone" Breakfast:
Organic Blueberries

Chia Seeds
Subscribe via iTunes or Leave a Review
Podcasts and Books Mentioned in This Podcast
Get a complimentary audio book and support this podcast by using my affiliate link: 
Get a Free Audio Book w/ 30-day Trial 
Essential Leadership Performance Skill Development for All Levels of Leadership
Relevant Articles:
Improve Your Confidence & Swagger and Win at Work Like Baseball's 2011 Rookie of the Year  
Tune It Time: 15 Stress Management Strategies 

Related Podcasts:
#25 How Leaders Can Use the Power of Relational Presence to Engage and Influence
#31 Top Five Tips for Managing Your Mind: Stress Management Strategies Series for Professionals
#32 Top Five Tips for Managing Your Body: Stress Management Strategies Series for Professionals
#33 Top Five Tips for Managing Your Spirit: Stress Management Strategies Series for Professionals
#46 Enter the Zone: How Athletes Get in the Zone - An Interview with Sarah Derrenbacher
Related Services:
Coaching + TriMetrix = Developing Self Awareness & Effective Leadership 
Suzie's Book for the Evaluate Job Fit Habit:  How to Hire Superior Performers
Suzie's Book for the Re-Calibrate Daily Habit: 120 Stress Management Strategies 

Schedule a Complimentary Consulting Call or Send Us Feedback:
Contact Suzie
STAY IN TOUCH: Are you a leader, trainer or consultant focused on building a Wake Up Eager Workforce?  Subscribe to this Podcast Here.   You can also sign up for monthly email updates, here.   Thank you for being a part of the Wake Up Eager Workforce Podcast!!