Interested in Hiring Good Employees?
You Better Avoid This...
If you don't avoid this it will mess up your plans for hiring good employees. This employer interview tip is something you'll want to know about because it happens to all of us.
Let me explain...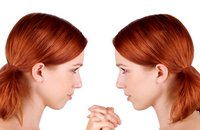 About six weeks ago I met Julie at a networking event. After just a few comments back and forth we both said, almost at the same time, "It seems like I know you from somewhere."
I immediately liked her, and it seemed like she liked me. It felt like we were kindred spirits. We couldn't find a past business or personal connection, but I did notice that we had similar communication and behavioral styles. We seemed to think and act similarly, and so it was easy to relate each other and find common ground, quickly.
We are drawn to those who seem like us. When you find someone who thinks and acts like you do, at a cocktail party or trade show dinner, you've just found a way to make the evening more enjoyable.
But if in your quest for hiring good employees you hire someone who thinks and acts like you - mostly because they think and act like you - chances are good that you've just put the wrong person in the wrong job.
The net result? Very frustrated managers, unmotivated employees and lost productivity in time and money. Your hiring good employees plan is now shot to hell!
An Example...

Tom the President of a software development company figured this out recently. Because his company has improved revenues over the last year one of his goals this year is to hire a Sales Manager.
The current Operations Supervisor (Margaret) is a highly valued and effective employee. Tom has been toying with the idea of promoting her to the Sales Manager job. She is dependable, incredibly organized, and her favorite saying is, "Those who fail to plan, plan to fail."
Tom couldn't agree more - with the adage - or with Margaret's determination and focus. But, should Tom promote Margaret to Sales Manager?
Consider the Behaviors Necessary for Success in a Typical Sales Manager Position:
Success in a sales management position requires a person who is direct, result-oriented, fast-paced, and control and challenge-focused. The right person for the job will naturally persuade and direct others, adjust to change in a split second and be energized by new challenges.
Does that sound like Margaret? No, not really.
Margaret IS Tom's 'prime example' for how much hiring good employees makes a difference (her work excellence continually shines and helps the company), but Margaret has achieved her success because she's in a position that works with her style.
Her current position requires that she be stable, slower-paced with a focus on quality and accuracy, research-oriented, logical and methodical.
Margaret thrives when she can plan, implement, define quality standards and conduct research. She's a great employee thriving in her current position because she's doing what she loves and using her strengths fully.
Tom could move Margaret into the Sales Manager role, he knows and trusts her, and at first it seems like the easiest answer.
But before long, he'd be disappointed with the results. And Margaret would be frustrated by the new responsibilities, she'd probably find it difficult to achieve success in the new role.
Key Hiring Good Employees Tip:
Different jobs require different styles of behavior from the people who perform them, be sure a person's Style matches what the job needs for success.

$250 Billion - A BIG Reason Why Hiring Good Employees is So Important

Over $250 billion a year is lost in productivity by workers who are not committed to their work.
Workers who don't have the opportunity to use and express their natural strengths are usually not going to give their very best at work. When you are interviewing a candidate and you start to think, "This candidate thinks the way I do."
Pay Attention! You may be about to hire yourself. But are "YOU" what the job really needs?
---
Three Conducting Successful Job
Interviews Resources for You...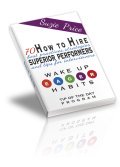 ---
Leave This Hiring Good Employees Article,
Go To More Free Interview Tips

LET'S TALK:
Contact us to schedule a Complimentary Consulting Call
or to ask questions about any of our Hiring,
Coaching, Training and Assessment services.