Inspiring and Funny Stuff About Healthy Family Relationships & Close Friendships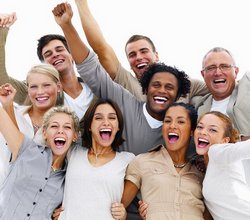 In my Four-Part Healthy Family Relationships Blog Post Series  I share an interesting Gallup Organization Study where they interviewed 5 million employees.
Gallup discovered that if you don't have a best friend at work, your chances of being engaged, interested and satisfied in your work is slim: 1 out of 12!! Wow, did you catch that? That's without a best friend at work you have a 1 in 12 chance of being satisfied/engaged at work!!
This Study reveals how important a strong sense of community and support is to our sense of well-being.  It stands to reason that if you have strong work connections and healthy family relationships, people who love and accept you as you are, your chances for a full and vibrant Wake Up Eager Life grow exponentially!
You'll want to review my Four Post Series for detailed tips and resources to help strengthen and grow healthy family relationships and close friendships. 
Now let's just have some fun with these cute and enjoyable insights and videos about family and friends...

---
Kids Say The Darnedest Things... "What Does Love Mean?"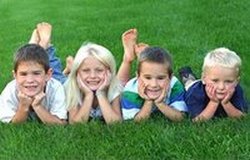 Leave it to the children (4 to 8 years old) to help us all better understand how important it is to create, develop, and work on healthy family relationships.
Here's how some beautiful children answered the question: "What Does Love Mean?"
"When my grandmother got arthritis, she couldn't bend over and paint her toenails anymore. So my grandfather does it for her all the time, even when his hands got arthritis too. That's love."
Rebecca- age 8
"When someone loves you, the way they say your name is different. You just know that your name is safe in their mouth."
Billy - age 4
"Love is when a girl puts on perfume and a boy puts on shaving cologne and they go out and smell each other."
Karl - age 5
"Love is when you go out to eat and give somebody most of your French fries without making them give you any of theirs."
Chrissy - age 6
"Love is what makes you smile when you're tired."
Terri - age 4
"Love is when my mommy makes coffee for my daddy and she takes a sip before giving it to him, to make sure the taste is OK."
Danny - age 7
"Love is what's in the room with you at Christmas if you stop opening presents and listen."
Bobby - age 7 (Wow!!)
"If you want to learn to love better, you should start with a friend who you hate,"
Nikka - age 6 (We need a few million more Nikka's on this planet!)
"Love is when you tell a guy you like his shirt, then he wears it everyday."
Noelle - age 7
"During my piano recital, I was on a stage and I was scared. I looked at all the people watching me and saw my daddy waving and smiling. He was the only one doing that. I wasn't scared anymore."
Cindy - age 8
"Love is when Mommy gives Daddy the best piece of chicken."
Elaine-age 5
"Love is when Mommy sees Daddy smelly and sweaty and still says he is handsomer than Robert Redford."
Chris - age 7
"Love is when your puppy licks your face even after you left him alone all day

.

"


Mary Ann - age 4
"I know my older sister loves me because she gives me all her old clothes and has to go out and buy new ones."
Lauren - age 4
"You really shouldn't say 'I love you' unless you mean it. But if you mean it, you should say it a lot. People forget."
Jessica - age 8
The "Wife Song"  What NOT To Say To Your Wife!

This Tim Hawkins comedy skit video cracked me up - even though I'm a wife! A couple of minutes of humor and what NOT to say. If you happen to say what he sings your hopes for happy healthy family relationships, that include your wife, are indeed slim!  Very funny though...

What Our Dog Can Teach Us: 13 Tips for Healthy Family Relationships & More Wake Up Eager Days

The way our dogs love us, AND stay true to themselves, can serve as daily reminders of simple actions we can take to demonstrate love for ourselves and for others.
Also, don't miss the funny dog video, below!
#1: When loved ones come home, always run to greet them
#2: Allow the feel of fresh air and wind in your face to be pure joy!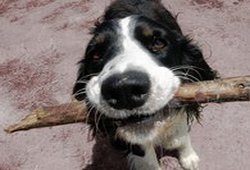 #3: Let others know when they've invaded your territory.
#4: Take naps and stretch before rising.
#5: On a hot day, drink lots of water and lay down under a shady tree
#6: When you're happy, dance around and wag your entire body.
#7: No matter how often you're scolded, don't buy into the guilt thing and pout.... run right back out and make friends.
#8: Delight in the simple joy of a long walk
#9: Eat with gusto and enthusiasm. Stop when you've had enough.
#10: Be loyal.
#11: Never pretend to be something you're not.
#12: If what you want lies buried, dig until you find it.
#13: And, play with your family and friends, alot!
Another Funny Video - Home Alone...
Watch this 30 second "home alone" video created when this family noticed water all over their pool deck and furniture, every time they came home, after being away for a few hours.
They thought the neighborhood kids were watching for them to leave, and using the pool.
They set up their video camera and this is what they recorded. Weeeeeeeeeeeeeeeee...............
Leave This Page - Go To the Series, Part 1 - Healthy Family Relationships
LET'S TALK:
Contact us to schedule a Complimentary Consulting Call
or to ask questions about any of our Hiring,
Coaching, Training and Assessment services.