Podcast Episode #71:
Deeper Than DISC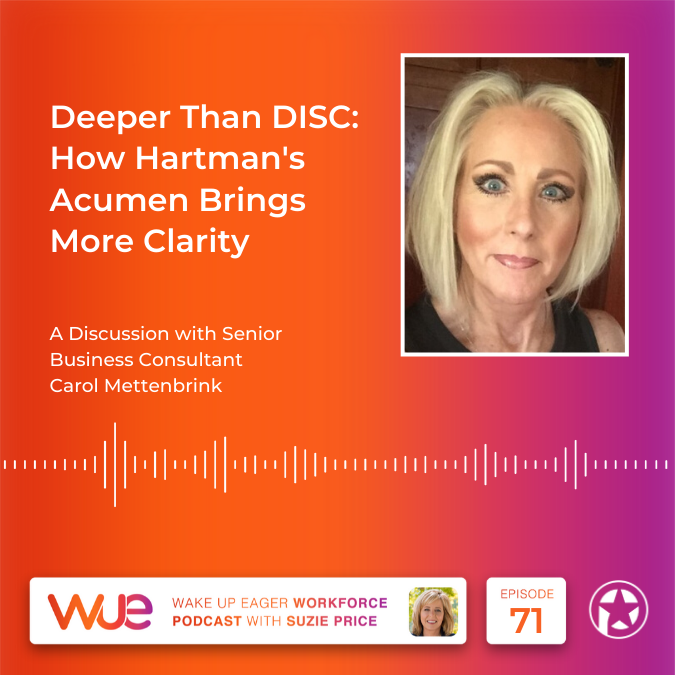 Overview of Episode #71 --- 
How Hartman's work reveals more than DISC Style. 

Why Carol and Suzie use Hartman's Acumen Science, and stories where it's made a big difference.  

How to use Acumen to build true clarity and not just drift. 

Insights info into Carol's Wake Up Eager life. 
Contact Carol Mettenbrink
Timing on Recording: @ 9:54 ---
Topic 1: How Did You Become Aware of Robert S. Hartman's Work? Why Are You Passionate About It? Why Do You Care About It?
Became aware of Hartman's work after taking a job with an Executive Coach who wanted me to become certified in TriMetrix.

Was initially intimidated by some of the complexity of TriMetrix, of going so deep. 

I was intrigued because people have always interested me.

It really allowed me to dive into learning more about people and how to interpret the science and then utilize it.

It is a touch point to help reveal someone's psychological foundation of how they perceive the world and themselves.
Timing on Recording: @ 11:22  ---
Topic 2: When Did the Overwhelming Feeling of TriMetrix Go Away?
The overwhelming feeling went away when I started to debrief people.

I started to learn, patterns, what to watch for, what questions to ask.

The accuracy of TriMetrix.

As long as someone goes in with an honest and open mind, and responds instinctively we get the best results.

Clients have asked, "Who have you been talking to because you know way too much about me?"

Using the tool and starting to debrief took away some of the complexity.
Timing on Recording: @ 13:06 ---

Topic 3: What is Different About the Hartman Piece of the Assessment?
Hartman is a deeper psychological tool than DISC and Motivators.

It looks at how a person actually thinks and values the world around them.

It looks at 3 dimensions: Intrinsic, extrinsic and systemic.

It looks at how a person thinks and values themselves as a unique human being.

How does a person really look out to the world?

Allows you to look at a person from a deeper level on how they think, how they perceive, how they judge.

You'll understand when they start making decisions, where are those decisions being focused more on? Is it people? Is it tasks? Or is it systems?

How using Hartman is like mining.

Allows you to see the individual for who they are.

Helps prepare the right questions to ask a person before ever meeting them, because you start to try and think like them.

You become a trusted advisor.

You are able to look at the whole person.

If you know how to interpret the information, you can be very successful in developing people and creating a better life for them personally and professionally.

Brings more clarity.

It is very fulfilling to help somebody be happier and more fulfilled from their personal and professional lives just through a simple tool.
Timing on Recording: @ 25:28 ---

Topic 4: Mistake of Applying DISC as Hartman's Science.
We tend to pigeonhole people into DISC, but that is not fair, people are a blend of all 4 styles.

Your DISC style is going to be influenced through Acumen.

Acumen will either amplify behavioral styles or they will dampen them.

Acumen has that psychological piece to it that you are missing with just the observable DISC behavior.

Look at scores and biases.

"Hartman's Science brings clarity to individuals lives so that they can actually see where their true talents are, how should they be leveraging them so that they can actually then start to build on it and not just drift, because now they've got true clarity. Now they know how to go after their goals. They know what to expect. That's the true value of this tool."

The stronger the bias, the more noise in your head. When it comes to people, tasks and things, the less bias, the more clear you are, the more open you are to be able to make a better decision or to see things clearer.
Timing on Recording: @ 31:11  ---

Topic 5: How Are You Using Hartman's Work? How Have You Used It In the Past?
Timing on Recording: @ 37:12  ---

Topic 6: How Has Harman's Work Impacted You Personally and Professionally?
I was narrow-minded.

I did not understand the biases I had, or have, now I am aware of them and truly believe it has made me far more open-minded.

We all have different experiences.

We all value different things.

We all have different opinions.

"I may be here to train you or to coach you, but I am hoping that throughout this experience I learn as much from you as you learn from me."

There is no bad report.

There is no judgment.

It is like a truth serum.
Timing on Recording: @ 43:44  ---

Topic 7: Getting to Know Carol Mettenbrink.
Who has most influenced you in your life and career? And what did they say or do that was most useful for you?: My kids "Mom, you are a good person, you are a great Mom. Keep doing what you're doing." "Mom, you are so great at what you do, you just need to believe in yourself and keep making a difference in others lives." "I'm so proud of you, but it hurts when I see you lack confidence. So please have the confidence in you and not let anything stand in your way."

Education, books, training programs that have influenced you?: Trained by Dr. Dave Medford; Can't Beat Me by David Goggins; Relating to Acumen – "Sometimes we don't know what we don't know, and these assessments really give that kind of clarity."

When you think of the word successful, who's the first person that comes to mind?: "Raising two beautiful, intelligent, loving and caring people really signifies the biggest success in my life. That achievement conquers all else in my life, so that truly is my success."

What do you normally do around mind, body and spirit to more greatly contribute to Wake Up Eager days for yourself?: Mind – Same morning routine, but start with an attitude of gratefulness and thankfulness. Body – Workout 4-5 times per week. Spirit – Daily calls with my daughter and hearing my grandkids, and being on the farm and living a simple life.

Favorite guilty pleasure TV show: Luther on Amazon Prime

One billboard anywhere, where would it be and what would it say? Picture of the barn that is behind my house with a double rainbow over it with the words, "CHOOSE JOY. LOVE YOU."

One last bit of advice or wisdom: "I think if you really want to make the best decision with the talent of your organization, making the right investment in your people, Acumen is really your ace in your pocket to drive that. And when you start to make this investment, it changes the person because they see the organization as truly caring about them. They're making this investment in me so that I can find personal and professional fulfillment and success."
PRICELESS RESOURCES
PODCAST: Subscribe to our Podcast or Help Us and Leave a Review 
NEWSLETTER: Sign up for Monthly Email Updates 
PODCAST: Most Recent Episodes      Directory of All Episodes 
RELATED DEVELOPMENT SERVICES:
·    Certification: Become the Expert: Assessment Certification Training
·    Hiring: Hiring: Secret to Superior Performance
·    Surveys: 360 Feedback and Organizational Surveys
·    Complimentary Consulting Call or Send Us Feedback: Contact Suzie