The Best Spin Workouts for More Workout Inspiration and Perspiration, Part 2...

I've been on a quest to find the best spin workout.
On Page 1 of this article I told you about my new spin bike, I reviewed some of the workouts I tried (I found one favorite and several duds). If you missed Page 1, go there, here.
Now I want to share what I believe is THE BEST Spin Bike Workout. Drumroll Please...
And, The Best Spin Workout Is...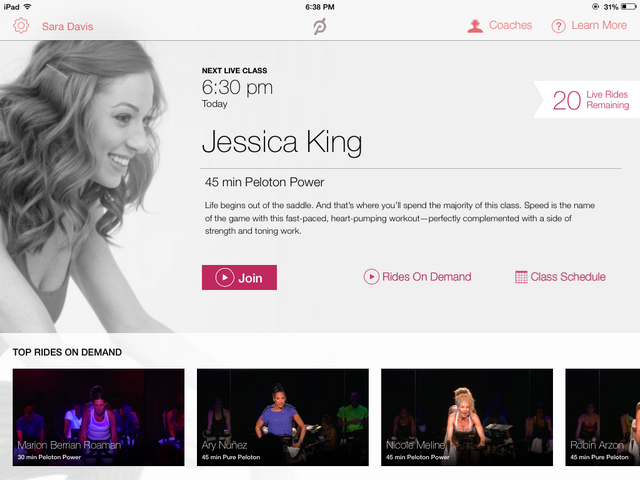 Screen Shot of the Peloton App
(With Cathe.com as my 2nd favorite.) 
Peloton sells a Spin Bike, that I have not tried, since I had my Keiser M3  before Peloton became so well-known.  After trying all the other less effective workouts (with the exception of Cathe.com) I was thrilled to find that I could use this app on my non-Peloton bike. 
Here's what so remarkable about the Peloton App and why it's the best spin workout:
You can pick your ride and pick your time
There are unlimited class lengths to from 20 minutes, 30 minutes, 45 minutes, 60 minutes
The instructor's styles vary, so I can pick who I am "in the mood" for, for eahc workout.  Some of my favorites include: tough girl Robin, inspiring thoughts Christine, grounded and friendly Hannah Marie,  and dancing man Cody.
You can choose a live ride, your actually riding while they are, or choose from thousands of on demand videos
When I am in my home gym I use this tablet mount, from Amazon, on my bike
If you are not inspired when you start your workout with Peloton, and I guarantee you will be inspired and very sweaty when you finis!
The production quality is high and each instructor is well trained, great at cuing and they seem to stay with you - encouraging you right at the time when you're about to slow down, back-off or quit.  When I do the on demand class it feels like they are right in the room with me  feeling what I need and cheering me on to do more.
It's an 'experience'. The music, the things they say, the timing, EVERYTHING about almost every workout just feels right. After a Peloton workout, you've not just worked out, you've had an 'experience'.m me.
All of the instructors come across as encouraging, not demanding. They are pulling you to and through a great workout, but not in an aggressive, turn-off pushing way. The difference is subtle, but so powerful.
The Peloton App costs $12.99 a month, with unlimited use.  Seems so reasonable to me.   They have a 14 day trial - so you can try out before you buy your first month, and you can cancel any time.  (Read 1400+ reviews, here.) 

I hope this review helps save you time and money on your search for the best cardio workout!

What Do You Think?

What do you think is the best spin workout? If you used Cardio Coach what do you like or dislike about these workouts? Do you have questions or comments about this article? Please share here.
Related Posts and Podcasts, Here at Priceless:

LET'S TALK:
Contact us to schedule a Complimentary Consulting Call
or to ask questions about any of our Hiring,
Coaching, Training and Assessment services.

Leave This Best Spin Workout Article, Review My Blog Post Archives