Barriers That Hold Women Leaders Back: An Interview With KSU's Erin Wolf

Wake Up Eager Workforce Podcast #11 - Show Notes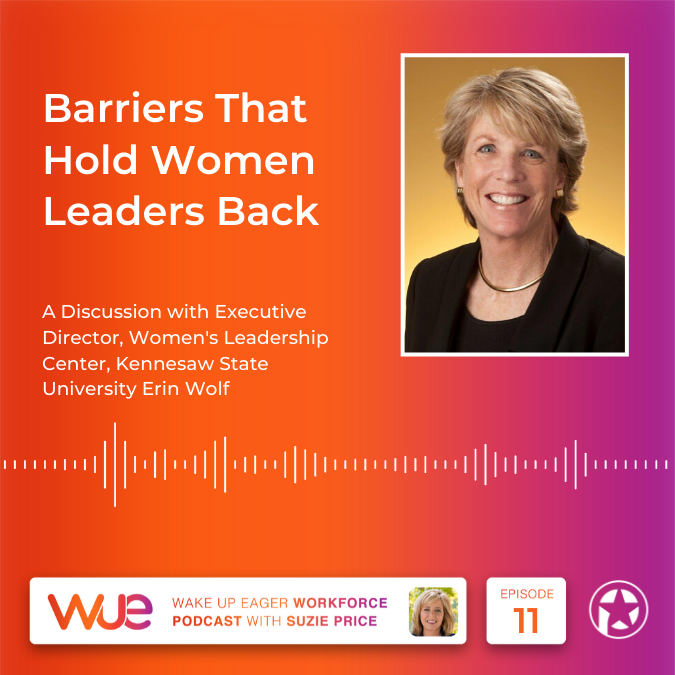 Go To Wake Up Eager Workforce Directory of Podcasts

Show Notes:
Overview of Episode #11. The following topics are covered:
Three reasons why male listeners will want to tune into this podcast 
Six internal barriers women face, which two are most prevalent and what you can do about them 
Three external barriers women face, which one is most prevalent and what can be done about it. 
What's the most important rule you should pay attention to, to win at the corporate game 
Secrets to success from other successful leaders – one 'secret' you should pay attention to, right now 
Finally, important advice to remember
Topic #1: Interviewing Executive Director, Women's Leadership Center
Lecturer, Executive MBA Program Michael J. Coles College of Business
Kennesaw State University Erin Wolf


Timing on Recording: @ 3:05 ---
Erin Wolf is a nationally-recognized speaker, executive coach and consultant in the areas of leadership development, diversity, organizational change, and organizational strategy.
She has more than 25 years of experience and has worked for well-known firms such as Bain & Company, Goldman Sachs, Accenture and Salomon Brothers Inc.
Erin is the Founding Director of The Coles College of Business Women's Leadership Center at Kennesaw State University where she develops and implements initiatives and connections that help women students and professionals reach their fullest leadership potential.
She is also the Managing Partner of SuiteTrack, a firm dedicated to helping companies advance their female professionals and future leaders in the workplace. Her clients include companies such as The Home Depot, Whirlpool, UPS, Dow, Sears, American Express, Kimberly-Clark, Medical University of South Carolina, Equifax, Coca-Cola Enterprises, University of North Carolina, and many others.
Erin currently sits on or has previously sat on the boards of Women's Leadership of Harvard University's Kennedy School,the Harvard Business School Club of Atlanta, The Atlanta Girls School, Homrich Berg Wealth Management, Girls Inc., and Girls on the Run
Timing on Recording: @ 4:45 ---
Topic # 2:  Three Reasons Why Male Listeners Should Stay Tuned In to This Episode

1) Companies that have more diversity in leadership do better from a total return on sales and equity standpoint

2) If you manage women, this will help you help them
3) Leadership advice doesn't usually just apply to just men or women, guys could benefit from this information.

Timing on Recording: @ 6:25 ---
Topic #3: The Top Six Internal Barriers Women Face, The Two That Are Most Prevalent, How to Overcome

Timing on Recording: @ 16:00 ---
1) Self Doubt/Ambition Gap
2) Self-Promotion  ("If they cared, they'd know what I'm good at...")
3) Negotiate Less  ("I must be nice...")

4) Imposter Syndrome (We don't belong, We got there by chance, or luck. Read Sheryl Sandberg's book, Lean In - she talks about this.) 

5) Risk Aversion
6) Thinking That Past Performance Is Just As Important as Others View of Your Future Potential  (What words are used you describe you?)

The Two That Are Most Prevalent and What To Do About It

Timing on Recording: 22:58 @  ---
#

1) Imposter Syndrome - Almost everyone experiences this.

Topic #4: The Top Three External Barriers Women Face, The One That Is Most Prevalent, How to Overcome

Timing on Recording: @ 36:35---
The One That Is Most Prevalent and What To Do About It
Timing on Recording: @ 42:18 ---
Topic #5: What type of resistance or negative/challenging comments do you typically hear from men or other women who don't believe that there are special barriers for woman?  What's your response?

Timing on Recording: @ 48:20 ---
Erin hears, "There is no bias in the workplace..."
Belief that the overt bias is gone, not aware of unconscious bias.
Erin brings in facts and research to the discussion.

Topic #6: Why Does Erin Call The Rules in Her Book Lucky and What is the Most Important One?
Timing on Recording: @ 52:05 ---
Topic #7: In your other book you interview top female leaders and share their wisdom and insight.  What interview or story is your favorite?  Tell us about this and why you choose it.

Timing on Recording: @ 58:00 ---
Erin interviewed 21 female leaders in this book.


Erin's favorite - "Don't Feel Guilty"   

Find your passion - work needs to be a part of who you are; show your kids that you are proud of your work.
Topic #8: Final Advice and How to Connect with Erin
Timing on Recording: @ 1 hour 4 minutes ---
Final Bit of Advice to Women:  Forget those childhood lessons. Forget that you are supposed to be one in the background supporting the person out doing things. Do what you want to do, put yourself out there and go for it.

Final Bit of Advice to Men: Your job is to help your female direct reports is to help them get there and get noticed.  See the internal barriers and help them to navigate the barriers. Push them to go for the push assignments.


ewolf3@kennesaw.edu
Subscribe via iTunes or Leave a Review

Related Podcasts:
How to Train and Retain the Millennial / Generation Y Employee
Related Service:
Workshops I Facilitate


Schedule a Complimentary Consulting Call or Send Me Feedback:
Contact Suzie


STAY IN TOUCH: Are you a leader, trainer or consultant focused on building a Wake Up Eager Workforce?  Subscribe to this Podcast Here.   You can also sign up for monthly email updates, here.   Thank you for being a part of this!!
Contact Us To Schedule a Complimentary Consulting Call or to Ask Questions